Tuscazoar seeking contributions to rebuild aging stockade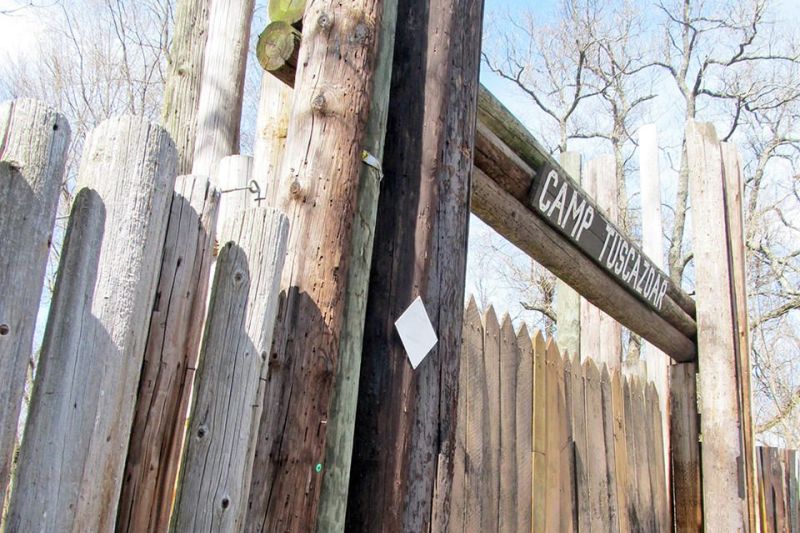 The Camp Tuscazoar Foundation is seeking financial contributions to rebuild its aging stockade entrance. The camp's first stockade entrance was constructed in 1928, and the iconic structure has since become Camp Tuscazoar's symbol, appearing on a host of items including patches, medallions, coins, letters, brochures, newsletters, maple syrup bottles and signs.
The new design includes a masonry foundation that will help prevent rot and resist deterioration. In addition a crossover bridge will be included to once again enable Cub Scout packs to use the structure for their Scout crossover ceremonies. The original gate hardware will be refurbished and reused.
"The early days of Tuscazoar were filled with memories of Ma Chindgren and her cooking skills and being a mother to all of us when we were there, to jumping in the old swimming hole at one end as the frogs and snakes went out the other end, to reading the 'Have I Done My Best?' sign as we left camp," said Randy Hahn, Sr., longtime Scoutmaster of Troop 34 in Canton. "Yes, these memories were made back then, and today the memories can continue for a new generation of Scouts as they cross over from the world of Cubbing to the adventures of Scouting. Scouting can work to make Scouts better as a person and help make our world a better place by the values that are instilled in them by the Scout Oath and Law. Let us continue to make memories by supporting the Tuscazoar stockade project so we can say without a doubt that we have 'done our best' for the future of Scouting."
The camp would like to begin construction during its 100th anniversary celebration in 2020. Contributors can learn more at www.tuscazoar.org. Also, a GoFundMe page has been set up at www.gofundme.com/camp-tuscazoar-stockade-restoration-campaign. Several suggested donations are listed, but any amount can be donated. Every donor will be thanked for his/her contribution and invited to a dedication at a later date.
The Camp Tuscazoar Foundation Inc. is an Ohio nonprofit corporation founded in 1986 for the purpose of purchasing, maintaining and perpetuating Camp Tuscazoar for use by Scouts, church groups, school groups and other community youth organizations.
Camp Tuscazoar is located on Boy Scout Road, 2 miles east of Zoar, near Zoarville. Visit www.tuscazoar.org for more information.