Walk for Wellness to raise funds for mental-health recovery programs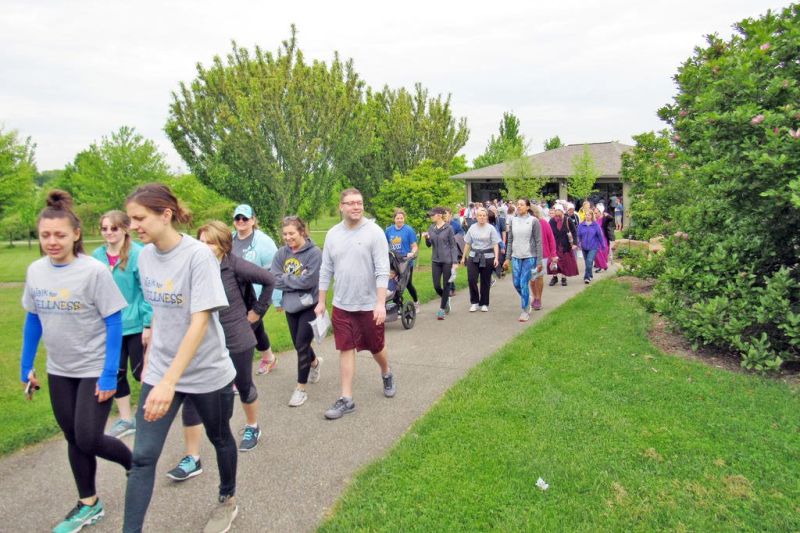 Since 2007 the Walk for Wellness has been an annual springtime event in Wooster. This year's walk will take place rain or shine on May 18 at Secrest Arboretum. Check-in will begin at 8:30 a.m., and the walk will start at 9 a.m.
Funds raised will go to support the National Alliance on Mental Illness Wayne and Holmes Counties programs and support services. All services provided are offered to participants at no charge.
May is National Mental Health Awareness Month, making it the perfect time to highlight and raise funds for NAMI.
"One in five Americans will be affected by a mental-health condition in their lifetime," said Helen Walkerly, the executive director of NAMI. "Every American is affected or impacted through their friends and family, and everyone can do something to help others."
NAMI Wayne and Holmes is the local certified affiliate for the national organization and is certified as a Peer Run Organization by the Ohio Department of Mental Health and Addiction Services.
"We provide support, education and advocacy to persons affected by a mental illness and their families," Walkerly said. "We have been in the community since 2000. NAMI's vision is improving the lives of persons affected by mental illness for Wayne and Holmes counties."
Greg and Kathy Long are the 2019 honorary chairs for the Walk for Wellness.
"NAMI's work on suicide prevention and programs for veterans is what has drawn us to them," Greg Long said. "Being retired military, I am very aware of PTSD and the effects it has on people. NAMI's work in this area is greatly needed. The walk is one of the effective methods to draw attention to this problem and hopefully to engage more people to help. We are very aware of the problem as I had a brother commit suicide in 1978 at the age of 25. I have always wished I had been more aware of the symptoms and done more to prevent it."
NAMI is the local Suicide Prevention Coalition, a group of community professionals and volunteers who work to inform the public about suicide risk factors and develop resources to support individuals in ways that reduce the local suicide attempts.
Support also is offered to those who experience a loss due to suicide.
Local resident Deb Beck found her way to NAMI in 2012, and the experience was life-changing. It was the realization she was missing out on time with her son that ultimately motivated Beck to seek out NAMI.
"I had checked out of being a parent," she said. "I was losing out on precious time with my son."
Simply walking in the door the first time took courage. Beck called the van and cancelled and called back several times before accepting the ride that initially brought her to MOCA House, which stands for Motivating Optimistic Caring Accepting House, a consumer-driven recovery program.
Beck now volunteers her time to offer assistance to others by providing peer support and as a group facilitator. She has gone back to school, and for the first time she and her son have their own apartment.
"I also cook in the kitchen for Friday meals," Beck said. "And in April I was Peer of the Month."
She has made lasting friendships through the programs and now can often be found working or studying on site.
"My safe place is MOCA House," Beck said, "and I'm not the only one who feels this way."
Beck described MOCA House as a place that is safe and protected from the stigmas often associated with and experienced by those experiencing mental illness.
"If you've had a really bad day and you make it through that door, you can always depend on someone to help," Beck said.
"For families wanting to learn more about a loved one's mental illness, we offer a life-changing 12-session education series called Family-to-Family," Walkerly said. "We also offer a monthly family support group."
Additionally NAMI provides Crisis Intervention Team Training to local law enforcement. According to Walkerly, this training provides first responders with tools to have better interactions with those who are experiencing a mental-health crisis.
Registration forms are available at the NAMI office, 2525 Back Orrville Road, Wooster, or go online to www.namiwayneholmes.org/ or www.walkforwellness2019.eventbrite.com.
The morning event will include a quilt raffle, light refreshments, music and door prizes, and will conclude by 11:30 a.m.
Special traveling trophies will be awarded this year to the top-three teams: a gold, bronze or silver walking shoe. "Shoes were chosen to indicate that mental-health recovery is a journey which often involves many steps and persistence in maintaining recovery," Walkerly said. "We hope there will be a fair amount of competition over these unique trophies."
Individuals and teams may register. Every adult over 18 pays the $25 registration fee. Additional fundraising is encouraged but not required.
Tickets for the quilt raffle are six for $5 or $1 each and may be purchased at the NAMI office or at the walk. A winner will be drawn at the walk and need not be present to win.
The annual Walk for Wellness is organized by volunteers. Local businesses and organizations are encouraged to sponsor and participate in team fundraising. Door prize donations are accepted as well.
Walkerly said, "We really want to reduce the stigma around mental illness. The national media seems focused only on negative perceptions of mental illness and on people who are untreated. We know that with treatment and support, people with mental illness do recover and can live productively in the community. This is so important for the public to know. We want to extend hope and awareness to the community."
For more information, to volunteer or to donate, call Jen Grim at 330-264-1590 or email jgrim@namiwayneholmes.org.
For financial contributions, send a check to NAMI Wayne and Holmes Counties, 2525 Back Orrville Road, Wooster, OH 44691. Additionally individuals may contact NAMI to be added to the newsletter list for updates on programs and events.
"We encourage everyone to come out to the walk and show your support," Greg Long said, "and learn how you can become involved."
Secrest Arboretum is located at 2122 Williams Road in Wooster.