Vaccine allows Holmes County to go on the offensive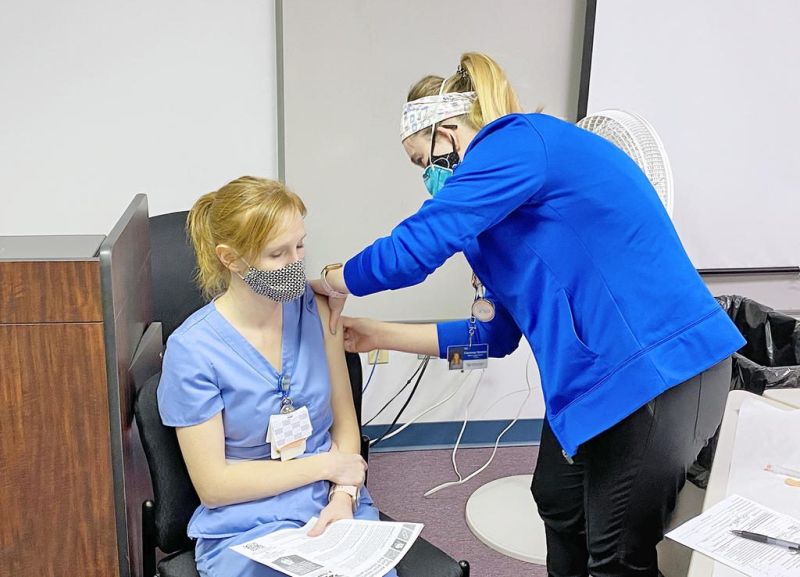 There is light at the end of what has been a long and dark COVID-19 tunnel, and Holmes County received a shot in the arm, literally and figuratively, with the distribution of the initial batch of COVID-19 vaccinations that took place at Holmes County Department of Job & Family Services in Millersburg on Monday, Dec. 28.
Healthcare workers from Pomerene Hospital and first responders with Holmes Fire and EMS were the first to be invited to accept the vaccination, and most were eager to get the first of two vaccine shots, the second coming four weeks later.
According to Michael Derr, Holmes County health commissioner, the Holmes County General Health District has received the first allocation of 100 doses of the recently approved Moderna COVID-19 vaccines for the county. The vaccines were administered to frontline healthcare workers like local home health and hospice workers, primary-care physicians and offices, dental providers, and high-risk ancillary healthcare and hospital support staff.
"It's a nice day that we can come together and partner with our hospital and EMT people and really take care of the people who are taking care of our community," Derr said. "It's an exciting time for us as a staff, and with this being so close to Christmas, it is the best Christmas present the county could receive."
For the hospital and EMT staff members, there was little hesitancy in getting in line to receive the vaccine, knowing facing the virus on a daily basis is a struggle.
Dr. Stan Boyd, director of emergency medicine at Pomerene Hospital, said the staff is excited about the vaccine and has been anticipating this day.
"This is the light at the end of the tunnel that we can see and feel that there will be an end to this," Boyd said. "This has been very difficult on our hospital staff, especially this second bad time during November. We had never experienced anything like it, and it was overwhelming in a lot of ways, but it was neat to see our team of healthcare workers circle the wagons and work together as a team. I really haven't seen any reluctance from anyone to come and receive the vaccine. I trust the science, and people who know and understand this believe in this, so that has been comforting."
Derr said receiving the vaccine is akin to a football team that has been focusing on playing defense for so long that it becomes mired in that mode of play. He said this vaccine allows the county to go on the offensive attack against what has been a formidable foe in COVID-19.
"What a thrill it is to be able to go on the offensive now and be proactive rather than reactive," Derr said. "We have been defensive and behind this virus, always reacting and trying to treat the results. This is our ammunition. Now it is time to treat the cause and get out in front of it. People need to feel confident that this is safe and needed to stop the COVID spread."
Derr said while his staff and frontline workers are critical, which is why they are receiving the first vaccines, in order to stop the virus dead in its tracks, it is going to take the effort of many more people.
"Doing this together is the only way we can come out of this," Derr said. "We all need to do our part."
Derr said initially that was asking the public to stay at home. Then it became the request to wear masks and practice social distancing. He said now it's time to take the next step and receive the vaccine when the opportunity arises.
"This is our way out of it. This is our way of getting back to normal," Derr said. "It's going to be important for everyone to do their part. We all need to get vaccinated to create that herd immunity."
The county is providing the vaccine free of cost because it is a federal government program. Derr hopes that entices everyone to receive the vaccine.
"The health department isn't charging any administration cost," Derr said. "We don't want that to be a barrier to people getting a vaccine."
Holmes County will continue to receive vaccine dosages over the coming weeks and months. Derr said he expects to see a dosage increase as time passes.
When more doses of the vaccine become available, phase 1A also will include the vaccination of congregate care staff and residents such as those in long-term care facilities, facilities providing care for persons with developmental disabilities, and those living in group homes and residential care for mental health and substance-abuse services.
Long-term care facilities in Holmes County will all administer vaccinations through contracts with federal long-term pharmacy programs. The health department will work with other facilities to administer vaccines as they become available through a wait-list system.
The health department will eventually set up different vaccination sites throughout the county once the vaccine becomes more widely available.
For more information about getting on the wait list, eligible providers should email Jennifer Talkington, deputy health commissioner, at jtalkington@holmeshealth.org. Additional information about Ohio's vaccination plan and vaccines can be found at www.coronavirus.ohio.gov.