As flu season draws near, masks become critical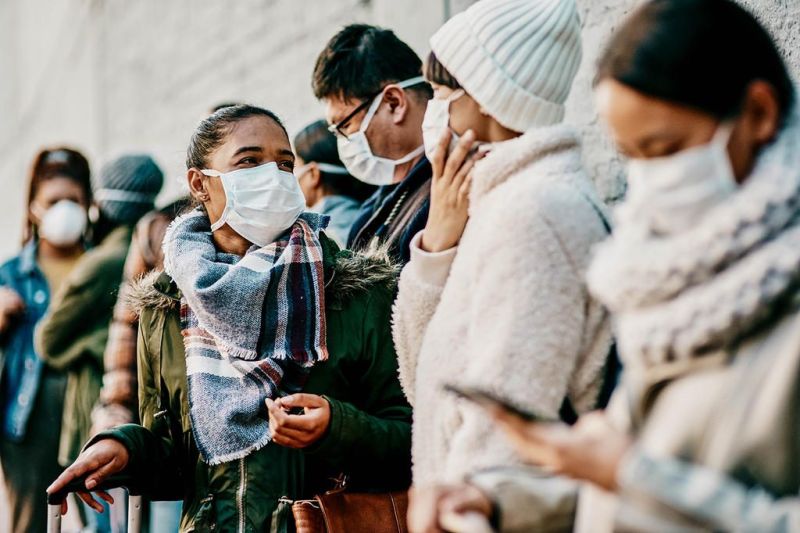 Editor's note: This is the second of a 3-part series with Dr. DJ McFadden, former health commissioner of Holmes County, about preventative methods against COVID-19 and more as we move into respiratory illness season.
Are masks necessary in the prevention of the spread of COVID-19?
That has been a heated question that has been ongoing since the virus struck the nation early this year. Whether one chooses to believe it or not, masks have proven to be one critical component of slowing the virus. Dr. DJ McFadden, MD MPH at Community Hospice in New Philadelphia and who also served as the Holmes County health commissioner for a decade, said that people need to better understand the value of the various ways communities can slow the spread of the virus.
"The piece we are missing is that the importance of actively trying to control this virus through masks and social distancing has not been properly addressed," McFadden said. "These are the same methods we have been using since the 1800s to control viruses. There are simple things we can do, but we haven't done a good enough job of promoting that and discussing the importance of knocking this virus out.
Using a mask is one of the main solutions, along with social distancing.
McFadden used the premise of a surgeon and his or her team wearing masks to perform surgery. He said that as physicians, doctors and nurses take great precautions in making sure they are not going to spread any kind of illness while operating on a patient.
"If a doctor would come in without a mask on and said, 'we are ready to proceed with the surgery, we're going to open you up and go,' people would be taken aback," McFadden said. "People would be concerned the doctor would spit in their open belly. Does it make sense for the doctor to say, 'Oh no, this mask is to protect me from you, but you're not sick so I don't have to worry about getting sick.' People would think the doctor was crazy. As doctors, we know we wear a mask to stop the spread of disease from our mouth and nose."
Doctors wash their own hands vigorously before putting on sterile gloves. They cover their whole body to try to prevent spread of disease through touch.
McFadden said getting across the simple truth that a person's mask protects others while their masks protect you is critical in stopping the spread of any virus, and most importantly right now, the spread of COVID-19.
"As a citizen, I can do everything I can to protect you, but it breaks down if others aren't willing to take on the same responsibility," McFadden said.
He went on to note that a sense of individualism is driving the push to forego masks. He said during World War I, the entire country came together to fight a battle. It came together again during World War II. He said this current pandemic is a battle of a different kind, but it is one that needs to be fought with a united front from a nation that is willing to do what is best in order to defeat the enemy, which is this case is a virus.
"I'm not sure why there is this great divide about this that we can't unite and come together to stop this spread," McFadden said. "We aren't pulling together with our oars and we are floundering."
He said the idea that masks are ineffective has done harm to the collective effort to halt COVID-19. According to McFadden, masks are designed to decrease the amount of droplets that are released form a person's mouth and nose that are carrying the virus.
"Are masks perfect? No," McFadden said. "But this is about decreasing this as much as we can and it works better if everyone wears a mask."
He said another fallacy is that masks create poor air quality for people. McFadden said that during a recent procedure he had done in which he was masked, the staff was taking his vitals and he inquired about his oxygen level. The answer was 100 percent.
"If I've been wearing a mask for hours, and I'm at 100%, how can air quality be poor?" McFadden said.
He went on to say that droplets carrying viruses are relatively large, and viruses are huge compared to oxygen and carbon dioxide, so unless a mask is made of impermeable membrane such as plastic, people will receive plenty of clean oxygen.
He said another issue with COVID-19 has been its ability to exist and spread despite its carrier showing any signs of symptoms. McFadden said people will remain unmasked because they feel fine and believe they aren't carrying the virus.
Unlike MERS and SARS, which show the signs and symptoms, many people carrying the COVID-19 virus seem perfectly fine but can help spread the virus to people who have weaker immune systems.
"In an ideal world, people get sick, they have symptoms, they stay at home," McFadden said. "That is what people think happens. But in reality, a couple of days before someone shows symptoms, they are already spreading the virus. That happens with every disease. If we all wear masks, we can have a great chance of stopping this.
"Everything breaks down when someone says they aren't willing to wear a mask," McFadden continued. "My mask protects you, your mask protects me. That is the mentality we should all share in trying to slow the spread of COVID-19. We need to take on the responsibility of protecting one another."
Yet another discussion people have concerning masks are that they harbor mold and other fungi. McFadden said masks are not meant to be worn day after day without washing them. He said wearing a mask for a couple of days for the average person should be fine, but people need to wash them, so they should have multiple masks available.
He added that finding a mask that comfortably fits a person's facial structure is important. Masks can cause a headache when they are too tight.
He also said that even though a person wears a mask around others that are masked, social distancing should still be adhered to, which only further eliminated the spread of COVID-19.
Masks may be uncomfortable and they may hide the joy of seeing facial expressions, but McFadden said wearing one is critical to stop the spread of COVID-19.
"We need to have the larger picture in mind," McFadden said. "It is an inconvenience, but we have to remember that we are wearing a mask for the benefit of others. We need to muscle through until we have the ability to not infect our neighbors."
As respiratory virus season approaches, could the nation be forced into another economic shutdown of nonessential businesses? Recent history certainly suggests that possibility exists. However, wearing masks will go a long way in governors allowing the economy to remain open.