Celebrating another year of providing women's health care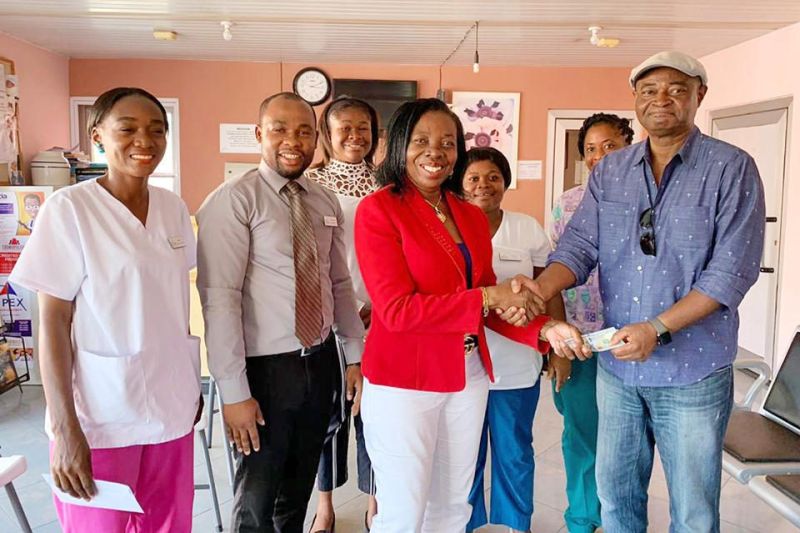 Serving Women in Ghana, a nonprofit founded by local physician Dr. Amelia Laing, recently celebrated six years of providing health care to women in Ghana.
The organization built and supports the Obaatan Pa Women's Hospital in Accra, Ghana.
According to Laing, the hospital was founded to provide a higher standard of health care for women than what she and her husband had observed during their trips to Ghana. They also set out to reduce the maternal deaths they had heard about.
"It was important to us to have a facility where women of different socio-economic strata could go and receive uniformly good care," Laing said.
Laing and her husband put the funds together to build the facility and are constantly fundraising to keep it operating and growing.
There are eight inpatient beds, two labor and delivery beds, an operating and recovery room for surgeries, and an outpatient department with two consulting rooms with ultrasound and colposcopy facilities.
Laing initially spent a full six months each year there helping to get the hospital started. Now she travels to Ghana three to five times per year, spending two to four weeks each time.
All Laing's time and services are donated. Her husband, Dr. Cyril Ofori, also donates his time for consultation as needed.
The staff in Ghana now includes two full-time and three part-time doctors along with about 25 additional staff.
"We would really like to have a full-time nurse anesthetist someday," Laing said.
The hospital's accomplishments are life-changing for the women in the area. This past year more than 100 babies have been delivered. "All with good Apgar scores and without maternal or neonatal mortality," Laing said.
While the size of the small hospital can appear to be a liability at times, it also has become an asset. "We have identified situations where our smaller unit allows us to pay closer attention to individual women and respond quicker than they might in the tertiary facilities available," Laing said.
She explained one woman who had lost two babies who were nearly full-term at a tertiary hospital has now had two live births with Obaatan Pa. Laing said, "You can imagine this is a complete life-changer for this woman."
In the past year the facility also has provided educational health screenings for more than 500 people.
"March this year saw our first outdoor public screening for all comers," Laing said. "Over 200 people were attended to and received medications and advice."
The screening services are for hypertension, diabetes, anemia, breast examinations and cervical cancer.
The hospital charge nurse from Ghana visited Wayne County this past year, spending time with local hospital obstetric units. "She took back certain core ideas, which she has incorporated into how we practice," Laing said.
This spring Laing presented at a conference of Ghanaian doctors and surgeons in Los Angeles. She shared data regarding the live-birth rate and pregnancy rate with myomectomies, a surgery to remove uterine fibroids.
"Our statistics compare very well with published data on the subject involving generally smaller tumors," Laing said.
Laing explained the presence of these large benign tumors is common in Ghanaian women and likely for genetic reasons.
"The tumors really impair quality of life for many women," she said. "Surgery is delayed for a myriad of reasons including access, affordability and information or lack thereof."
The coming year and beyond for Serving Women in Ghana sees some changes. "Consolidating our standards, optimizing care processes and increasing awareness of our facility to increase our traffic while maintaining the good quality we have done so far."
When the project began, Laing thought in terms of low-risk cases. "I have since learned that there are few low-risk women in Ghana," she said. "At a minimum they might be anemic. Hypertensive disease is common and severe, causing serious illness around pregnancy. Diabetes in pregnancy is common with the worldwide increase in obesity. Twinning is very common and spontaneous, and this in itself constitutes a higher risk pregnancy."
The prevalence of fibroid tumors is another common complication.
Laing and her husband are passionate about providing medical care to these women. While the hospital generated enough revenue last year to cover 80 percent of operations, additional support was needed, and that need continues.
In addition to making up the difference in operating costs, there are other expenditures ahead. "We currently need to air-condition our storage area to prevent damage to equipment from heat and humidity as well as cover the electric bill for that and replace one of our surgical lights," Laing said.
Additionally the hospital's solar batteries will need to be replaced as they come to the end of their life.
At a recent gathering in Wooster celebrating the hospital's sixth year, Laing's supporters expressed their devotion to the cause.
Professionals interested in volunteering in Ghana are another need. "It is most beneficial to have obstetric and surgical nurse volunteers," Laing said, "though there are costs including airfare and certifying to work in Ghana."
A commitment to several visits is preferable for continuity. Basic accommodations are provided.
Laing, Ofori or board members of Serving Women in Ghana are happy to speak with small groups and answer questions. For more information about the organization or volunteering, email contact@servingwomenghana.org.
"Health care with dignity is not to be taken for granted in less developed countries, and few facilities provide equal care to women of different social strata," Laing said. "Attention to detail — allergies for instance — is not de rigueur, and there are many medical errors from this inattention. There are power cuts constantly, so one needs a back-up generator. Fuel for this is expensive, as well as a solar generator. We put one in, thanks to a number of local donations, which has been a lifesaver."
Donations to Serving Women in Ghana are fully tax-deductible and may be made online through PayPal at www.servingwomenghana.org or checks may be mailed to Serving Women in Ghana, P.O. Box 127, Wooster, OH 44691.