Pomerene workers celebrated with drive-by parade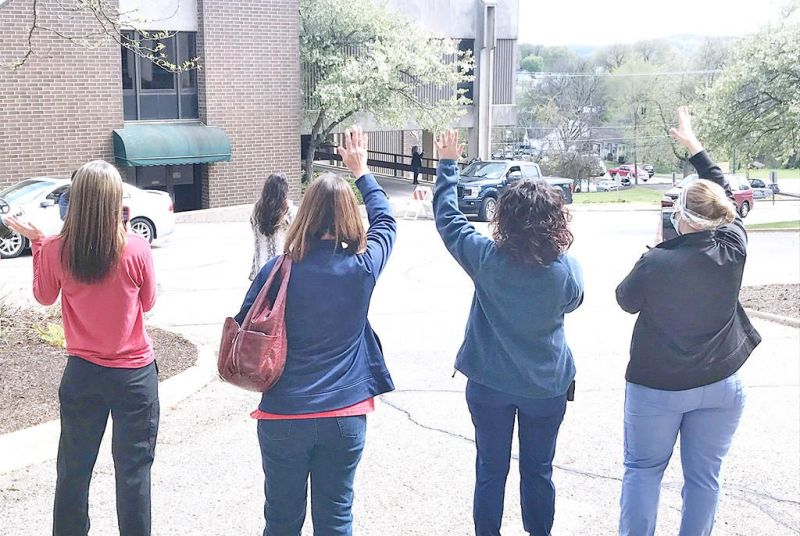 It is always nice to know you are appreciated, but during the COVID-19 pandemic that has gripped the world over the past number of weeks, a huge burden has fallen on the medical world to step into the abyss and serve others, oftentimes putting themselves at risk.
On Tuesday, May 12 the staff at Pomerene Hospital was treated to a parade of grateful visitors who came for a drive-by to thank all of the hospital employees who have poured themselves into serving the community and trying to keep everyone healthy.
Drive-by visitors included representatives from the Holmes County Sheriff Office, Millersburg Police Department, area fire departments, Ohio State Highway Patrol, Millersburg Village Council and others who came by to pay homage to a group that has worked relentlessly during the COVID-19 pandemic.
Knowing what kind of sacrifices are being made by the many Pomerene Hospital members, it was an ideal opportunity for many people to show their appreciation for the hospital staff that has gone above and beyond during the past number of weeks.
"We received a call that the community wanted to honor us and show us that they appreciate that we've been working hard and diligently in everything going on with COVID-19," said Rachel Kandel, Pomerene Hospital medical group administrator and director of physician recruitment.
Firetrucks, EMT vehicles, police cars and other vehicles paraded around the hospital as dozens of Pomerene staff members gathered outside or watched through the south side of the hospital's windows to celebrate the moment of gratitude.
Pomerene's Rene Stone, CAN, said it was humbling to see so many county officials and others show up to thank them for their service. A resident of Knox County, Stone said she hasn't seen or heard of anything like this there.
"Working here, I am so appreciative of all of these people who are also taking care of the people in their community taking time out of their busy day to show appreciation for us," Stone said. "That's pretty awesome."
Stone said the COVID-19 experience has been an extraordinarily strange and challenging time with all of the staff members on high alert. She said taking care of the patients goes hand in hand with taking care of each other, and the entire experience has brought the whole Pomerene team closer together.
Pomerene Hospital CEO Jason Justice said seeing his staff work with such integrity and unity to help defeat the coronavirus threat has been uplifting and inspiring. He said the accolades and thanks received were wonderful, although none of the staff got into this profession for the kudos, but rather because they genuinely care about the people in their community.
"We don't ask how. We don't ask what. We just want to ask how can we make you feel better," Justice said of the people who come to the hospital. "It's not just a lifestyle; it is a personal commitment."
Justice said the team members spend years honing their skills and preparing for anything. The "anything" that has walked through the hospital's front doors recently has been a challenge beyond what any of them were specifically trained for, but together they have put forth an incredible effort to expertly deal with all of the challenges they have faced during the pandemic.
"I don't think there's a better team," Justice said. "When you look at our overall quality scores, our patient satisfaction, how we try to give back to the community, I'd stack these folks up against anyone as a group who comes to work every day and want to give more than what they bring."
Included in those making the trip around the hospital was Millersburg Mayor Jeff Huebner, who brought with him a proclamation honoring the hospital and its many employees.
Huebner read from the proclamation. "I, Jeff Huebner, on behalf of the council and the residents of Millersburg, do hereby express our deepest gratitude and appreciation for the entire staff of Pomerene Hospital for all of your hard work, commitment and personal sacrifice in battling this horrific pandemic, as you are our true heroes."
The crisis has challenged the hospital in many ways including many staff members stepping up and serving in ways that are unique from their regular duties.
The moment proved to be a wonderful time of recognition and thanks for a group that has served diligently every step of the way through very trying times.
"It is such trying times, stressful and anxious, and this community is wonderful. It's a great place to live and a great place to treat patients. We are like a family here, and in the community we are family," Kandel said. "To see this kind of support, it is really moving, and I hope our staff and providers feel appreciated."
Kandel said this experience isn't something the staff thought about when getting into the health field, and it is a new venture in many ways. It has tested the staff and presented unique learning moments and chances to grow, but most importantly the dedication to serving others has never wavered in the face of trials and risks to the staff.
That it all took place on National Nurses Day, National Hospital Week and The Year of the Nurse made it a perfect storm to celebrate all of the health-care service members.
"We are so grateful to have the support of the community, not just today, but from what we have had from day one of this has been beyond incredible," Kandel said. "You don't really think about it. You know you live in a giving community, but until you go through something like this, you really don't see it, and I hope we can repay the community by providing the best care possible."
By the way the community rallied to show its appreciation during this event, that feeling of care, commitment and community is reciprocal.