Family with heart condition takes a proactive response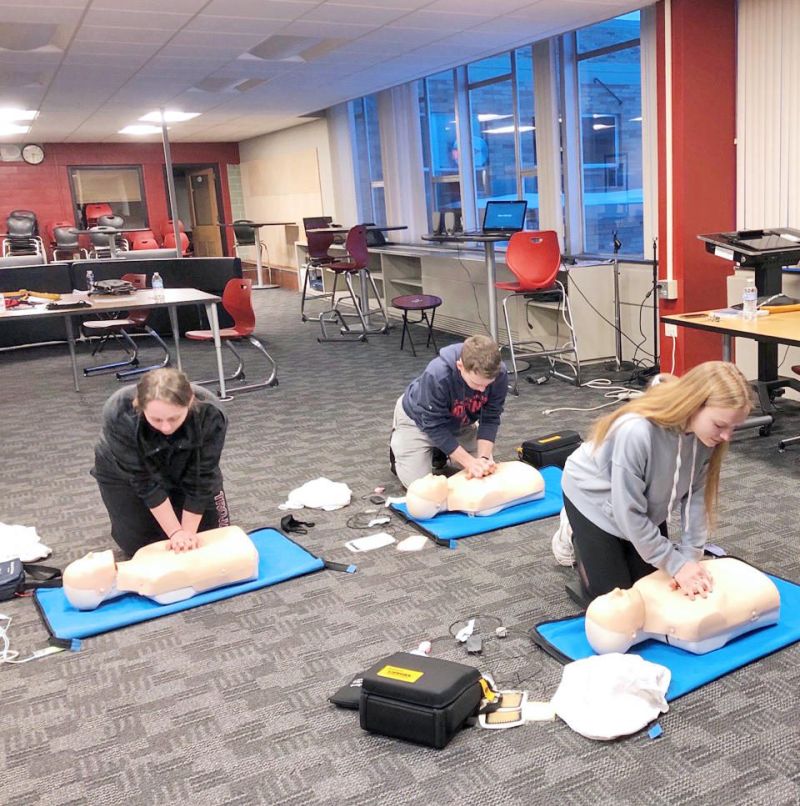 Hailey Schlegel, a senior at Tusky Valley High School, had been feeling short of breath as she ran her track events. She had been seen by a doctor who, thinking she had asthma, prescribed an albuterol inhaler, but the inhaler wasn't helping. Her track coaches, Brian Finney and Mandy McElwee, mentioned her episodes to school nurse Debbie Crank.
Around the same time, Schlegel had an appointment to see her physician at the Cleveland Clinic for a routine checkup. During her sophomore year, she was diagnosed with hypertrophic cardiomyopathy, a disease in which the heart muscle becomes abnormally thick, making it harder for the heart to pump blood efficiently.
The inherited condition came from Schlegel's father's side of the family. While her father has no symptoms, he carries the gene for the condition, which came from his father, who inherited it from his mother.
During her appointment in Cleveland, Schlegel's doctor noticed a slight abnormality on her EKG. The diagnosis was a double whammy for the teenager: long QT syndrome, a heart rhythm condition causing potentially fast, chaotic heartbeats that can leave a patient winded and feeling faint. LQTS can cause seizures and, in severe cases, death. According to the Mayo Clinic, LQTS is relatively rare with fewer than 200,000 cases diagnosed per year.
It turns out Schlegel not only doesn't have asthma, but also the albuterol inhaler could have been making her symptoms worse.
LQTS is another inherited condition 90% of the time. Because of this, physicians conducted genetic testing on the entire family.
This time the gene came from Schlegel's mother, Cori, who had no idea she carried it. Schlegel's 11-year-old brother Brendan and her 19-year-old brother Isaiah also tested positive for carrying the gene.
Getting help
Cori called Crank to let her know Hailey and Brendan, a student at Tusky Valley Middle School, were both starting new medications and they may feel fatigued as they adjust to the treatment. When Cori explained the medical condition, Crank suggested the family take advantage of the free CPR classes offered by the school district.
The whole family signed on for the class, along with Hailey's boyfriend and Isaiah's fiancé.
"I'm so pleased they are being proactive as a family," Crank said. "Some people would be devastated by this diagnosis and feel like they couldn't do anything. This family is saying 'we're going to be cautious, but we're not going to stop living,' and I think that's amazing."
"Being able to perform CPR is now a requirement for graduating from high school," said Crank, who also recommended the family purchase an Automated External Defibrillator. The computer device delivers an electrical shock, if needed, to restore the heart to its natural rhythm. An AED costs around $1,600. That's a lot of money, and insurance doesn't cover the expense.
Crank also said the school purchased an AED for use by the track team when Schlegel's doctor insisted one be available for her during track meets and practices.
Mixed reactions
Each of the family members who have been diagnosed with LQTS reacted a bit differently. Isaiah has been a little leery about continuing some of his activities. "I used to work out every other day, but I haven't done that since I learned I had LQTS," he said.
Cori said she doesn't worry so much about herself having the condition, but she's concerned about her children's physical and emotional well-being.
Brendan had to quit basketball mid-season, but he hopes he can play baseball in the spring.
Hailey summed it up this way. "In a way it's hard to know that I have this disease, but I'm not going to let it keep me from living life the way I want to," she said.
"Getting this family an AED would help me rest a lot easier," Crank said.
The family was hesitant to ask for help from the community in purchasing the AED until Crank shared something she said her husband taught her. "He said, 'Don't rob people of the blessing of giving to you.'"
Those who want to help the Schlegel family purchase an AED should call Crank through the high school office at 330-859-2213.