Health department provides healthy exercise option for seniors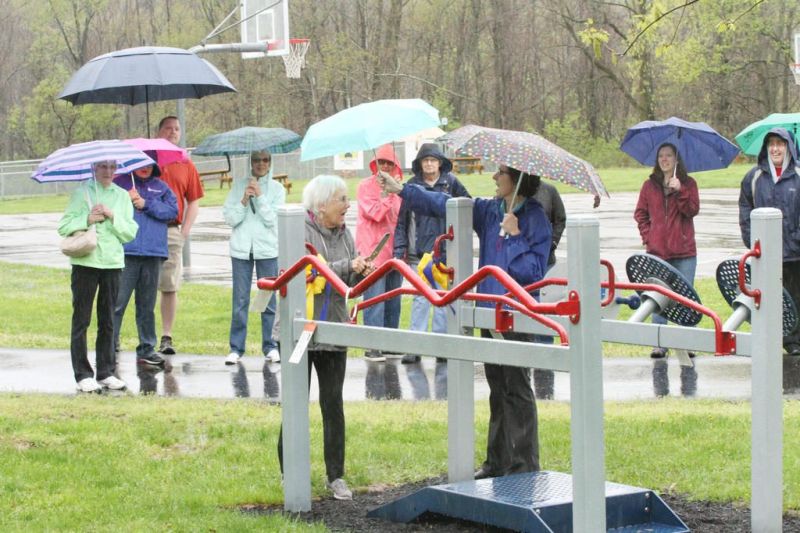 Staying mentally and physically healthy is an important part of aging well, and a recent addition to the Deer Run Park area on Glen Drive, thanks to the Holmes County Health Department, gives area seniors every chance to do that.
On Friday, April 26 on Glen Drive near the Holmes County Public Library, a number of people gathered to celebrate the ribbon-cutting ceremony for the new piece of exercise equipment that was recently built near the walking path. The equipment is designed for seniors and has four different stations that allow seniors to exercise in a low-stress manner. Seniors also can use the equipment for free at any time.
Despite a very rainy day, there were plenty of people present, and Majora Lane provided sandwiches, chips and drinks for those in attendance.
The health department applied for and received a Healthy Communities grant that allowed them to pursue the new piece of equipment.
"Over a two-year grant cycle, we were given $7,500 to give back to the local community," said Kerry MacQueen, injury-prevention coordinator for the Holmes County Health Department. "What an opportunity to give back to the community through actually providing a piece of equipment where individuals can come and exercise. Not only that, it will help improve balance, coordination, flexibility and all of those things that we will need, no matter how old or young we are."
When MacQueen began at the health department, Deb Zuercher told her Holmes County needed a senior playground. MacQueen said it took an entire village to make this a reality, from Zuercher's suggestion to a grant possibility suggested by OneEighty's Tina Zickefoose. It also included not only the health department, but also the Village of Millersburg.
Because the idea came from Zuercher, who is a member of the Standing Against Falls Coalition, she was given the honor of cutting the ribbon at the ceremony. The newly dedicated equipment came from Accent Fitness in Minnesota. The equipment has four different stations with placards at each station describing how to use it and how it will benefit those who use it.
This marks another step in MacQueen's ongoing efforts to create the program, "Getting Active, Staying Strong." She said the next step is to create a walking program for seniors called "Walk With Ease" that will be designed as part of the Arthritis Foundation.
"We have done a lot of surveys and talked at length about some of the possibilities, and this one is terrific because it is all about keeping our seniors active," MacQueen said. "When people become inactive, their muscle mass changes; you lose coordination. And this is a fun piece of equipment that is located in a prime location that will allow our seniors to take advantage and stay active."
MacQueen said the idea will now be to continue the process of creating healthy options for area seniors, noting that the HealthPath Foundation of Ohio grant they received will be available to apply for again. HealthPath specializes in community connection grants.
"Giving all of our senior citizens free public access to what we already have located here in this area is so exciting because we understand how important it is for our seniors to take care of themselves both mentally and physically," MacQueen said.
Mike Durr, Holmes County health commissioner, said HealthPath said this was one of the more unique grant requests they had ever received, which certainly went a long way in helping the health district secure the grant.
"We're so appreciative of Kerry and the work she has done to bring this to our community," Durr said. "We also appreciate the village for stepping up and taking care of the installation. Now we truly have a facility where anybody can gather and have a good opportunity to improve their health."
Durr said it is proven that those who exercise regularly have a better quality of life, and providing that opportunity at no cost to seniors, many of whom are on a fixed income, is important.
Durr also said once the grant became available he told MacQueen she had several options including placing benches along the walking path where seniors could rest or pursuing the equipment.
"I told Kerry to make a choice and run with it because I knew she would do something special with the grant no matter what route she chose to take," Durr said. "We are excited because we think this is just another step in providing our seniors with even more great opportunities to stay healthy."
Holmes County Commissioner Ray Eyler said this is a step in meeting the needs of the community's seniors.
"Along with the exercise trail, this gives our seniors a chance to get active, so that makes it well worth it," said Eyler, who was on hand to help dedicate the new equipment.
With the exercise equipment, walking path, dog area and youth baseball diamonds situated in close proximity to the Darb Snyder Holmes County Senior Center and the library, the area along the east side of Glen Drive has become an area for seniors to engage in healthy activities, congregate or watch grandchildren play ball.