Inspirational Brenly honored by SilverSneakers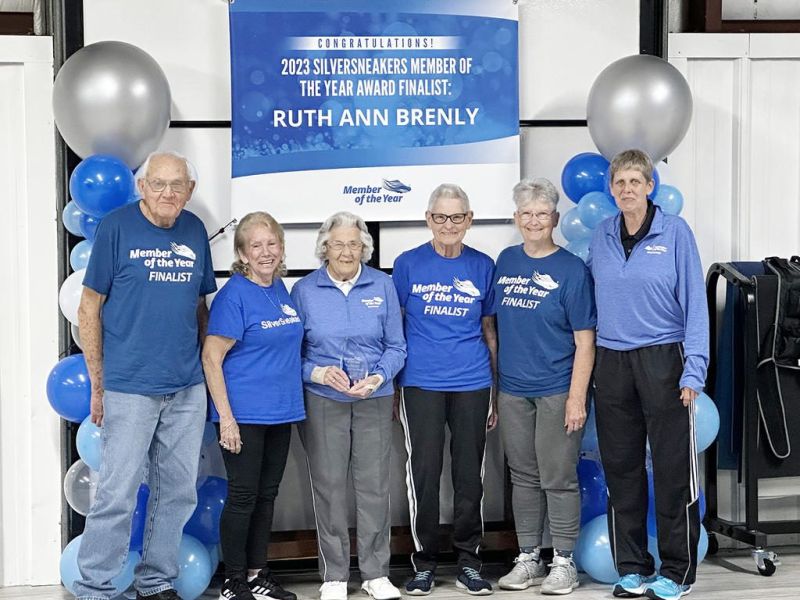 At a spry 97 years of age, Ruth Ann Brenly didn't set out to be an inspiration when she started a walking routine that led the Clark Community Center to name the walking path in Clark after the beloved Brenly.
However, after her husband Carl passed away more than a decade ago, she vowed to him she would work at staying in the best possible shape in mind, body and spirit.
In doing so, she has inspired people from Holmes County both young and old, and on Friday, Sept. 29, Brenly received an honor for her effort, becoming the newest member of Cheryl's L.I.F.E. Fitness to have earned a top 10 national placement in Tivity Health's SilverSneakers program.
"I love this place and these people," Brenly said of the Cheryl's L.I.F.E. Center seniors who joined her for the celebration.
As for her being an inspiration to others, she said she never set out to do that, but if that is what transpired from her effort to walk 2 miles every day and attend classes at the center, all while maintaining an attitude of gratitude, then that's a good thing.
"You can't just sit down. You have to keep moving and keep going," Brenly said. "Don't give up. Life is too precious. I am very proud that people want to follow me and are inspired by me."
Over the past several years, the fitness center has been a beacon of awards for seniors invested in staying fit and being a part of their community, having now placed five members among the top 10 over the past three years. In addition, owner and instructor Cheryl Seabright, an inspiration in her own right, received Tivity's Instructor of the Year last year.
Brenly now joins Betty McNutt, Mary Bridenthal, Owen Mellor and Patricia Young as a top 10 finalist.
"Everyone knows Ruth Ann," Seabright said. "I think part of it is she has a very good attitude, a great drive and determination to stay healthy. Her willpower to keep going is incredible. She made a commitment to Carl before he passed away that she would maintain good positive health and be active."
Seabright said Brenly has such a wonderful outlook on life and is so positive with everyone she meets that she is like everyone's grandmother.
"She's one of those people that everyone just falls in love with," Seabright said.
The celebration included a meal and a visit from a trio of visitors including David Quave from Tivity Health, who presented Brenly with her honor, as well as Fran Dennis and Pam Brown, two representatives from Aetna Insurance, with whom Brenly has insurance.
Quave, who came from Tennessee to make the presentation, said Tivity's goal is to help people better understand the need to continue to strive for better health through diet and exercise as they age.
"Today, we celebrate Ruth Ann and her commitment to that," Quave said. "This is what it's all about, and this celebration is why I love working for SilverSneakers. You look around this room, and this is why I go to work every day."
Brown said they were honored to be present to celebrate Brenly's accomplishment. She congratulated Brenly, then added her gratitude to Seabright for her effort to promote good health.
"I'd like to take this opportunity to thank Cheryl's L.I.F.E. Fitness for creating such a fun, positive and creative atmosphere," Brown said. "At Aetna we have an unwavering commitment to helping members achieve their best health."
Dennis said she was inspired to make more of a commitment to enjoy healthy activities after reading about Brenly, mainly because she has two young grandchildren to keep up with.
That example and many others continue to be Brenly's legacy in inspiring other people to get out there and be active for better health, both physically and mentally.
"That's just who Ruth Ann is," Seabright said. "You can't be around her and not feel better about life and better about yourself. She's an amazing woman who continues to be an inspiration to all of us."