Libraries to distribute at-home rapid antigen test kits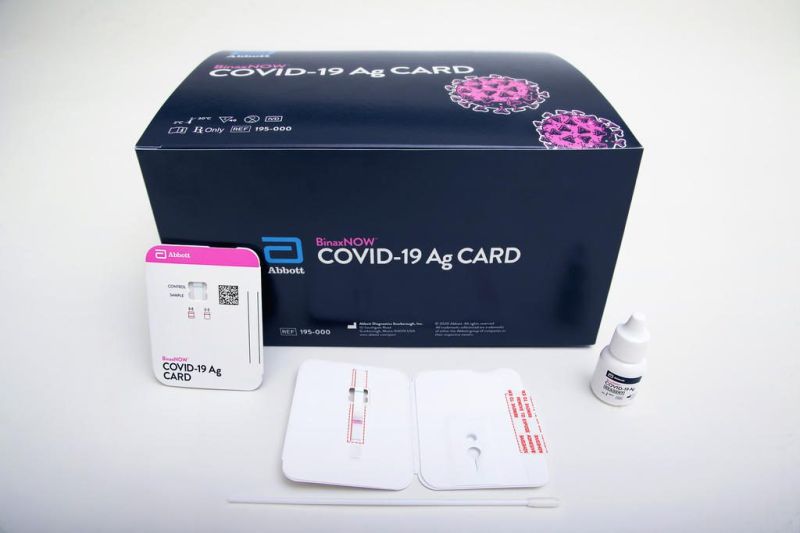 Public libraries in Tuscarawas County are joining other libraries across Ohio in partnering with the state to distribute at-home rapid antigen test kits to the public.
"Representatives from Gov. Mike DeWine's testing team met with library directors last week to discuss this partnership opportunity," Dover Public Library director Jim Gill said. "We were all intrigued by the opportunity to support the community and to assist in providing valuable tools for these challenging times."
Some 100 public libraries have requested kits from the state to distribute these self-administered nasal swab tests, which were provided at no cost by the State of Ohio through an exclusive agreement with eMed. The antigen test can provide test results in as little as 15 minutes.
In Tuscarawas County, kits will be available at libraries in Gnadenhutten, Newcomerstown, Uhrichsville, Dover, Bolivar, Sugarcreek, Strasburg, Tuscarawas and New Philadelphia. Those interested in obtaining a test can call their library to arrange a time for pickup. Libraries offer contactless delivery of the test kits through drive-up windows or curbside service.
"During these COVID-19 times, all of our libraries ask that no one who is sick or symptomatic enter our buildings," Newcomerstown director Cody Addy said. "But we each are happy to provide the test kits with contactless curbside or drive-up delivery."
BinaxNOW is the first virtually guided, at-home COVID-19 test. To use the at-home test, a person must have an internet connection, a smartphone or tablet, a laptop with a webcam, and an email address.
Individuals are asked to download the NAVICA app to their smartphone or tablet and set up an account. They log on to ohio.emed.com and follow the instructions of the eMed test proctor, who certifies the test results. The individual receives their test results through the NAVICA app with a pass that can be shown as proof of a negative test for seven days.
"We are pleased to be able to assist the state testing team in getting test kits to where people are," Tuscarawas County Library director Michelle McMorrow Ramsell said. "These tests, along with vaccinations, will be valuable tools in our state getting back to normal."
For more information about the test kits, visit ohio.emed.com or call your local library: Tuscarawas County Main at 330-364-4474, Claymont Public Library at 740-922-3626, Bolivar branch at 330-874-2720, Dover Public Library at 330-343-6123, Strasburg branch at 330-878-5711, Gnadenhutten Public Library at 740-254-9224, Sugarcreek branch at 330-852-2813, Newcomerstown Public Library at 740-498-8228 and Tuscarawas branch at 740-922-2748.