Ohio's Hospice LifeCare volunteers commissioned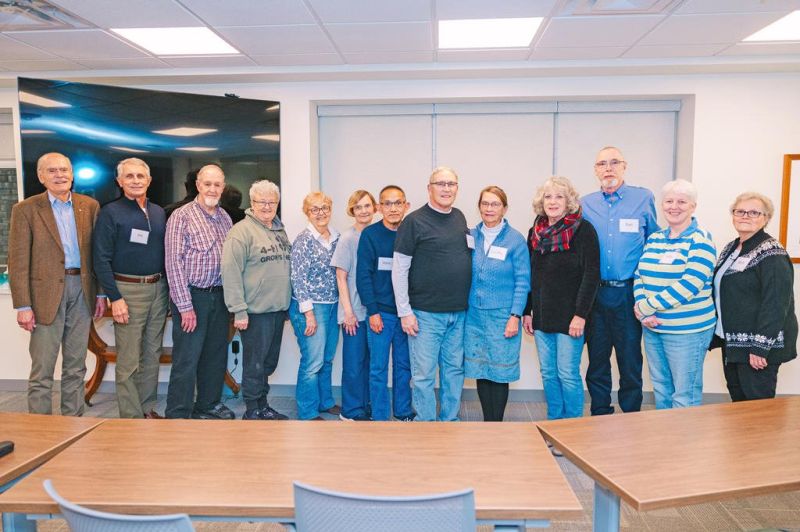 Ohio's Hospice LifeCare commissioned its newest class of volunteers on Nov. 21 at its Marilyn B. and Mark E. Gustafson Center for Supportive Care in Wooster.
This was the second volunteer class to be trained in the newly opened center, which includes Ohio's Hospice LifeCare Volunteer Services, Pathways of HopeSM Grief Counseling, and transportation service and support. Thirteen volunteers completed 10 weeks of training in the Center for Supportive Care.
This class of volunteers includes Kathy Cassel, Steve Cook, Beth Crone, Tom Flannagan, Kathy Gorman, Hans Kwee, Jim Lytle, Connie Reding, Sue Roe, Dorothy and Terry Sample, Dan Shadburn, and Barb Teach. The graduating class was commissioned by Kurt Holmes, executive director of Ohio's Hospice LifeCare. Each participant received a certificate and pin.
As they went through the training, the volunteers learned about hospice history and philosophy; active listening and communication techniques; pain and symptom control; hospice care in private homes, nursing homes, and Stanley C. and Flo K. Gault Inpatient Pavilion; hands-on care; infection control; meeting the emotional needs of dying and grieving persons; spiritual care of dying and grieving persons; and bereavement care training.
"Volunteers play a vital role in the care of our patients and families," said Elisa Stoyle, manager of volunteer services at Ohio's Hospice LifeCare. "The focus of our training is on equipping volunteers with the skills and knowledge needed to help those facing life-limiting illnesses live their lives to the fullest for as long as possible. Through our volunteers, we look to enhance the quality of life for our patients with companionship, music, the company of certified therapy animals and spiritual support."
More than 150 volunteers support the mission of Ohio's Hospice LifeCare, providing critical support in direct patient care including caregiver respite, medication and supply delivery, patient visits, music therapy, animal-assisted therapy, veteran support, administration tasks, grounds maintenance and more. Ohio's Hospice LifeCare is always in need of more volunteers. Time commitment can vary to meet any volunteer's needs.
The next volunteer training will begin Feb. 20 from 6:30-8:30 p.m. at the Marilyn B. and Mark E. Gustafson Center for Supportive Care on the campus of Ohio's Hospice LifeCare, 1900 Akron Road, Wooster. Those interested in learning more about volunteering should email Stoyle at EStoyle@LifeCareHospice.org or call 330-264-4899.
Ohio's Hospice LifeCare, a not-for-profit organization established in 1982, is an affiliate of Ohio's Hospice that serves communities in Northeast Ohio.