Orrville Area Safety Council holds workshop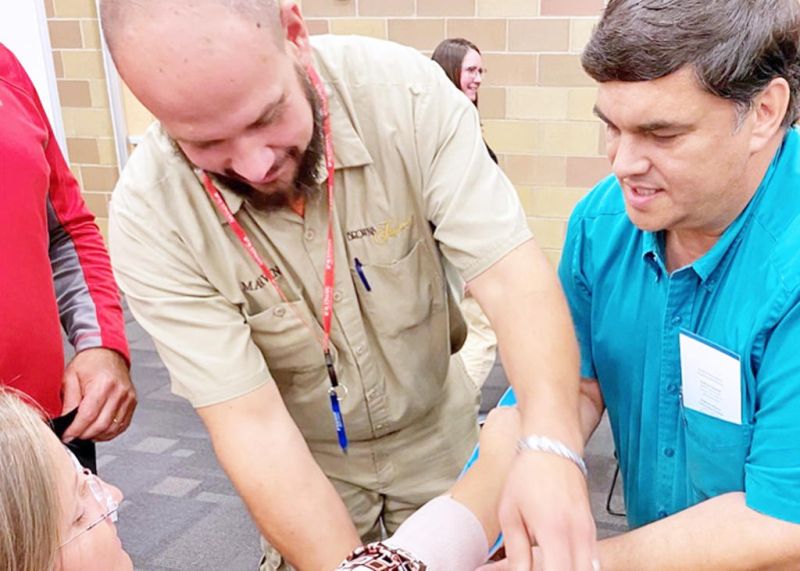 The Orrville Area Safety Council held a hands-on first aid workshop for local employees to refresh and practice skills during their meeting at the University of Akron Wayne College on Oct. 12.
Four interactive stations were incorporated into the program, all featuring injuries or emergency response issues that could be encountered in the workplace.
Janeen Bradford, registered nurse education coordinator at Aultman Orrville Hospital, demonstrated stroke signs and symptoms. Attendees were educated on the FAST test when determining if a co-worker could possibly be having a stroke.
Aleah Neuenschwander, wellness specialist at Aultman Orrville Sports & Wellness, educated on orthopedic injury. Participants split up and practiced supporting an arm or leg injury with common workplace items such as a magazine and a shoe string to stabilize the limb during the wait before emergency medical help arrived.
Kristen Gallagher and Elizabeth Cante of the American Red Cross Northeast Ohio Region reminded participants that when someone experiences cardiac arrest, any help is good help. Performing hands-only CPR is an effective way to keep oxygen moving through the blood stream of the victim until professional help arrives. The attendees were able to practice the technique of chest compressions on foam ambulances with instruction.
The most popular station among the OASC attendees was emergency fire response presented by the Orrville Fire Department and Wayne County Regional Training Facility. Attendees had the opportunity to practice activating a fire alarm by pulling the lever that would likely be in their workplace and then attempt to put out the fire simulated on a screen using a fire extinguisher prop. Many volunteers had never pulled the pin on a fire extinguisher or used one before.
The Nov. 9 OASC meeting will feature the topic, If You Think You Are a Multitasker, You Are Wrong, presented by Lt. Todd Roberts of the Ohio State Highway Patrol. Roberts will address the safety issues related to distracted driving.
The OASC is a program of the Orrville Area Chamber of Commerce presented in partnership with the Ohio Bureau of Workers Compensation and Massillon WestStark Chamber of Commerce. Lunch and learn meetings are held the second Wednesday each month at the University of Akron Wayne College. Visit www.orrvillesafety.com to register or email safety@orrvillechamber.com for more information.