WCH put preparedness plans into action in COVID-19 crisis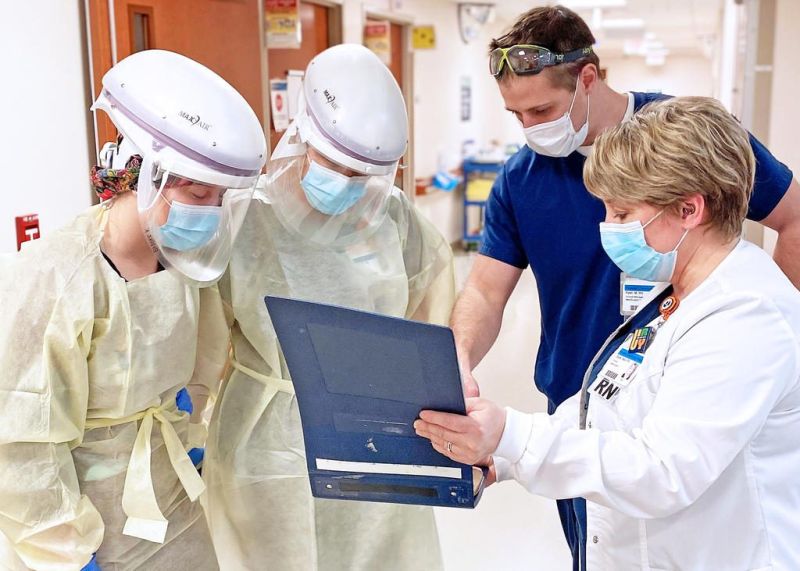 Since March Wooster Community Hospital and its Emergency Preparedness Team began to understand a moment had arrived wherein all they had eventually planned for might be coming to fruition — even though, according to Ryan McBeth, clinical manager of the medical surgical units, they had no idea of the magnitude or even the changing protocol of what was to come.
Plans dealing with hospital census, PPE treatments and more were not necessarily known to that point, although supplies and resources were available.
They, along with many hospitals, were just beginning to grasp the significance and uncertainty of dealing with what would become known as Coronavirus Disease 2019 or better as COVID-19. In COVID-19, CO stands for corona, VI for virus and D for disease. Formerly, this disease was referred to as 2019 novel coronavirus or 2019-nCoV.
This is a two-part story that encompasses information and assistance from key personnel at Wooster Community Hospital and is intended to explain how the hospital went about its daily work in providing treatment.
Assistance and information was forthcoming from Michelle Quisenberry, director of marketing and public relations for the Wooster Community Hospital Health System; Stacey Beun, RN, MSN, director of medical surgical units, On Incident Command Team and Emergency Preparedness Committee and who has worked at Wooster Hospital for 23 years; and Ryan McBeth, RN, BSN, MSN, clinical manager of the medical surgical units, member of the Incident Command Team and Emergency Preparedness Committee, and who has worked as an RN at Wooster Community Hospital for 11 years.
Because of COVID-19 protocols, questions were sent in advance with phone interviews following. The majority of answers were from McBeth. Additional information came from Quisenberry and Beun.
Now, almost nine months into the COVID implications, what is the overall learning dynamic that permeates or extends into the hospital activities/culture/procedures?
Emergency preparedness is worth everything you put into it. It is one of those things as a hospital that you put a lot of effort into but hope to never really have to use the majority of it in a real world scenario.
The challenge and opportunity for us is to learn from the practices and processes established in an emergent way that now needs to be adjusted and normalized into our ongoing operations.
Are Wooster's treatments/meds similar/identical to the ones we hear/read about per media reports such as Remdesivir, Dexamethasone, convalescent plasma, etcetera?
We pride ourselves in offering the best possible healthcare for our community and have been able to incorporate Remdesivir, Dexamethasone and convalescent plasma in the plan of care for patients in which these treatments are appropriate. We have a great team of providers and pharmacy staff that help to ensure we have the necessary treatments for our patients. We have recently begun using Monoclonal antibody infusions for outpatients that meet specific eligibility criteria. Our hope with this treatment is to help treat patients with COVID-19 infections before they become severe enough to require hospitalization.
If you/hospital could "start" over with COVID-19 again, knowing what you now know, would anything change or be implemented?
I can honestly say I sure don't want to start over again with COVID. That being said, there is probably always an opportunity to do things a little differently. As an organization we focus on continual process improvement, so looking back and evaluating processes is part of our culture. We are actively looking at some of the processes we put into place early on and designing improvements. Not that the processes were not good to begin with, but you are probably doing yourself a disservice if you are not looking back and trying to figure out how you can get better.
Is there a standard SOP that dictates practices? Since March, have Wooster protocols changed?
Much like nearly everyone, we have been in a perpetual state of adaptation since this has begun. It seemed early on that the recommendations from CDC changed on nearly a daily basis. We have continued to work hard as a team to stay abreast of new recommendations and guidance so we can provide a safe place for our patients to seek medical care.
Do you receive support/assistance from CDC? Has it been needed/welcomed/helpful?
The CDC has been a great resource for us to refer to when developing policies and practices.
Has Wooster received (or has) all the PPE/equipment/resources it needs? Could you run out of rooms/space per coverage?
Some of our first initiatives as an organization were to secure the additional PPE and resources needed to treat our patients and to protect our healthcare workers. We have spent a lot of time over the past several months sourcing additional PPE and resources. We have a daily meeting where we evaluate our usage rate of frequently used equipment and PPE and identify any items we are becoming concerned about early on. Our materials management department has worked tirelessly to ensure we have everything we need to safely provide care to our patients.
Editor's note: Part 2 and more questions/answers include being tested, census, vaccinations and more on Jan. 16.