4 winners among 8 moving on to districts for Knights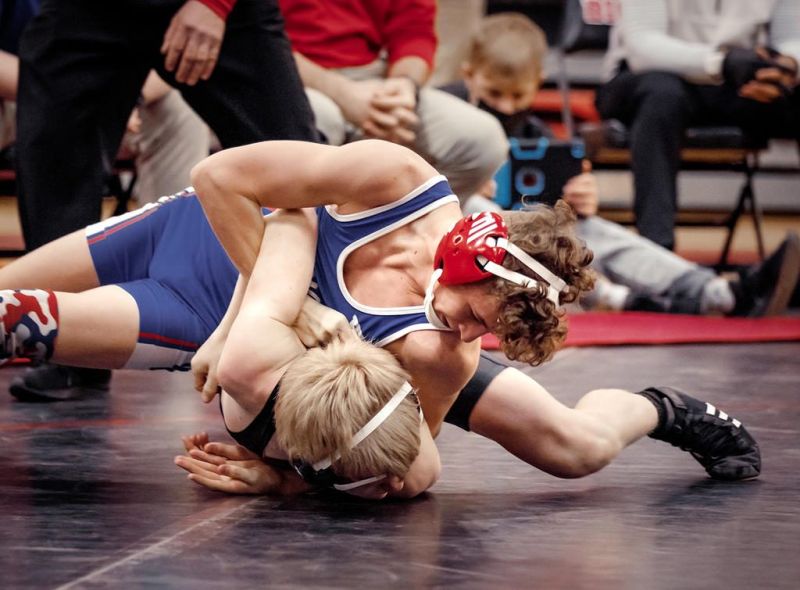 The West Holmes High School wrestling team had an "impressive" showing on Saturday, Feb. 27, placing eight wrestlers in the top-four at the Ohio High School Athletic Association Div. II East Sectional Championship Tournament held at Steubenville High School.
The Knights' Brady Smith (junior, 106 pounds), Mason Taylor (sophomore, 113), Noah Tish (junior, 120) and Elisha Baldridge (sophomore, 195) all secured sectional titles and advanced to the March 5-6 district tournament. Joining the champions at districts are sectional runner-up Tucker Kaufman (junior, 138), third-place finishers Dylan Strouse (junior, 132) and Conner Varnes (junior, 145), and Corbin Miller (senior, 126), who placed fourth.
Also making the trip as district alternates are freshman Kalan Bowling (152) and Grant Miller (182), both fifth-place finishers. Collin Gardner (sophomore, 285) placed sixth after defaulting his final-two matches due to injury.
In the team race, the Knights' 182 points placed fourth in the 10-team tournament. Lisbon Beaver Local won with 218, Steubenville placed second at 210.5 and St. Clairsville was third with 206.
WHHS head wrestling coach Scott Vaughn was impressed with his squad's performance. "Interesting stats. We had 12 district qualifiers last year. Seven were seniors. We lost three this year because of injury. That leaves Colt Cox and Tucker Kaufman as district qualifiers. Also, Collin Gardner and Dylan Strouse were alternates. We had nine wrestlers today that weren't in the lineup last year at sectionals. The fact that we ended up having eight qualifiers, two alternates and a sixth-place finisher is pretty impressive for these guys. It really shows the work these kids have put in."
Smith, the No. 1 seed, received two byes and then posted a fall win to reach the championship bout. Smith handled Cal Beadling of Steubenville, posting a 5-1 decision victory over the No. 2 seed.
With a No. 3 seed, Taylor also received two byes before pinning the No. 2 seed Anthony Shevlin of Steubenville in the semifinals. Taylor kept it rolling in the title match, shutting out No. 1 seed and returning state qualifier Jarret Stillion of Meadowbrook with a 4-0 decision win.
Tish, the No. 1 seed, kept the Knights sectional champions streak going, dispatching Zach McKeever of St. Clairsville, who was the No. 3 seed, with a fall at 4:33 in the title bout. Tish finished his day 3-0 with two fall wins.
Also posting a 3-0 day with two falls was Baldridge. The sophomore, No. 3 seed, pulled out a 3-1 decision win in the quarterfinals, then scored back-to-back fall wins over the No. 2 seed and No. 1 seed for his sectional championship. Baldridge stopped Nat King of Steubenville in the title match at the 2:53 mark.
"Our four champions really had a great tournament," Vaughn said. "Second-year wrestler Brady Smith was lights out on his way to the title. Mason Taylor might have had the most impressive tournament from any weight class. He came in with the three seed, beat a state alternate, then a returning state qualifier. Noah Tish came in as the one seed and lived up to that hype, taking home the sectional championship. Elisha Baldridge, like Mason, came in as the three seed and powered his way to a title."
Kaufman went 2-1 as the No. 2 seed and opened his tournament with two fall wins, the first marking his 100th career varsity win, to reach the championship match, Facing No. 1 seed Devon Salsberry of Lisbon Beaver Local, Kaufman fought hard but dropped a 13-9 decision.
Third-place finisher Strouse, the No. 3 seed, posted a 3-1 mark with all his wins by fall including a :38 decking of Brayden Strode of Morgan in the third-place match.
Varnes also earned the No. 3 seed and went 3-1 on the day. Varnes posted a strong 6-1 victory over Cole Antill of Steubenville in the bronze medal bout.
Fourth-place Corbin Miller went 1-2 after dropping his quarterfinal match. He scored an 8-2 victory in the consolation semifinals to secure a district berth. But Miller lost by fall at 4:48 in the third-place match to Cohen Bunting of John Glenn.
Bowling went 2-2 with two falls and ended his day with a fall win at 2:24 over Tristen Neiswanger of Meadowbrook while Grant Miller went 3-2 with three fall wins including a fall win in 2:41 over Jacob Walker of St. Clairsville for their fifth-place finishes and district alternate slots.
Gardner went 1-3, opening his tournament with a fall win at 5:40 over Brandon McClain, the No. 4 seed from Morgan, reaching the semifinals, where he dropped a 7-3 decision and aggravated an injury that prevented the Knights' big man from further competition.
Seeing their seasons come to a close were senior 220-pounder Colt Cox and sophomore 170-pounder Dakota Patterson.
Vaughn was excited for the district tournament. "I can't wait to get back to work this week and get these guys ready to make a run at the state tournament," he said.