Aila Miller picks up pace, Lady Knights and Pirates remain hot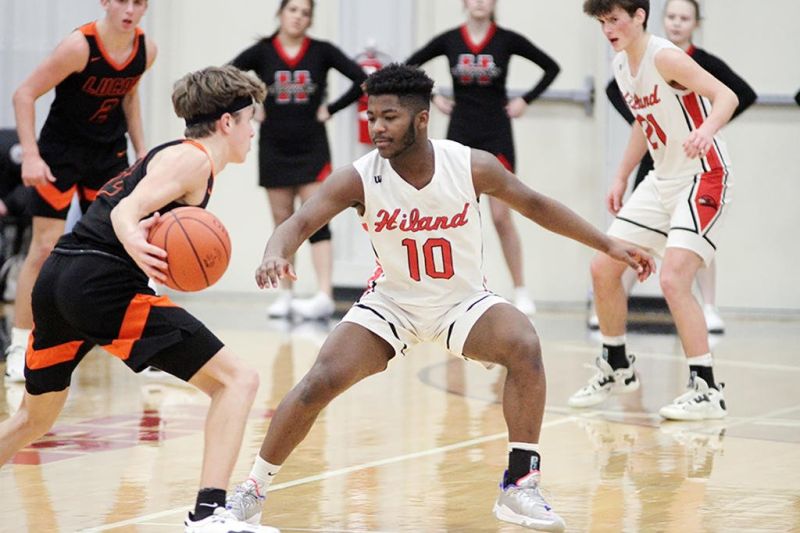 After dropping its first two games of the year, the Garaway boys basketball team reeled off its eighth-straight win, the Lady Knights remained perfect in Ohio Cardinal Conference play, Aila Miller is starting to fire on all cylinders for the Lady Hawks and a Hiland boys basketball defensive effort like few others in school history provided the area hoops highlights this past week.
Aila Miller goes nuts in leading Lady Hawks to two wins
The Hiland Lady Hawks got a great scoring night from a trio of players to pull away from Sandy Valley for a 49-36 win.
Miller started hot and finished strong, scoring five first-quarter points and eight in the final quarter for her total of 16. Jenna Troyer plugged along, consistently adding to her total of 15, while Ashley Mullet knocked down a dozen points, with eight of those coming in the first period. Teagan Harris also chipped in with a pair of treys for her six points.
Hiland also produced a strong 58-38 win over Ridgewood that saw Miller pound down 22 points to lead the Lady Hawks to victory. Miller did major damage in the second quarter, nailing three triples while exploding for 16 points. Mullet added 13, Joplin Yoder scored eight and Claudia Troyer tacked on six for Hiland. Mullet and Troyer connected for three and two 3-pointers, respectively.
Lady Knights lock down two more OCC wins in team efforts
The West Holmes Lady Knights stayed perfect in the Ohio Cardinal Conference with a pair of wins. WHHS got a stiff challenge against Mt. Vernon as the Yellow Jackets tried to knock them off their undefeated Ohio Cardinal Conference perch. After Mt. Vernon took a 26-23 lead into the half, the Lady Knights rebounded big to take the second half 30-17 to win 53-43.
It was a great effort all-around for West Holmes, which go 15 points and six assists from Kinsey Patterson, 13 points and 13 rebounds from Melanie Fair, 11 points from Ella McMillen, nine points and seven rebounds from Claire Reynolds, and five points and five steals from Allie McMillen.
West Holmes systematically pulled away from Lexington on Jan. 6 in a 43-31 win. The Lady Knights kept building their lead, going from a four-point edge in the first period to leading by seven at the half. By the end of the third quarter, that lead had grown to 13 points, and Lindsy Snyder's crew cruised from there.
Ella McMillen led a balanced attack with 11 points while Patterson added 10 points and three rebounds. Reynolds scored nine to go with three steals, and Allie McMillen did it all in producing a seven-point, seven-assist, seven-steal night. Keegan Uhl added three points.
Lady Pirates roughed up by strong Trojans team
A powerful Tusky Valley team, front-runner in the Inter-Valley Conference South division, plopped a 67-43 loss into the lap of Garaway on Jan. 8. Brooke Stookey went off for the Trojans, compiling 25 points and nine rebounds. Garaway was led by Marley Metzger, who knocked down 18 points, with Rylee Putt adding nine points and three assists and Makayla Sitzlar and Jordyn Fearon both adding six points in the loss.
Proper ignites as Knights down Claymont
West Holmes head coach Don Hall said he was looking to find scoring punch behind his two-guard combo of Channer Wells and Blake Morrison. He found the first in Zander Shultz, who has come along nicely in picking up his offense.
On Tuesday, Jan. 11, he found another in Zevin Proper. Proper tied a school record by drilling seven 3-pointers to lead the Knights past Claymont 72-41. Proper was on fire from the get-go and hit from everywhere behind the arc, racking up 23 points in total and helping WHHS to a 21-6 lead through the first period and a 40-22 bulge at the half. Joining him in double-digit scoring was Wells with 18 and Morrison with 11.
Earlier, the Knights struggled in a pair of OCC losses, falling to Mansfield Madison 57-38 and dropping a 57-51 game to Lexington. In the loss to Lex, the Knights were able to hang in there until the final frame, leading 45-43 heading into the final-eight minutes of play. However, the Minutemen claimed the final quarter 14-6 to pull out the victory. Channer Wells led West Holmes with 16 points while Zevin Proper chipped in with 10 and Zander Shultz and Blake Morrison each added seven.
In the loss to Madison, WHHS fell behind early and never did threaten. Wells poured in 15 points while Morrison and Shultz each added six in the loss.
Pirates pound Trojans to continue hot streak
The Garaway boys had little trouble in disposing of Newcomerstown 69-30 in a Jan. 7 match-up. Garaway improved to 7-2 overall and 4-1 in the IVC South, placing 10 players in the scoring column en route to victory. Logan Yoder scored 15 to lead the Pirates while Drew Mullet added 11. Braxton Wilson and Trenton Newkirk led the Trojans with six apiece.
On Jan. 11 the Pirates traveled to Fairless, came back after getting down and then held off a stubborn Falcons team in a 54-47 win. In improving to 8-2, the Pirates got a come-from-behind win on the strength of Mullet's 15-point effort. He was aided by Brady Roden with 13, Alexander Roden with 11 and Jarrett Wallick with 10. Carson Colucci led the Falcons with 15.
Hawks defense goes low vs. Titans in a defensive gem
The Hiland defensive record of fewest points allowed of 13 by the 2019-20 Hiland Hawks boys team didn't stand long. Hiland held Triway to just 12 points in its most recent victory in a defensive effort for the ages that set the new school mark.
When Hiland faced Triway on Jan. 11 at the Reese Center in Berlin, they expected a strong challenge in what has become a nice local rivalry between two storied programs.
Little did Mark Schlabach's Hawks ever think that the 14 points they produced in the first quarter would be enough to win the game. Hiland put forth a monumental defensive effort, holding Triway scoreless in the first quarter en route to a 50-12 victory.
Dylan Weaver ignited the first quarter by pouring in seven points while Caden Miller and Sammy Detweiler each added four and three, respectively. Those points would be more than enough to claim a win against a Titans team that struggled to find any flow and rhythm in the game.
Drew Bishko finally got Triway in the book midway through the second quarter with a 3-pointer and a free throw, but the Hawks continued to build the lead, taking a 26-4 half-time bulge into the locker room.
Kain Weaver matched Bishko's output in the third period, but the Hawks continued to lay down a suppressing defense, and Tony Yoder made sure the Hawks' large lead grew by knocking down seven points in the period.
Phin Killy scored four to lead Hiland in the fourth quarter while Triway managed just four free throws as the sum of their final-quarter effort.
Caden Miller led a balanced Hiland attack with 10 points while Yoder and Weaver tossed in nine apiece. Killy added seven, and Detweiler scored five. The Titans got four points apiece from Bishko and Weaver. The Titans fell to 4-8 while the Hawks soared to 10-1.