Area sports wrap: WH volleyball continues to get better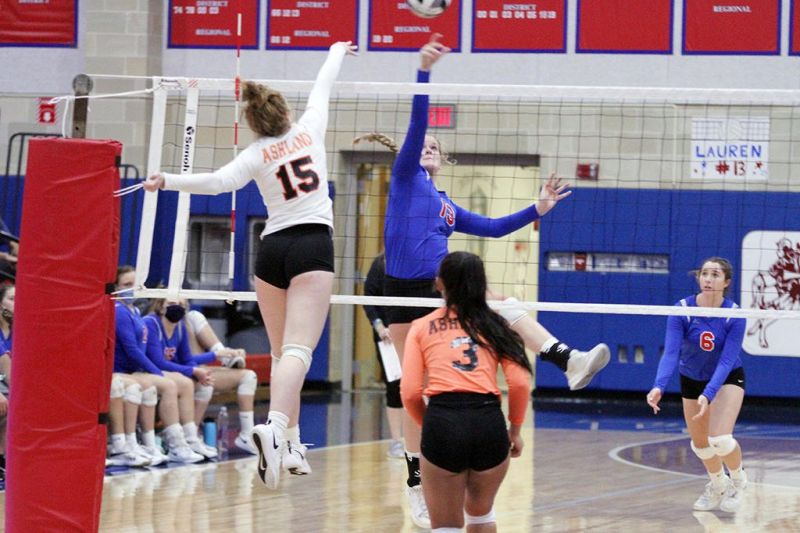 Volleyball
How far have the West Holmes Lady Knights come this season in terms of improving?
A good measuring stick came last week when they hosted Mt. Vernon. Having lost in three games to the Yellow Jackets earlier this year, this time around WHHS took home a 3-0 win of their own, winning in three tight games, 25-21, 25-23, 25-23.
West Holmes came out focused and ready to play with everyone stepping up and playing hard. Harmony Mast led the Lady Knights at the service line with 10 points and two aces. Ella McMillen followed with nine points and two aces. At the net, Megan Jones set the tone with 12 kills, followed by Harmony Mast with six kills. Defensively, McMillen had 16 digs and 1.5 blocks, along with Mast's 13 digs. Megan Jones pitched in defensively with 2.5 blocks. Lauren Jones finished with 24 assists.
The Lady Knights also took care of business on dealing Mansfield Madison a 3-0 loss, winning 25-15, 25-23, 25-19. West Holmes was led in scoring by Lauren Jones with 12 points and three aces, followed by Jerzey Morris, who had nine points and four aces. McMillen and Megan Jones led the offense at the net with eight kills each, and both had big defensive games along with Mast and Lauren Jones, each of whom contributed eight digs. Brenna Barnes came away with 2.5 blocks, and Lauren Jones finished the game with 19 assists.
Hiland landed another win to improve to 9-7 with a 25-22, 25-22, 17-25, 25-12 win over Cardington.
Haley Yoder served up 14 points including two aces; Sara Schlabach had 14 points, 12 kills and 12 digs; Ava Weaver dished out 43 assists; Amanda Troyer had 13 digs; and Ava Troyer and Annika Schneider collected 12 and 19 kills, respectively, in the big win.
The Lady Hawks then improved to 10-7 with a five-game win over Indian Valley. Hiland won 20-25, 25-20, 26-24, 22-25, 17-15. Amanda Troyer and Yoder served for nine and eight points and had 28 and 24 digs, respectively. Schneider racked up 24 kills with Ava Troyer adding 12. Ava Weaver recorded 54 assists.
Garaway fought valiantly but fell 25-20, 29-27, 25-19 to powerful Tusky Valley. Brooklyn Frey had 12 kills and 12 digs, Laiken Wallick added a pair of blocks, and Lizzie Muller recorded 17 assists and three aces in the loss.
Tennis
Doubles tandem Maggie Taylor and Madison Baker were the lone Lady Knights to earn a win in a 4-1 loss to New Philadelphia. The duo pulled out a 6-4, 1-6, 10-3 win.
Those two then teamed up for sectional doubles play at Dover Park on Monday, Oct. 5, where they just missed advancing to districts.
After facing the Cambridge 2 duo and coming away with a 0-6, 7-6, 6-4 comeback win, West Holmes fell to East Liverpool 6-1, 6-2 in the semifinals. The West Holmes 2 team of Rosanna Miller and Anistin Gallion fell in the quarterfinals. Individually, Sydney Rolince fell 6-2, 6-1 in the opening round, Morgan Heflin fell in her opener 6-4, 6-4 and Jessie Zheng dropped a 6-0, 6-0 game in the opening round.
Soccer
The West Holmes Lady Knights dealt Mansfield senior a 4-2 defeat, with Allie McMillen taking a starring role. McMillen produced a hat trick, scoring three times, while Kali Woods picked up her first career varsity goal. Between the posts, Avery Arnold collected 26 saves to preserve the victory.
The Lady Knights followed that up with another strong win, this time a 4-3 squeaker over Tri-Valley. Tied at 2-all after one half, WHHS was able to earn the win in a game that was tight throughout.
Scoring for West Holmes were McMillen, Katrina Rolince and Sydney Krownapple. Arnold produced a 19-save day in goal.
The Hiland boys had to take on a state-ranked Youngstown Mooney squad down several key players, and while the Hawks played well, holding on to a tie until the 72nd minute, they eventually fell 4-2 on a pair of late goals.
Scores from Kurt Kaufman off an assist from Casey Lowe and Kaufman's goal in the 57th minute off a feed from Caelen Howell had the Hawks even, but Mooney scores in the 72nd and 74th minutes spelled the end for Hiland.
"We have been battling hard all week, down players, and it caught up with us at the end against a very good state-ranked team," Hiland coach Scott Bodiker said.
Hiland fell to 8-2-1 while Mooney improved to 7-2-3.
Howell went on to score twice. Collin Lowe added a goal, as did J.J. Miller, as Hiland downed Chippewa 4-0.
The Lady Hawks rolled to victory in a 7-0 win over St. Thomas Aquinas. Hiland blew the game open with five second-half goals. Gabby Schlabach knocked home three of the scores and added an assist in a huge game while Sam Mast, Braylie Coil and Kate Kaufman added goals, along with an own goal for Aquinas. Lydia Weaver, Alex Weaver, Emily Gingerich and Kaufman all added assists in the win that improved Hiland to 5-4-3 on the campaign.
Hiland later fell to Youngstown Cardinal Mooney 1-0 in a tough battle. The lone goal came in the 58th minute, and Itzelle Guzman was busy in goal, making 13 saves.
Coach Conner Lee had high praise for his defense. "It was a hard-fought game. The defense had a great game, as did Itzelle in goal," Lee said.
West Holmes' boys ripped off a 5-1 win over Minerva, getting a strong first-half effort of three goals to none. Curtis Wagner keyed the win with two goals and an assist while Carson Yoder, Camron Arnold and Jackson Oliver all chipped in with one goal apiece. AJ Jones gobbled up six saves in net.
Cross country
The West Holmes boys cross country team dominated their flight at the Woodridge CVNP Invite. Cade Wagers led the team with a fourth-place finish in their flight. Caiden Carter, Haeden Wolfe and Zeke Galbraith finished seventh, ninth and 12th, respectively. Caden Zeigler rounded out the scoring in 20th place. Matthew Young and Camden Doty also competed for the varsity. Once the flights results were combined, the boys were 14th out of 31 schools.
The West Holmes girls cross country team ran to a fourth-place finish in their flight at the Woodridge CVNP Invite. Brenna Myers led the team with a third-place finish in the flight. Brogan Steimel, Carolyn Miller and Sayler Miller finished 12th, 16th and 17th, respectively. Olivia Sampsel rounded out the scoring in 24th. Ashly Phillips and Mia Emick also competed for the varsity team. Once all the flights were combined, the girls team ranked 10th overall out of 23 teams.