Holmes Board and more work to provide socially distanced junior fair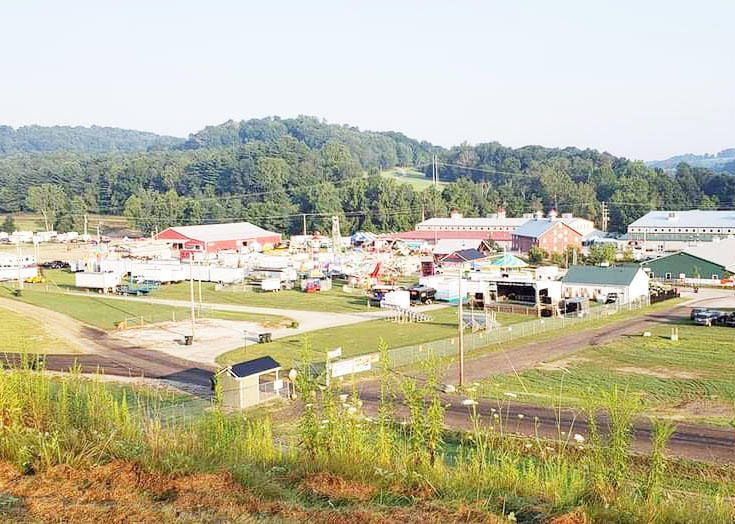 With the COVID-19 pandemic putting a damper in county fair plans across the United States, Holmes County will feel a direct effect as well when the fair kicks off on Monday.
County fairs in Ohio were still scheduled as planned, but then on July 28, Gov. Mike DeWine announced he had made the difficult decision to limit those beginning after July 31 to junior fairs only. With just over one week away until the Holmes County Fair was set to begin — and having already made so many changes to guarantee the fair could continue under the newly mandated COVID-19 guidelines — the Holmes County Senior Fair Board members and other committees were forced to go back to the drawing board to figure out how to ensure the event would continue in such a different capacity.
"One minute we are planning a normal fair, then a junior fair, then a normal fair, then a fair without grandstands, then back to a junior fair," Holmes County Senior Fair Board secretary Tara Sheldon said. "It has been interesting to say the least and has taught us a lot of patience for sure. We've been through a lot over the years with floods, moving to the new grounds and now everything in 2020. Each time we are faced with adversity, it amazes me how each person steps up and makes things happen. We have a unique group, and each person has their strong suit that they bring to the board."
At this point the fair board has planned for just about anything to happen, so making sure a successful junior fair takes place next week should be able to happen. Although this won't be a full fair with rides, vendors and the normal meet-up with friends that people are used to, board members are hopeful the community will still make an effort to show their support to all of the young people in Holmes County who will showcase their projects.
"Our community is such a strong supporter of the fair and our youth exhibitors," Sheldon said. "Each year the way they come out to support the kids, especially at the livestock auction, really confirms why the board does what they do to put on an event together like the fair. This year has been such a time of change for many of these kids. I would encourage the community to join us like they have in the past to show the kids they are supported and appreciated for their hard work. The fair won't be the same, but it will be what we all choose to make it. The 4-H motto is 'To Make the Best Better,' and I know the board, parents, kids, vendors and community will step up in a big way to make the best of the situation this year."
One of the committees that works closest with the fair board is parking, which most likely won't be as large of an issue this year due to less people being at the event. Led by West Holmes High School agricultural teacher and FFA adviser Jaime Chenevey, the parking committee has always been one of the most important aspects to planning a successful fair. Even with the current COVID-19 pandemic, this year is no different.
"We have reduced the time frames people are working to park vehicles to three-hour shifts instead of a 13-hour days and reduced the number to about 20 total people," Chenevey said. "The only place we are monitoring all day long is reserved parking. Depending on the traffic, we may find that we do not need people all week long, but that is yet to be determined."
During past Holmes County Fair events, Chenevey said she usually needs to have at least 40-50 volunteers working in gates and parking for each day, usually covered by area sports teams using the project as a fundraiser or for community service. She said she spends several days marking spots, running rope and hanging signs.
Although this year will be different, Chenevey said each day of the fair brings its own challenge, depending on the weather and the traffic flow they get.
"It can get real hairy in the evenings trying to get people in the right places, making the move to the overflow lot and parking people as close to the grounds as possible," Chenevey said. "It is hard because some people just do not want to listen. Inevitably, we get poured on at least twice a week, making for a soggy rest of the night in the parking lot."
But one must remember: This was all prepandemic. Things are going to look very different this year. But that is why it is important to remember that although the fair won't bring with it the bright lights of the Ferris wheel, the sweet smells of a funnel cake or the honky-tonk sounds of the music from the grandstand, supporting Holmes County youth in 4-H and FFA is what this year's event is all about.
"I always push my kids to tell their story, and one of the ways they can do that is by participating in the fair," Chenevey said. "People need to know why agriculture and these projects are important, and they need to see the excellent job these youngsters do raising them. Some of these kids spend their entire summer preparing for this week. Come share it with them."
Chenevey said the fair at its roots is about celebrating agriculture. "I know many of the normal draws are not going to be at the fair this year, but we are returning to the roots of where fairs come from: people getting together to show off the animals and projects they have raised and to celebrate agriculture. Come enjoy the kids, enjoy the animals and spend some quality 'socially distant' time with each other."