Brynn Mullet zeroes in from long range in tying a Lady Hawks record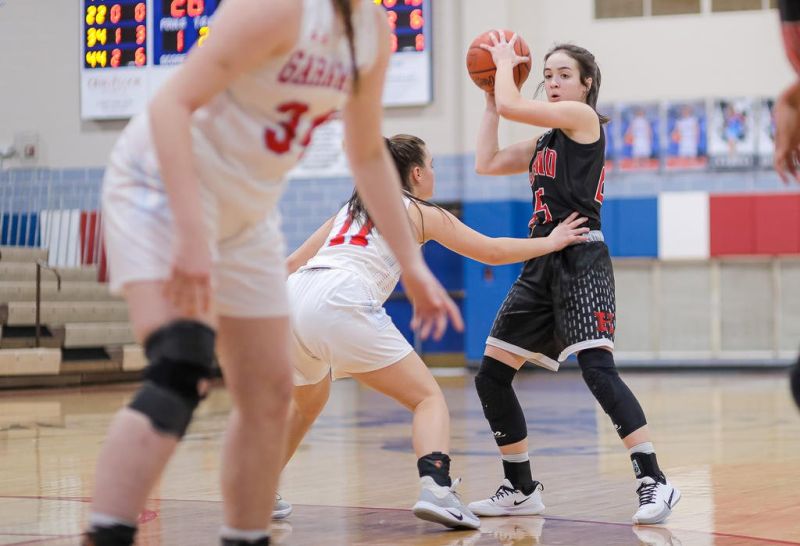 Nights like the one Brynn Mullet experienced on Wednesday, Dec. 18 at Buckeye Trail don't come along all that often, but the way Mullet has been stroking threes this year, it might not be the last time she experiences the thrill of double-digit 3-pointers.
In Hiland's 103-15 victory, Mullet tied a school record of 10 triples on her way to scoring 35 points. Her 10 treys ties the school mark set by Leah Hochstetler in the 2004-05 season in a win over Strasburg.
While that number is huge, what is more amazing is that Mullet connected on 10-of-13 three-ball attempts. Making the feat even more incredible is that she did all of that in just 17 minutes and didn't play at all in the fourth quarter.
"It wasn't as though she was just standing there shooting fish in a barrel," Hiland head coach Dave Schlabach said of Mullet's performance. "There were times when they played box and one on her. She was moving to get her shots and creating, and the kids did a nice job of finding her once she got going. It was an incredibly efficient performance."
The Lady Hawks led 32-3 after one quarter, and by the half they had poured in 61 points. Aside from Mullet's 35 points, Kelsey Swihart added eight points and nine rebounds, Aila Miller scored eight points and added seven boards, Jenna Troyer scored eight, Morgan Yoder had nine points and eight assists with four steals, Shelby Miller added six points and four steals, Kyli Horn hit a pair of threes on her way to an eight-point night, and Zoe Miller added seven points and six rebounds.
As for a comparison between Mullet and Hochstetler, Schlabach was there for both games and said the similarities begin and end with one simple fact.
"Sometimes when shooters get hot, they can get on a roll, and a lot of kids are streak shooters," Schlabach said. "But both Leah and Brynn are in the category that they are always shooters. That is their mind-set, and consistency is a trait they share. Brynn has developed into one of our program's purest shooters, and I didn't even let her in to have a shot at breaking the record."
Schlabach said Mullet's acumen from deep doesn't come easily, and it doesn't come without a cost. He said when a player shoots 1,000 shots a day like Mullet does, they are going to develop some serious shooting skills through developing good habits that are repeatable shot after shot.
On the season Mullet is shooting 52 percent from beyond the arc, an incredible number from downtown.
"It's at the point now where every time she puts up a shot we expect it to go in," Schlabach said. "All of that success doesn't happen by luck; it is a lot of hard work on her part."
As teams begin to realize Mullet's prowess from downtown, they will pay a lot more attention to her. That is something Schlabach said can only help his team.
As inside presence improves and with talent like Kendra Shetler, Zoe Miller, Swihart and Aila Miller roaming the paint, there are a lot of weapons to go to when the inside game finds room.
"That is going to open things up inside for us a lot if teams pay attention to our shooters," Schlabach said.
High-scoring Zoe Miller took just six shots in the win over Buckeye Trail, happy to feed Mullet whenever possible.
Inside or out, nights like this one are to be cherished by the player, in this case Mullet, but also by the team. Because as Schlabach said, they were instrumental in finding their teammate when the opportunity arose.