Dages pleased with Hawks' efforts in wins and loss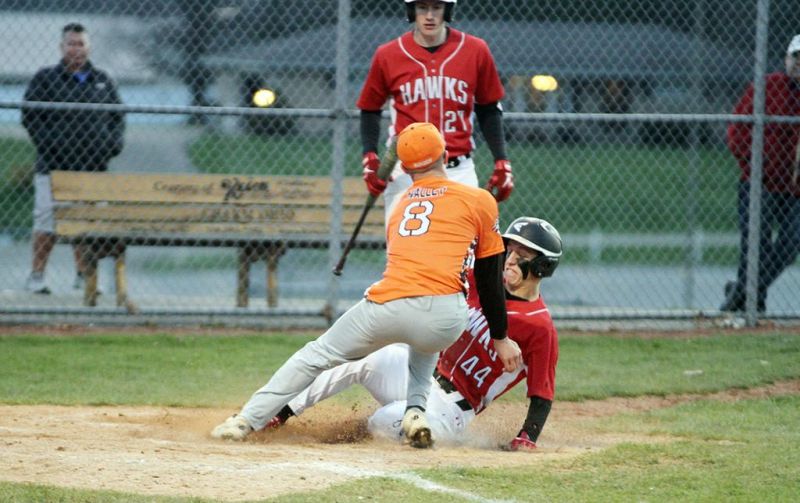 Scoring 24 runs on just 13 hits is quite a feat, but when your opponent divvies up nine walks, five hit batters and tacks on five errors, it is easy to see how the Hiland Hawks reached two-dozen runs in a rout of Claymont in just four innings of their twin-bill on Wednesday, April 20 at Lehman Field in Berlin.
The nightcap proved to be a much more entertaining game, a 4-0 Hiland victory that saw Hawks' starter Cody Yoder and reliever Tony Yoder team up for a no-hitter. In fact, game one starter Will Schlabach and reliever Grant Miller allowed only a lone single off the bat of Jagger Morrison, making that the only hit the Mustangs would produce in the two games.
"Overall, we feel like our pitchers have done a really good job of throwing strikes and keeping us in every game," Hiland coach Chris Dages said. "I thought all of our guys pitched smart tonight and kept their hitters guessing, and when we throw like that, that's what wins ball games."
The Hawks wasted little time jumping on Claymont starting pitcher Jerrell Jones in the opener. Jones lasted just two-thirds of an inning, allowing eight runs, all of them unearned. The Hawks piled up those eight runs in the first and went to work again in the second, tacking on 12 more runs before adding four more in the third inning. Claymont raised the white flag after four innings, and the teams went on to game two.
Grant Miller had a strong game at the plate in game one, recording three hits to go with three runs and a pair of RBI. Cody Yoder belted a pair of hits, scoring twice and driving home four, while Braden Kaufman had two hits, three runs and drove in four. Isaak Yoder scored three times and added three RBI while Alec Weaver added two runs and two RBI. Schlabach and Kobe Lapp scored three and four runs, respectively.
On the mound Schlabach picked up the win, going three innings and allowing just the one hit, striking out six with no walks. Grant Miller cleaned up with a flawless inning.
Claymont hurler Brody Rauch proved to be a more difficult nut to crack in the twilight game. Rauch went three innings and allowed three runs, one earned, while giving up just three hits. However, Cody Yoder was on fire on the mound for the Hawks, striking out eight Mustangs of his nine recorded outs over three innings while walking a pair. Tony Yoder came on in relief, going two sparkling innings, allowing just a walk to go with four strikeouts.
The Hawks touched Rauch for a single tally in the first when Grant Miller reached on an error and came around to score on a wild pitch. Hiland would score again in the third when Cody Yoder doubled and Nolan Yoder pounded a ball off the green wall in left to make it 2-0. He would come in to score when Tony Yoder's ground ball was mishandled for a 3-0 Hiland lead. The Hawks would get their final run in the fourth inning. A walk to Isaak Yoder and an Alec Weaver single put runners on the corner. After Isaak Yoder was thrown out trying to score on a passed ball, Weaver came in on a ground ball that was mishandled.
Dages said Rauch pitched a nice ball game against his team but said coming back out focused after the 24-0 mashing was difficult.
"We came out aggressive at the plate in game one, and we were looking to make solid contact and put the ball in play, and we did that," Dages said. "Their guy threw a solid game in game two, but after a game like that first one, it is tough to remain focused. We talked to the kids about that between games, and we didn't get lazy, but we weren't super-focused."
The wins improved Hiland's record to 8-2 on the campaign and ushered in a huge game at Rubber Ducks Stadium in Akron, where the Hawks met a strong Div. I Nordonia team.
Over the years the Hawks have excelled at the stadium, and Dages likes the way his team gets matched up with strong competition. It has brought out the best in Hiland's program, the Hawks having lost just once there in seven games, all of them against quality opponents.
"We love the challenge and the atmosphere up there, and we have enjoyed success," Dages said.
The Hawks were plenty focused in facing Nordonia in Akron. Unfortunately, so was Nordonia. The Hawks managed just a single hit off the bat of Cody Yoder, and Isaak Yoder took the tough-luck loss, twirling seven complete innings, allowing just four hits and a pair of earned runs in the 3-1 loss.
According to Dages, the loss was more satisfying against a tough opponent than many of Hiland's wins.
"We really didn't hit the ball poorly," Dages said. "It was just that everything we hit was right at them. I bet their outfielders moved a total of 5 feet all game. I told the kids after the game I had nothing negative to say about our effort. We didn't do anything wrong, and we played really well. It was just one of those weird games that happen in baseball."
The tone for how the game was going to play itself out came off the first swing of the game for Hiland when lead-off hitter Grant Miller smashed a liner back through the box that was somehow snared by pitcher Zach Whetzel. Whetzel would go on to stymie the Hawks over seven innings of one-hit, five-strikeout baseball.
While pitching has been strong all season, the Hiland bats seem to be coming along after a sluggish start. Dages said part of that has been an inconsistent schedule that has seen a lot of rainouts in the early going and hasn't allowed his team to face live pitching on a regular basis.
"It feels like we are coming along with the bats," Dages said, "especially the top of our order. When those guys get on base consistently, we get going."