Don Hall eager to bring stability to Knights program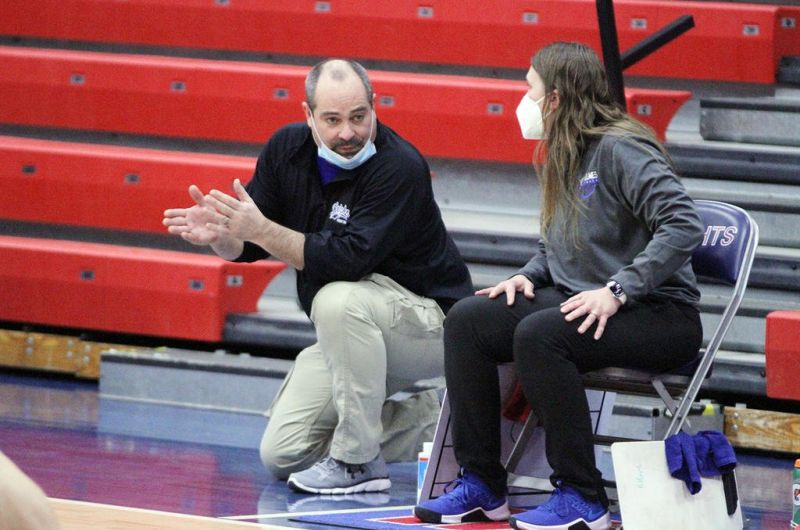 While newly appointed West Holmes Knights boys basketball coach Don Hall hasn't been a head coach much during his many years of patrolling the sidelines for a number of area high school hoops teams, he has had the pleasure of serving as an assistant under some true greats including Jack Van Reeth, Dave Schlabach and Matt Voll, to name a few.
In those many years, Hall has learned a great deal, and he hopes to bring that experience into play in turning around a Knights program that has seen some down days in recent years.
Hall said what he feels will be the key is simplifying and focusing on what it is that makes a program grow.
"I don't want to be mediocre or good at a lot of things. I want to be great at a few things," Hall said. "I count myself very lucky to have coached under a lot of incredibly great coaches."
The early results are very encouraging. Hall's team has sprinted to a sparkling 7-2 record, and Hall said the formula hasn't been anything earth-shattering.
"First of all, I have great kids who are willing to listen and learn and do anything for me," Hall said. "What I really like about this group is that they don't care who gets the points or rebounds; they only want to win as a team. They know as long as they go out and play as hard as they can for as long as they can, that if we play our best and get beat, that's all we as a coaching staff can ask for. I can take that. I don't like to lose, but I can live with our best effort in a loss."
Hall said having a number of football players coming off a sensational season also has helped the winning mentality, and this group has quickly learned working together and finding ways to work as a unit to get physically stronger and smarter is paying off.
With the COVID-19 pandemic still threatening to bring this winter sports season to a halt at any given moment, Hall said the team has learned to cherish every opportunity to play together.
"We've had to become mentally stronger with everything going on," Hall said. "Nothing is given. We play every game as though it may well be our last game."
Hall said the quick start has had the added element of bringing confidence to the players, as they understand what it takes to win. Defense and effort have been at the heart of that confidence.
"We've learned to play to the final buzzer, and these guys haven't panicked," Hall said. "We've learned what we have had to do to win games in a variety of ways, and these guys always play hard. We are playing physical basketball, not cheap and ugly but with great effort. When we set a pick, we really set a pick, and we have worked on our mental and physical part of the game."
Hall said last year the program added a Crossfit program to their workout, and the players have bought in and have taken on that challenge with zeal.
The players have seen what building themselves physically means, and that has helped them build confidence.
Other teams have taken notice to the change in physical stature and confidence in this year's version of the Knights, and Hall said gaining respect is something that only comes with hard work and heart.
Hall's in-and-out basketball coaching career started as a volunteer for Van Reeth's championship girls teams in the mid-1980s. After moving to Virginia Beach for a short moment, he returned in 1988 to coach the WH freshman boys.
After Hall began working from Frontier Vision, he worked his way up the ranks there and soon found he had time to coach again, taking a role as assistant varsity coach under Van Reeth from 1990-99, and then he took over for Van Reeth and took on his only head coaching role that year, leading the Lady Knights to an 8-13 mark.
However, a job transfer sent him to New Philadelphia, and he left that role and took an assistant coaching role under Schlabach's Lady Hawks team at Hiland in 2000 when the Lady Hawks won a state title.
That didn't last long, as his job transferred him to Cambridge. He was later able to return to West Holmes, where he served as an assistant coach under Voll, where the Lady Knights fashioned a string of hugely successful seasons.
When Jim Lindeman took over the boys team in 2010, Hall became his freshman coach, then JV coach and varsity assistant coach, and he later served as assistant coach under Keith Troyer and Jordan Widder.
"I was never able to become a head coach because of my job and all the time commitment required to serve as a head coach," Hall said. "Coaching is a full-time gig."
However, with 36 years of work in place, when a job as a custodian came up at West Holmes High School, Hall was hired, and the perfect fit allowed him to take on a head coaching job.
"It's always been in the back of my mind," Hall said. "The time was never right, and now I finally can commit to this, and my goal is to help these young men learn how to work hard and win together."