Four former foes now fast friends who are driving ODU's basketball season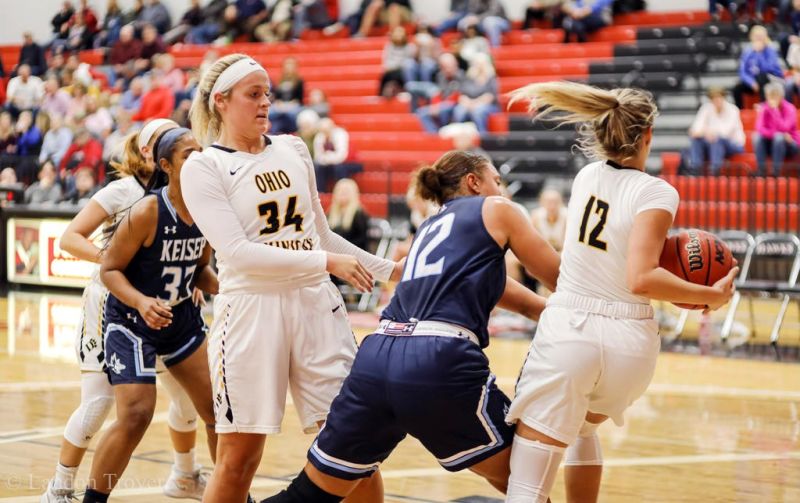 Four former high school greats — two from West Holmes and two from Hiland — had a homecoming of sorts when Ohio Dominican University hosted Keiser University in a preseason women's college basketball contest on Oct. 30 in Berlin.
West Holmes High School stars Hannah Clark and Brittleigh Macaulay, who graduated from WHHS in 2016, had been to three state tournaments and bowed out their senior year in the regional finals. They joined former Hiland All-Ohio standouts Angela Troyer, a junior at ODU, and sophomore Kennedy Schlabach, both of whom were instrumental in helping Hiland win a 2017 state championship, to play in front of a large hometown crowd at the Perry Reese Community Center in Berlin.
Down the aisle, serving as head coach of the Kaiser University team for the fifth year, was another one of Hiland's All-Ohioans, 1991 HHS graduate Pam Oswald.
Since uniting at ODU, the four Holmes County players have become close friends, and all four loved the idea of coming back to the high school basketball haven of Holmes County to play in front of a large and appreciative crowd from both sides of the county.
"This feels great to have the Holmes County atmosphere rooting us on," said Macaulay, a senior along with Clark. "They always show out, and we always appreciate their support. It's fun to play in front of a big crowd like this."
Clark transferred from Northern Kentucky University to join her former teammate Macaulay at ODU. In the process she found a new home where she felt very comfortable, and she said coming back to Holmes County to play was a true celebration.
"What a great opportunity to play in front of so many family and friends one last time," Clark said. "My family and I were talking before the game, and we were joking about finally getting to sit on the home side at Hiland for once. It was an incredible feeling to play in front of the people who cheered us on for so many years."
As for playing for ODU, Clark said, "I loved the idea of being able to play with Brittleigh again, and the family atmosphere at ODU is incredible. I was so ready to be a part of that type of family atmosphere again."
Troyer, whose retired jersey hangs on the wall at the Reese Center, said running up and down the court at the Reese Center was something special. What made it more enticing was the large crowd on hand, something that doesn't typically take place at their college games.
"We told our teammates who weren't used to playing in front of a lot of people to be ready because we have a lot of diehard fans who follow the program and love the game of basketball," Troyer said. "We were all excited for that."
As for the game itself, any drama in ODU's 87-57 win in the preseason game went right out the front doors of the Reese Center in the first period when ODU rolled to a 31-6 lead.
It was a well-balanced attack for ODU, and the four area players were right in the midst of the performance. Troyer scored 11 points and grabbed five rebounds, Clark tallied 10 points and three boards, Macaulay scored 11 points and added four rebounds, and Schlabach recorded 10 points, two triples, three assists and no turnovers from the point-guard spot.
While the four area players are quite cohesive on the hardwood, off of it they have developed a bond that has seen them become great friends.
"They are all my best friends now," Macaulay said of the other three Holmes County hoopsters. "We just really mesh well together. I am going to miss this so much when this year is over. It's going to be hard to say goodbye to a game I've played and enjoyed for so long."
"Getting to play another three years with Kennedy and learning to get to know Hanna and Brittleigh better has been such a great joy," Troyer said. "We've developed a really special relationship, and it's been fun getting to play with players who we went up against in some great games over the years."
"That relationship, how close we have grown to one another and what that means to each of us, is so amazing," Schlabach said. "That is what makes this experience even more enjoyable."