Fundraiser will help Big Prairie couple buy home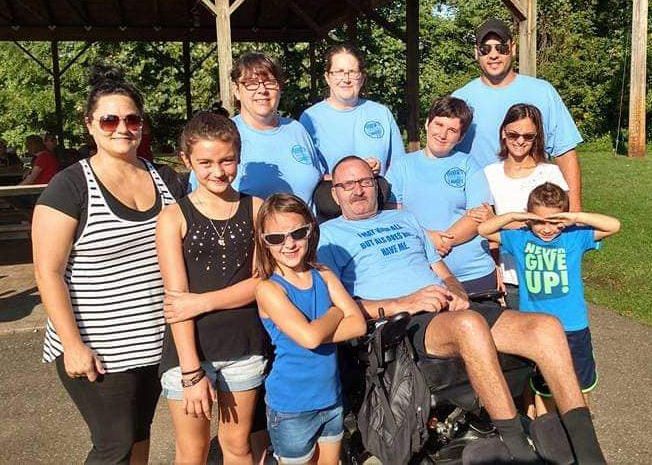 A Big Prairie couple is banking on an Oct. 9 fundraiser at Shreve American Legion to help them purchase their rented home that is adapted to meet the needs of the husband who is battling ALS.
Gary and Sonja Mitchell and their children will benefit from the Make Our Home a Forever Home event, which includes a meet and greet session with the costumed Disney princesses Elsa and Anna, a chicken barbecue, a raffle for chances to win a quarter of beef, two different auctions, and a ceremony in which the Mitchells will renew their vows.
The Mitchells currently rent their home at 13215 state Route 226, where they operate a produce stand to support themselves. Living with them are their special-needs adult daughter and their son and his family, who help serve as Gary Mitchell's caregivers. Mitchell has been living with amyotrophic lateral sclerosis, a progressive neurodegenerative disease, for nearly 13 years.
The home's owner, Deb Merillat, has offered to sell the couple the home for $65,000 as she prepares to retire from the rental business. She added air-conditioning and handicapped-accessible features to the house for the Mitchells.
"I was more than willing to do some adjustments to the house to make it easier for them to get around. They are good people," Merillat said, and she has not told them they have to leave.
Sonja Mitchell said her family needs to purchase the home for its handicapped-accessible features and to keep their business.
"We grew into this place," Sonja Mitchell said. "To find another would be too much of a physical, emotional and financial strain."
Friends of the Mitchells have come together to help them plan the fundraiser. Donations from the community are making the auctions possible.
The fundraiser will begin at 11 a.m. with the meet and greet with the princesses, and "all princesses are encouraged to wear a dress for the occasion," the fundraiser information says.
The Wayne County Fair-style chicken also will be available beginning at 11 a.m. and continue until it's sold out. The $12 meal includes a half of chicken with a choice of baked beans, green beans, apple sauce, roll and butter, dessert, and drink. Tickets may be purchased in advance at the Mitchells' Big Prairie produce stand and Shreve Auto.
Tickets for the beef raffle are $100 each. The drawing for the four winners will be at 4 p.m., and the winner does not need to be present to win. Tickets may be purchased in advance through the Pay Mitchell ALS Fighting Team using www.PayPal.Me/SMitchell400.
Bids for a silent auction will begin at 11 a.m. and run until 4:30 p.m. A live auction will run from 2:30-4:30 p.m.
Sonya and Gary Mitchell will celebrate their 28th anniversary by renewing their vows in a ceremony on the patio of the legion from 2-2:30 p.m.