Garaway's playoff run ends with 'agonizing' setback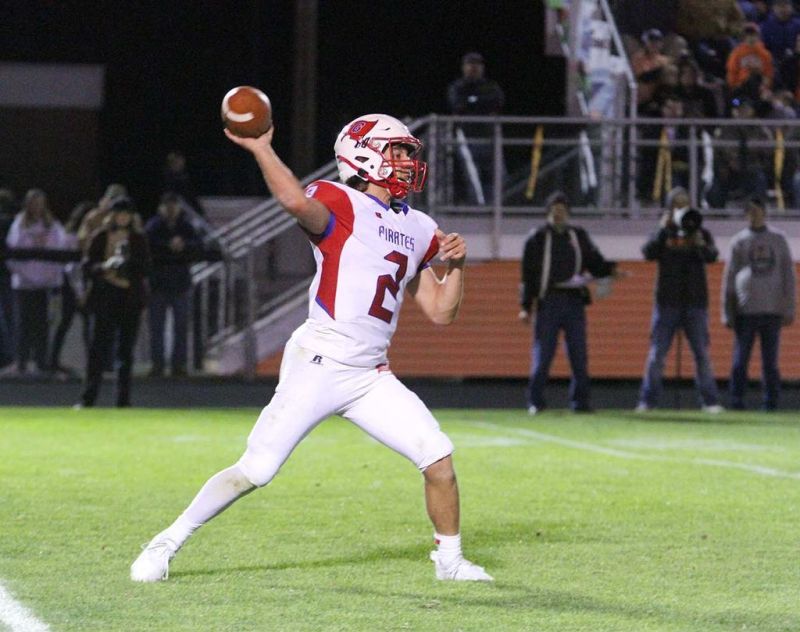 The last time Garaway head coach Jason Wallick saw when he looked at the clock in the early morning of Sunday, Nov. 14 was 3 a.m., following his team's heartbreaking 15-12 loss to South Range in the Div. V regional semifinal the night before. How much later he stayed up was beyond him. Wallick was pouring over the game film, and when a team loses a tight game, every single play that could have tilted the game Garaway's way stuck out.
"It's pretty agonizing," Wallick said of the loss. "It's easy to see a lot of ways things could have gone our way. We were extremely close on multiple plays, and their guys made plays when they had to. That's football."
The Garaway Pirates fantastic football season came to an excruciating finale at 12-1, and the loss will certainly be one of those types of games that can haunt a team for a while, despite it being a record-setting season.
"In games like that, you can't make mistakes, and every play is so critical," Wallick said. "These types of losses are tough, but our kids played their hearts out. That's a team that went toe to toe with Kirtland last year, and South Range is extremely talented and well-coached. Sometimes it might feel better to lose 49-0, but we will take the 15-12 loss because it shows us that we are right there ready to compete at the highest level."
The Pirates seemed poised to seize control in the game, and at numerous times Garaway had opportunities to build on its lead.
After South Range marched down the field on a 13-play, 75-yard scoring drive that ate up much of the first half of the opening quarter, the Pirates answered with a drive of their own, set up by a terrific kick return to the South Range 40 by Ty Winters. Garaway drove to the South Range 14. However, quarterback Logan Yoder had a man open in the back of the end zone but underthrew the ball, and it was intercepted.
Garaway's defense slammed the door on South Range, getting a big play from Sam Page, and this time the Pirates turned it into points. Passes to Jenson Garber and Gabe Amicone moved the ball downfield, and eventually, Garaway faced a fourth-and-2 from the South Range 31. Jason Wallick pulled the string on a sneak pass, with Yoder going deep down the left sideline to J.D. Young, hitting him in stride for a 31-yard score. However, Jayce Wallick's extra point missed the mark, leaving Garaway trailing 7-6.
On the ensuing possession by South Range, Garaway forced a punt near mid-field, and when they tried a fake punt, Garaway's Payton Keller sniffed it out and made a stop to force the turnover on downs.
Again, Garaway found itself in position to do some damage, but a Yoder deep ball was intercepted. The two teams then knocked heads for the rest of the half, until Garaway took possession on South Range's 41. A screen to Ethan Miller was the big play as the Pirates drove to the 11, where they set up for a field goal, but Wallick's 28-yarder was no good, and the half ended with Garaway trailing by one.
Garaway came out and began the second half with a touchdown drive that took almost eight minutes. It featured a ton of Miller at running back, saw lineman Andon Keller make a key fumble recovery to keep the drive alive and was finished off by Miller's 2-yard run. The two-point conversion failed, and Garaway held its first lead at 12-7.
South Range then duplicated Garaway's long drive, producing a touchdown drive that went into the fourth period. Garaway had several opportunities to stop the drive on a pair of third-and-longs, but South Range converted on two long pass plays, the first a 34-yard diving catch by Shane Lindstrom.
"That play hurt us as much as any in the game," Wallick said.
The second was on a reverse from Lindstrom that resulted in a diving catch in the corner of the end zone. Quarterback Billy Skripac dove in from 2 for the two-point conversion, and South Range recaptured the lead at 15-12.
With time running out, the Pirates started their final possession on their own 16. A strong dose of runs from Miller and Yoder pushed the Pirates to their own 46, and a 2-yard pass to Young and Yoder's scramble for 2 yards put the ball at midfield.
An incompletion forced a tough decision for coach Wallick, who went for it, and on fourth down Yoder was sacked, giving South Range possession on Garaway's 47.
Now needing a stop, the usually strong Garaway defense couldn't muster one. South Range showed why it is undefeated, displaying a tough, physical brand of football that saw their offensive line take over. Riding Dylan Dominguez's powerful running, South Range converted twice on third down and was able to run out the clock on the game and the Pirates' season.
But what a season it was, seeing the Pirates set a school record by rattling off 13-straight wins before bowing out.
"These guys bought in and did everything we asked of them all year," Wallick said. "It's a tough loss, especially when you commit yourself like our kids did, but I think we will learn from it and get better and hopefully take the next step as we move forward."