Giveaway promotes sheep projects at Holmes Fair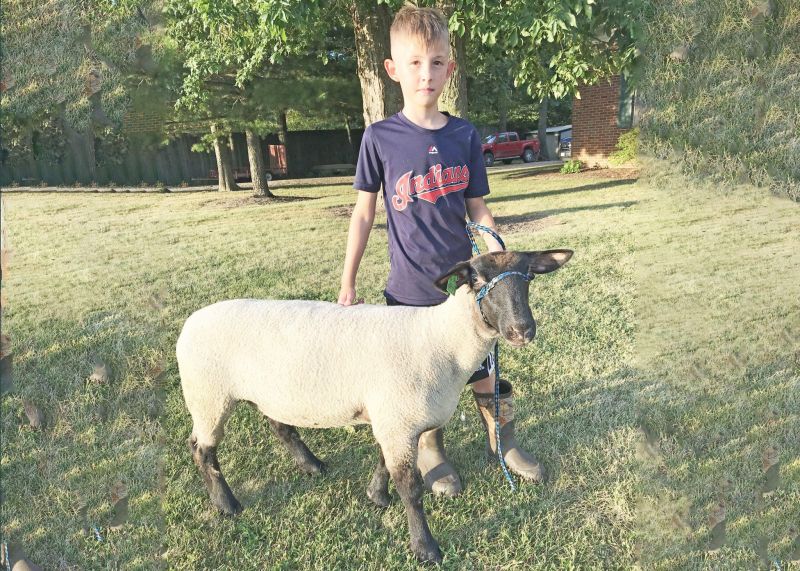 Boone Thompson wanted to take a market lamb project to the Holmes County Fair, so he wrote an essay and got one for free.
The 10-year-old Holmesville youth won the Holmes County 4-H Sheep Committee's lamb giveaway meant to promote sheep projects for the fair.
For the past nine years, the committee has chosen a 4-Her taking a market lamb project for the first time to receive the animal. Winners are chosen from essays the applicants write describing themselves, why they want to raise a market lamb and how they plan to take care of it.
Thompson, who joined 4-H as a Cloverbud, is in his second year of being eligible to show livestock at the fair. A member of Prairie Partners 4-H club, he started with a pygmy goat project. This year he wanted to take another livestock project.
"I'm giving it fresh water and hay and feed," Thompson said of the lamb he named Lambert, "and I walk it every morning and every night."
Thompson said his 4-H club advisers have been helpful, as well as the donor of the lamb, Kevin Fair, who sits on the Holmes County 4-H Sheep Committee. Fair has visited Thompson to make sure the lamb is getting the correct amount of feed and to show Thompson how the lamb is fitted for show and exhibited in the show ring.
Fair also is allowing Thompson to borrow a lamb so his project has a companion.
"They can be kind of ornery," Thompson said of the duo.
Applicants gain interest in the project by writing the essay. Sheep committee member Craig Houlin said, "Then they talk their parents into taking the project."
Thompson's parents, Jason and Charity, were on board with the market lamb project after attending a project preview hosted by Prairie Partners. It included a presentation about the lamb giveaway.
"This is a perfect opportunity to give kids a chance to see if they like the project before they make a huge investment," Charity Thompson said.
"It's worked out really well," Houlin said. "We've had breeders who have shown interest in donating the lambs."
With the exception of one year, all the donated lambs have been bred and raised in Holmes County.
Houlin said the giveaway has helped boost the project. In the time the contest has existed, the number of sheep entries has jumped from 19-67. This year 40 of those entries are market lambs, and the remainder are breeding sheep. Houlin said the committee had to find more pens to house the entries for the 2020 Holmes County Fair, which will begin Aug. 10.
"We didn't expect the project to grow this much," Houlin said, "so it's worked out really well for us."