Hawks down Knights in boys soccer, Garaway volleyball rolls to victory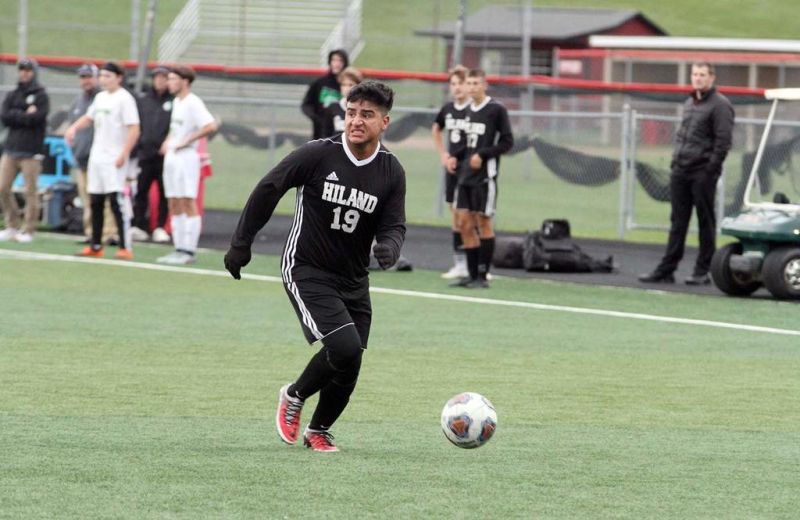 Soccer
Hawks knock off Knights 8-2
When it came to setting a tone for the cross-county rival between Hiland and West Holmes Tuesday, Oct. 12, the Hawks didn't waste any time.
Caelen Howell fed Dawson Olsen less than one minute into the game for a Hiland score, paving the way for a 10-2 Hiland win. Howell would assist Elliot Yoder in the fifth minute, then would score an unassisted goal in the 12th minute for a 3-0 Hawks lead. Before the 30-minute mark, Trevor Hochstetler has assists to Corban Miller and Zeke Bodiker and Hiland pushed its lead to 5-0. Howell's two unassisted goals in the 38th and 39th minute gave Hiland a comfortable 7-0 lead at the half.
The lead would grow to 9-0 with scores from Shawn Troyer off an Elliott Troyer assists and a Reese Mullet score off a feed from Bodiker. The Knights would finally strike back in the 61st minute when Brody Schaad assisted Hunter Ryan on a score and four minutes later, Brayden Franks fed Garrett Aurand to make it 9-2. The scoring was capped off on a Hiland score from Caedon Hershberger with an assist from Ohlen Troyer.
Hiland improved to 9-5-1 while West Holmes fell to 1-14.
Hiland got another easy 6-0 win over Tri-Valley Saturday, Oct. 9 at Hiland High School. Howell made sure of it.
Howell scored the game's first three goals and led the Hawks rout, scoring an unassisted goal in the game's fourth minute, then took a Corban Miller assist and delivered a goal for a 2-0 lead in the 19th minute. In the 34th minute Howell struck for the hat trick, delivering off an assist from Elliott Yoder, and the Hawks took a 3-0 lead into the half.
Hiland wasn't going to settle for that lead, and in the 46th minute Reese Mullet fed Zack Mullet for a score. Shawn Troyer set the table for Hiland's fifth goal in the 55th minute when he found Zach Mullet for a score that pushed the lead to 5-0, and in the 70th minute Miller scored an unassisted goal to top of the Hiland scoring machine.
Hiland outshot Tri-Valley 17-7, with Hawks' keeper Wyatt Freeman making three stops in goal while Camden Wickerman saved five in net for the Scotties (3-11).
In an 8-1 loss to Clear Fork, West Holmes got its lone goal in the second half from senior Camron Arnold.
The West Holmes girls fell to a strong New Philadelphia team Oct. 12, dropping an 8-2 contest that saw Avery Yoder and Allie McMillen both score.
Volleyball
Lady Knights nipped by Red Riders in five
West Holmes and Orrville duked it out Oct. 9, and when the final ball fell to the floor, the Red Riders had captured a five-game win, leaving West Holmes High School with a 25-9, 26-28, 17-25, 25-16, 15-10 victory.
West Holmes was led by Zaylie Shultz who served for five points, including four aces, while Brynlee Reed, Jerzey Morris and Harmony Mast all served for five points apiece. Ella McMillen banged out 15 kills, with Mast adding eight, Reed. Recorded 33 assists, Mast accumulated 22 digs while Peyton Carrathers added 14 and McMillen had 18, while Avery Yoder had four kills and four blocks and McMillen knocked down seven blocks in an all-around great effort.
Hiland picked up a quick win over Coshocton Oct. 9, dealing out a 26-24, 25-20, 25-16 three game win that wasn't exactly easy.
Annika Schneider continued her strong net play, hammering home 10 kills for Hiland, a number matched by teammate Haley Yoder. Schneider added 10 service points, while Jamie Yoder added nine points including five aces. Ava Weaver doled out 33 assists, while Belicia Yoder and Maddy Miller added digs of 15 and nine, respectively. Hiland improved to 12-7 on the campaign.
Hiland also took care of Sandy Valley, winning 25-17, 25-14, 25-20. Weaver had 22 assists, Schneider produced 11 kills and Maddy Miller added eight points and three aces.
In a tri-match, between Garaway, Sandy Valley and Rittman, the Lady Pirates came away with a pair of wins Oct. 9. Garaway defeated Sandy Valley 25-10, 25-17, while knocking off Rittman 25-21, 25-18.
In the win over the Indians, Laiken Wallick had 10 kills and six digs, McKenzie Miller had two aces, two blocks and five kills, Shelby Gerber dished out 20 assists and Meghan Petitte added five kills and two aces. In downing Sandy Valley, Gerber had 245 assists and two aces, Petitte nailed 10 kills and Wallick added eight kills and 10 digs.
Football
Pirates hammer Trojans in lopsided win
Garaway left little doubt as to who would emerge victorious when the Pirates faced Tusky Valley Friday, Oct. 9. Garaway returned the opening kick 96-yards for a touchdown, setting the tone for a 40-0 win that improved their season record to 8-0.
Ethan Miller's 4-yard touchdown run and J.D. Young's scamper from nine yards out allowed Garaway to take a 21-0 lead through one quarter. Wyatt Wallick's 12-yard touchdown run three minutes into the second quarter made it 27-0 after Jayce Walick's extra point, and Young completed a 13-yard scoring pass to brady Roden to make it 33-0 at the half.
With the clock running continuously in the second half, in a game featuring almost all running plays, Garaway would tack on a final score in the third quarter when JJ Ritterbeck brushed through tacklers and into the end zone on a 3-yard score that ended the scoring for the evening.
Garaway's defense allowed just 86 total yards for the Trojans on the night, with Ethan Kimble and Ritterbeck leading the way with six tackles apiece in a game that saw many of the Pirates regulars get much of the night off.
Wyatt Wallick led the Pirates in rushing with 59 yards, while Miller toted the rock twice for a whopping 45 yards. Ritterbeck added 22 yards in carries. Gabe Amicone completed 4-of-6 passes for 58 yards while Young connected on both of his passes for 28 yards and a score. Logan McKinney and Beau Wolf ran for 39 and 26 yards, respectively, while quarterback Cole Clements three just three passes, hitting on two for 10 yards.