Hawks expectations are met in drilling Bishops 5-2 to capture district title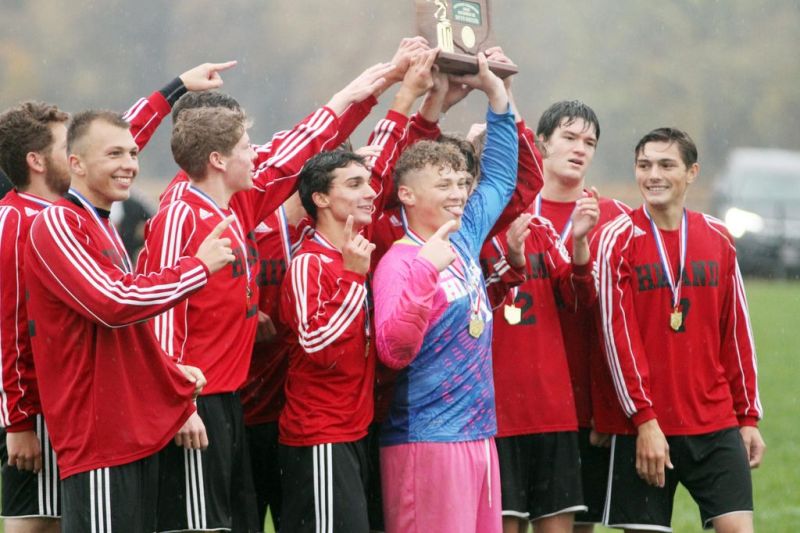 If there is one thing the Hiland boys soccer team understands quite well, it is the pressure of playing in a district final.
Hiland traveled to River View High School on Saturday, Oct. 26 to face a familiar foe in the Zanesville Rosecrans Bishops, a team they seemingly knock heads with every single season in tournament play.
The Hawks got off to a tremendous start, scoring twice early, then put the finishing touches on a 5-2 victory by scoring late in the first half and early in the second half.
Hiland head coach Scott Bodiker, whose teams have been a perennial visitor to regionals, said the early start was huge, but it was the two goals sandwiching half-time that took the steam out of the Bishops.
Hiland senior goalkeeper Brandt Klink summed up his team's attitude coming into the game, believing it was their game to take.
"We know we are good, we know they are good, but we came in expecting the best of ourselves tonight, and that is exactly what we brought," Klink said.
Bodiker said these two teams know each other so well by now that there is nothing new or inventive about this rivalry. The teams simply need to show up and play their game.
"There's some bad blood but also a lot of respect," Bodiker said of the rivalry. "We don't play them in the regular season. It's always a big game when we play them. We got them last year, and this makes two in a row after a few years where they got the best of us. Clearly you can call them a rival because we've played them so often. There's a rivalry between the schools just because we've played them so often in so many sports. I think that's a testament to the quality of their programs and our different programs."
Hiland senior forward Taylor Mullet continued to show why he is one of the most dangerous attackers in Div. III, knocking home a goal in the 15th minute off a header from an assist from Casey Lowe, then assisting on another to JJ Miller two minutes later to spot the Hawks to the quick 2-0 lead. The Bishops responded with a tally in the 31st minute to trim the deficit in half, but with two minutes to play in the half, Pat Miller fed Mullet for a huge score to give the Hawks a 3-1 lead at intermission.
A mere two minutes into the second half, the Hawks struck the big blow when Pat Miller crushed a pass into the face of the Bishops' box, where his twin brother Chris Miller headed it home, giving Hiland all kinds of breathing room.
"I think from a psychological perspective, that goal really put them in a bad way," Bodiker said of the early second-half goal. "They started to change some positions and things because they felt a little bigger sense of urgency. We scored a really nice goal about three minutes into the second half, and once it went to 4-1, there was a stretch where it felt like they quit a little bit."
With Hiland in command, Rosecrans needed some kind of break and got one when Hiland keeper Brandt Klink made an aggressive approach on a ball near the top of the 18 and committed a foul, giving Rosecrans a penalty kick. When that attempt sailed high over the crossbar, it was as though everyone knew it was simply Hiland's night.
The Miller twins connected in the same fashion as before in the 71st minute, and after Bodiker subbed his entire second team in, the Bishops scored a late, meaningless goal with less than four minutes to play, but it was nowhere near enough, and Hiland had its victory.
Hiland's large and talented senior group led the way again in a game that had all the earmarks of a team that has been there and done that before.
"This season has been so much fun," Chris Miller said. "Before the game and after the game, Bods said that we should act like we've been here before. While it may not always happen, we always come into this game thinking we are going to win."
The Hawks improved to 15-3-1 and advanced to the regionals once again.