Hawks kick the dog and pay the price in regional loss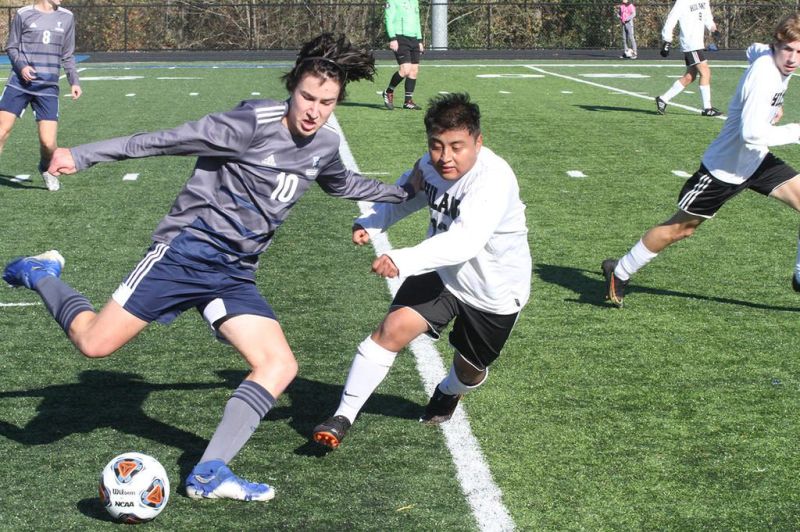 There is an old adage that yarns people to "let sleeping dogs lie."
On Saturday, Nov. 6, the Hiland Hawks boys' soccer team roused the sleeping dog, and it rose and struck with a viciousness that sent Hiland packing in a 6-1 regional finals loss to Grandview Heights.
In squaring off with an extremely talented Grandview Heights team at West Muskingum High School in a Div. III game that would determine a state-qualifier, the underdogs Hawks played a strong first 25 minutes, battling GH to a scoreless tie.
Then in the 27th minute, Hiland's Shawn Troyer played a beautiful through ball to senior Calen Howell, who delivered the game's first goal and a 1-0 Hiland lead.
Hiland had kicked the sleeping dog, and now the placid dog turned into a fierce pit bull, full of venom and fight.
The dog was sleeping no more.
A mere 40 seconds after Hiland had taken the lead, Will Devere delivered the equalizer for the Bobcats.
"Maybe the worst thing we did was score a goal," said Hiland coach Scott Bodiker, who felt the sting of another near-miss at qualifying for the state tournament. The Hawks have lived at regionals throughout Bodiker's 22 yeas at the helm but have yet to break through to the state tournament, oftentimes coming up one step shy of the mark.
This would turn into one of those days, and the Bobcats would deliver blow after blow as the big dog attacked.
A pair of scores came in the first half to give GH a 3-1 halftime lead. Both goals came in penalty kicks both on very iffy penalty calls that went against Hiland defenders in the box in which Bobcats players went down with incredible ease, the second infraction coming on an obvious flop.
However, what was just as important wasn't how Grandview Heights scored, it was how they were beginning to dominate play.
Hiland keeper Wyatt Freeman had to make a couple of sensational stops to keep the Bobcats from doing further damage.
Bodiker said against a team this good, the Hawks needed to play error-free soccer, something they did at great lengths in the regional semifinal win over Minford. However, on this day, too many errant passes, too many giveaways and too many mistakes left the Hawks in dire straits.
"We started the first 30 minute and played great," Bodiker said. "We had a few minor boo-boos, but we were playing well. You would hope that our score would have given us a little self-belief, but it all kind of went wrong from there."
Bodiker said that as good as Grandview Heights is, his team simply opened the door for them to easily knock home five of their six goals.
Hiland did a good job with damage control early in the second half and could have had a chance to draw closer when Zach Mullet was tripped up in the box, but no call was made. The Bobcats relentless attack continued, and in the 55th minute Grandview Heights would go up 4-1. Five minutes later, the Hawks trailed 6-1 and any chance of a state berth was long gone. The sleeping dog had been provoked, and it had come out of its slumber in attack mode, sending Hiland home with a final season record of 14-6-1.
"It just wasn't our day," Bodiker said. "We made poor decisions and gift-wrapped goals for them," Bodiker said.
Despite the loss, it was another banner year for a program that has elevated itself to one that has garnered respect across the state. After suffering an alarming number of early-season injuries, Bodiker's fought through and made it a successful campaign, and he said this group of seniors will be missed next year.
"This group has grown up a lot during their four years in the program, not just as players but as people," Bo9diker said. "It's been a pleasure to work with them. They have bought in and were all-in on what we were doing. We had a lot of injuries at the start of this season, and it would have been easy for this group to hang their heads and write the season off. They didn't and we were really good the second half of the year."
He added that unfortunately for the Hawks, they needed to be at their best to contend with the Bobcats, and that never surfaced throughout the game.