Hawks-Pirates links battle continues to grow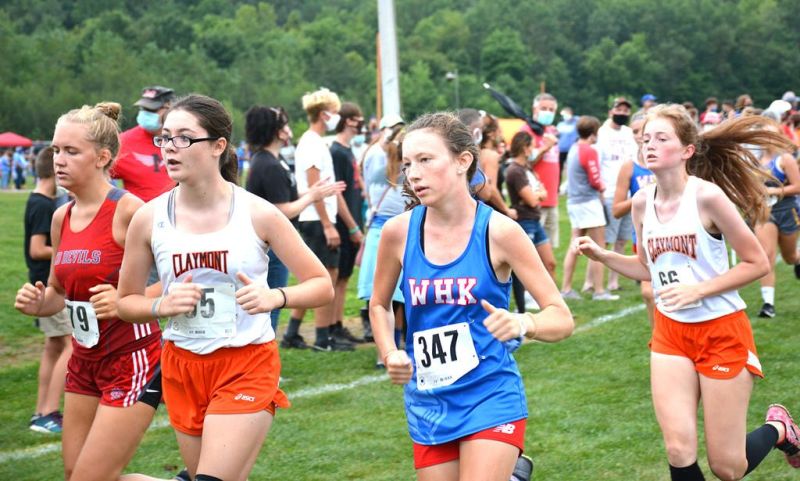 Hiland and Garaway's boys golf teams continue to go at it in close battles, highlighting a busy week of high school sports.
Golf
The Hiland Hawks golf team's season rolled merrily along, capturing the championship at the Dover Invitational at Oak Shadows Golf Course in New Philadelphia on Saturday, Sept. 5.
How dominant was the Hiland effort in winning the tournament? Not only did Carter Mishler garner medalist honors with his two-under-par 70, but also his junior classmate Brookston Hummel was the only other player to break par, firing a 71 to capture runner-up medalist honors. Fellow junior Kenny Weaver also took home a top honor, garnering 3-man medalist honors with a 74. That score tied him with Garaway's Rendall Weaver, meaning Hiland had three of the top-five scores in the tournament.
Rounding out Hiland's performance were Garret Shoup, who shot an 87, and Nathan Kline, who added a 94.
Aside from Weaver's 74, Garaway got strong play across the board including a 76 from Zehnder Gibson and 79s from Charles Beachy and Michael Blauch. Emmet Royer rounded out the scoring for the Pirates with a 99.
That effort was good enough to produce a 308, which gave the Pirates the team runner-up trophy. That score was one shot better than third-place Hoban's 309. New Philadelphia's Shad Kenily fired a 77 while Dover got an 80 from Reese Klar and an 82 from Logan Downing. Tusky Valley was led by Connor Gardner and Nathan Glaser, who each shot 83.
The Garaway Lady Pirates dropped Sandy Valley in Inter-Valley Conference action, firing a 181 to the Cardinals' 251. Garaway seniors Mykayla Weaver and Tori Miller both fired 45s, Sammi Miller added a 47, and Sydni Prysi shot a 48 in the victory.
Garaway then handed Strasburg a 187-251 defeat with Weaver firing a 41 and Prysi adding a 45.
The WHHS boys team fell 170-181 to OCC foe Lexington. Hunter Ellis earned medalist honors with a 40 on a tough Westbrook Country Club course. Grady Toye added a 43, Brody Allen shot a 48 and Kenzie Woods carded a 50 to round out the Knights' scoring.
The Knights then fell to Mt. Vernon 157-181. Ellis shot a 41 at Chapel Hill Golf Course. Hunter Baker added a 44, and Woods and Toye each fired 48s.
Volleyball
The West Holmes Lady Knights had little trouble in disposing of the Loudonville Redbirds in volleyball action. The Lady Knights rolled 25-19, 25-18, 25-20 to claim a quick three-game match and improve to 3-2 on the season.
Harmony Mast headlined a strong all-around team effort, serving for 20 of West Holmes' 75 points. Jerzey Morris added 13 service points including a pair of aces. Dani Miller led a great defensive effort, collecting 23 digs, and offensively, the Lady Knights were paced by Megan Jones' 12 kills and Lauren Jones' 21 assists.
The Lady Knights would later fall to Mt. Vernon 3-0, losing 25-19, 25-20, 25-17. Morris and Mast led WHHS in serving with 12 points apiece while Megan Jones recorded six kills and Ella McMillen and Mast each added five. Lauren Jones finished with 16 assists.
The Garaway Lady Pirates had little trouble issuing a loss to the Malvern Hornets on Tuesday, Sept. 1. Brooklyn Frey pounded out five aces and two blocks, and Laiken Wallick ruled supreme at the net, hammering out 13 kills. Jordyn Ferguson recorded 15 digs, and Lizzie Mullet doled out 16 assists.
Cross country
The West Holmes girls defeated Loudonville 26-32 on Sept. 8. Brenna Myers, Brogan Steimel and Emily Truax finished second, third and fourth, respectively, to lead the way to victory. Carolyn Miller and Araceli Kandel rounded out the top five with the lady Knights also getting solid efforts from Sayler Miller and Olivia Sampsel.
The Knights boys team also won, dealing the Redbirds a 17-40 loss. Cade Wagers emerged victorious in the race, and the Knights won the top-four spots with Haeden Wolfe, Zeke Galbraith and Caiden Carter placing in the next three spots behind Wagers. Camden Doty rounded out the scoring by placing seventh overall. Matthew Young and Caden Zigler rounded out the Knights' victorious effort.