Hawks return to state golf, another shot at Div. III title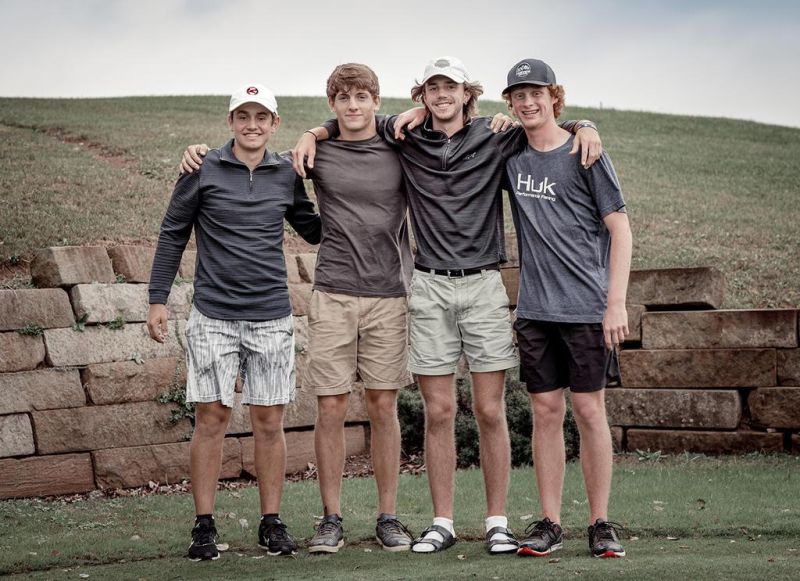 It wasn't their best effort of the season, but the Hiland Hawks golf team checked off another box in their wish list this season by winning a Div. III district championship and advancing to state.
With the Oct. 4 win, the Hawks team of Carter Mishler, Brookston Hummel, Kenny Weaver, Garret Shoup and Nathan Kline will make the trip to state on the Scarlet Course at Ohio State University to try to improve on last year's runner-up finish.
"The score of 318, we didn't want to post, but we know what we're capable of shooting, and the experience from last year means a lot because all five of us were down there," Mishler said of returning to state. "We'll definitely be ready."
The senior trio of Mishler, Hummel and Weaver all played at state the past three seasons, so this is nothing new to them.
"That experience is huge for all of us because there are a lot of players who haven't faced that pressure yet," Weaver said.
Shoup agreed, noting his experience last season and his scores this year have taken a big step in the right direction.
"We've kept an eye on scores around the state, and we know we have to go play well because there are four or five teams that will be competitive," Shoup said. "We've got to go down there and put up the best score possible."
Like Shoup, Kline got his first taste at state last year and has improved immensely. He said his confidence is better and the entire group has gotten better.
"We know we can shoot low," Kline said. "It helps that we have this kind of depth where we know if we are struggling, the other guys are going to pick us up."
The returning Div. III state tournament medalist, Hummel said the goal was to work hard to get back to state to give themselves a chance to move up one more spot and take home a title.
"We've had the 15th and 16th of October in our mind all year," Hummel said. "We are pumped about the opportunity in front of us, and we know what it is going to take for us to win it all."
The Hawks had an easy time advancing to district play in Div. III golf, firing a 308 at Cambridge Country Club on Sept. 29 to rush past runner-up Fort Frye's 345. Also qualifying for district play was Malvern (373) and Frontier (375).
The day's top-three scores belonged to the Hawks, who got a medalist round of 74 from Mishler, a runner-up effort of 75 from Hummel and a 76 from Shoup. Kline added an 83 while Weaver shot an 88.
District tournament action also took on a similar look as the Hawks had no trouble advancing to the Div. III state tournament by coasting to victory at River Greens Golf Course on Monday, Oct. 4.
The Hawks didn't have to play their best and were nowhere near it, shooting a 318, but that was easily enough to advance, and Hiland's top-four scores were the four lowest in the tournament. Mishler earned medalist honors with a 76 while Hummel added an 80 and Weaver and Shoup each fired 81s. Kline added an 85, which was ninth best on the day.
On Saturday, Oct. 2, the Hawks took on the biggest schools in the state at the Hoban Invitational, where they shot a score of 302, which was great but was only good enough for sixth place in a rugged field.
Hummel was medalist for Hiland with a 72, good for ninth overall, while Mishler was 16th with a 74, Shoup placed 25th at 76, Weaver was 45th with an 80 and Kline was 60th with an 82.