Hawks stay with program to find success in summer ball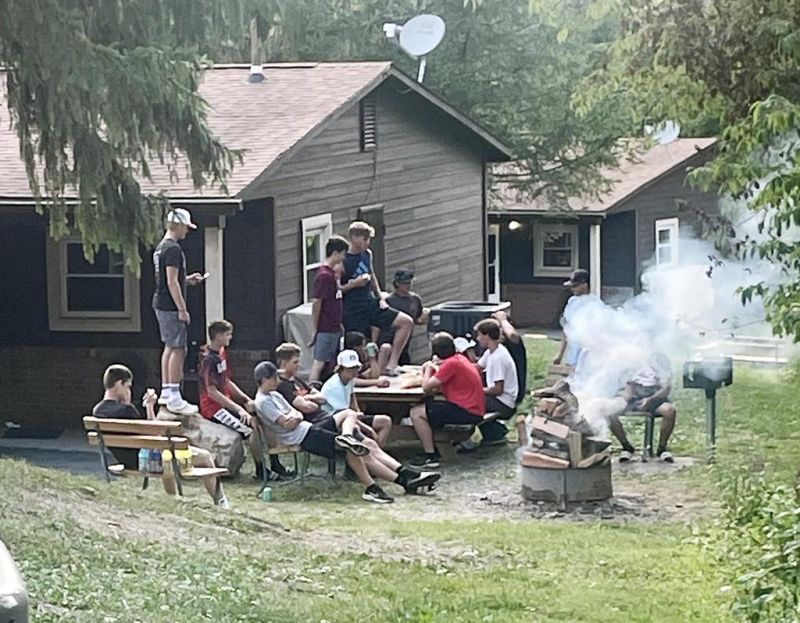 The Hiland Hawks baseball team returned home from Wheeling, West Virginia toting a championship trophy from the Beast of the East 19U Baseball Tournament.
While the victory was nice, what head coach Chris Dages said was more important was seeing his team grow and win together, bonding under fire while at the same time learning how to have fun together.
The Hawks traveled to the Beast with high expectations and came through, dropping just one game in a tournament filled with travel teams and college-age players.
Dages stayed true to form in sending only players who will suit up next season, willing to risk defeat in order to build team unity. In a time when individual players go their own ways to find the best travel ball experiences to build their games, the Hawks have remained true to remaining together through the summer.
"That's something that we think is a big advantage for us, when these kids can build confidence playing together and realizing that they have each other's backs. It is a huge boost as compared to having a couple of guys go here or there to play on their own," Dages said. "I really think it has become a big factor in the growth of our program the past two decades."
Dages said a desire to work hard to improve one's game is ultimately the key to success, but getting to do so together and developing a passion for the game because you want to win for your teammates and yourself is important.
Hiland assistant coach Kevin Schrock agreed. He said watching this young team facing bigger and older competition and taking it all in stride was encouraging and will help this team grow more confident for the coming season next spring.
"It's a big advantage for us as a program," said Schrock, who took over head coaching duties for the summer team. I think from a chemistry standpoint, it has been a major factor in the growth of this program over the past number of years."
The Hawks have been playing together during summer action since 2008 when Tom Gibson took over and made it a priority. During that run the Hawks were a consistent participant in the Senior Little League regional tournament in Missouri and Illinois, even making it to the World Series three times including a runner-up finish.
But after the team's opportunity to play in that was negated because there were no district teams to play and Little League ruled Hiland couldn't automatically move into regional play, Dages began looking for a new challenge.
He found one in the Beast of the East.
"That was disappointing to have our Senior Little League chances end the way it did because it was out of our control, but that actually opened the door for us to find what we feel is even better competition in the Beast of the East," Dages said.
Schrock, who played for several of Hiland's summer teams that challenged for a spot at the World Series each year, said the talent level of the Beast supersedes what the Hawks faced in the Senior League regionals that featured teams from 10 states in the Central Division.
"We know if we take a 17U team into a 19U travel tournament, we obviously want to win it, but that isn't the main point," Schrock said. "We want to see how we stack up against that caliber of talent. We could bring our seniors back to give us a better chance to win, but we believe it is more important to throw these younger guys out there and see how they respond to the challenges. That has helped us grow our team chemistry every summer we play together, rather than having our guys go play a bunch of different places in travel ball."
As has been the case in the past, the players are thrown together and live with one another over a several-day period. In the Beast the coaching staff and parents occupied one cabin while the 17 players all found living quarters in the other one.
Schrock said that could lead to chaos, but they talk to their seniors about being responsible leaders in the cabin, and he said everything went smoothly.
Moreover, the players get to bond together and grow closer, something Schrock said will help when it comes to trusting one another on and off the ballfield.
"Our seniors did a great job of leading and setting an example, and the guys really had a blast together," Schrock said. "It was a perfect bonding experience."
While travel ball is the name of the game these days, Hiland's program is content to keep things close to home and develop together, and that recipe has proved to be very beneficial.