Hawks take command early in routing Pirates 68-43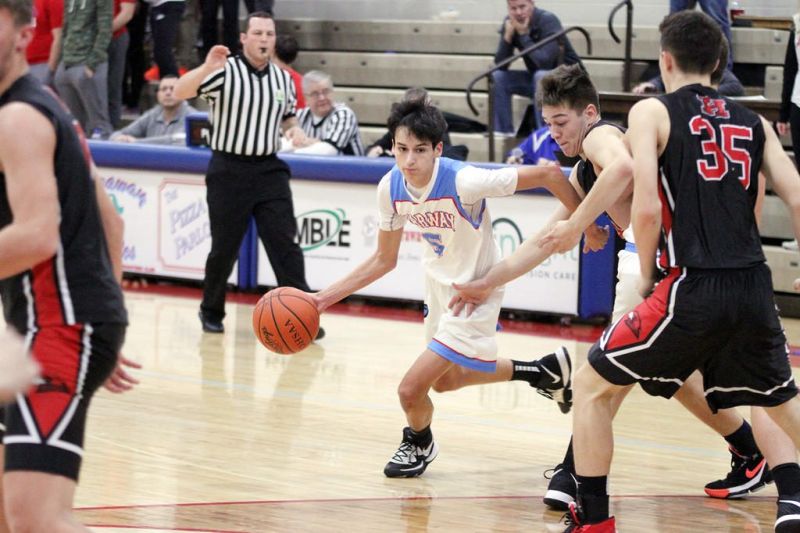 Any time the Hiland Hawks and Garaway Pirates knock heads, you can bet it will be a pumped-up atmosphere with an energy level that is ready to blow off the roof.
That was the case on Friday, Dec. 20 at Garaway High School, but the Hawks wasted little time in deflating that energy by bolting to a big lead and cruising to a 68-43 win.
Hiland was unstoppable early on, darting out to an 11-0 lead. Korrie Hostetler scored twice inside, Hunter Sommers hit a jumper, Will Schlabach scored inside and Sam Habeger hit a 3-pointer to give the Hawks big momentum early.
Garaway's Payton Keim and Brady Roden each hit triples, but in between Hiland had built an 18-6 lead with Grant Miller hitting two key 3-pointers that forced the Pirates to pay attention to him. It would be a monumental night for the back-up point guard.
"They were going to make us prove we could beat them with some of our other kids, and Grant stepped up and forced them to pay attention to him," Hiland coach Mark Schlabach said. "We've got some shooters, and we will take Grant getting open looks all night."
"With their length inside, we had to make the paint a priority, and we were willing to leave some guys open and hope they didn't make shots, but they did. It was a pick-your-poison thing," Garaway head coach Terry Rowe said.
Leading 22-6 after one quarter and 26-11 after Dylan Weaver buried a three-ball, it appeared as though the Hawks were going to run away, but Garaway mounted a second-quarter comeback, and it came via the long ball.
Zack Bickford and Matthew Beachy each canned 3-pointers, trimming the Pirates' deficit to 26-17. Sommers knocked down a trey, but Bickford scored inside and then hit two free throws. Suddenly it was down to an eight-point game at 29-21.
"I wasn't pleased with the way we played that second quarter," Schlabach said. "It seemed like our guys thought it was going to be easy, but this is Garaway, and they aren't ever going to stop playing hard and coming at you. I was happy with the way we ended the half, but we didn't look good most of the second quarter."
"We got a bit of an idea as to how good we can play in the second quarter," Rowe said. "We played inspired, and we played smart, and we made some shots. We don't have a lot of post-up kids, so shooting is going to be big for us, and I thought we showed some promise with the way we shot the ball."
However, Hiland ended the half on a Sommers' three-ball and a free throw and Weaver's and-one, and the Hawks took a 36-21 lead into the half.
The third quarter then eliminated any hope of a Pirates' uprising as Hiland outscored Garaway 19-7. Chris Shetler and Miller proved to be thorns in the side of Garaway with Shetler in particular wreaking havoc on the offensive glass. His and-one put an exclamation mark on an 8-0 mini-run late in the quarter that included a Habeger triple and a great feed from Sommers to Miller.
The Hawks opened up their largest lead at 60-28 to start the final period with a score from Hostetler inside and another Sommers' 3-pointer. Keim and Raber bookended 3-pointers around one from Shetler, but soon both benches emptied and it was mop-up time, the Hawks simply being too much for the young Pirates to stop.
"This is always going to be a great atmosphere that is always going to help us get better," Schlabach said of facing Garaway.
After getting blitzed by Triway the game prior, Rowe simply wanted his kids to come out swinging and play hard for 32 minutes in a game in which he knew they would be hard-pressed to stay close.
"We wanted the kids to play hard from buzzer to buzzer, something we didn't do against Triway," Rowe said. "We got overwhelmed there. I really felt this was a step in the right direction despite the score. We played hard. We threw some new things at the kids Wednesday and Thursday, and they seemed to grasp what we wanted to do. This is a group of good, hard-working kids, and we are going to get better."
Hiland got balanced scoring across the board, led by Habeger's 17 points. Sommers was right behind with 15 while Miller added a career-high 11 for the Hawks. Shetler scored nine while Hostetler and Weaver each tacked on six. Garaway was led in scoring by a trio of nine-point efforts from Bickford, Keim and Beachy while Raber added seven points.
One night later the Hawks traveled to the College of Wooster to take on a daunting Fort Loramie team in the WQKT-Steve Smith Holiday Hoops Classic.
In a contest between two teams with state-title aspirations in Div. IV, the Hawks were able to push out to an early lead and fend off a number of challenges from Fort Loramie before securing a 56-47 victory.
The Hawks got a scare when starting guard Will Schlabach went down with a leg injury in the second half, but he returned and so too did his 3-point shot. Schlabach nailed 5-of-8 treys in the game for a game-high 15 points, a total that was matched by Sommers, while Schlabach added five rebounds and Sommers snagged six. Shetler added 13 points and four rebounds while Hostetler and Habeger each added six points, and Hostetler blocked three shots.
Hiland led by as many as nine points in the first half, but Fort Loramie battled back to knot things up at 33 in the third period. Hiland showed its mettle by regaining the lead as Shetler and Schlabach took charge late, and Habeger's defense on high-scoring Nick Brandewie proved to be a big difference in the game.