Help Feed My Starving Children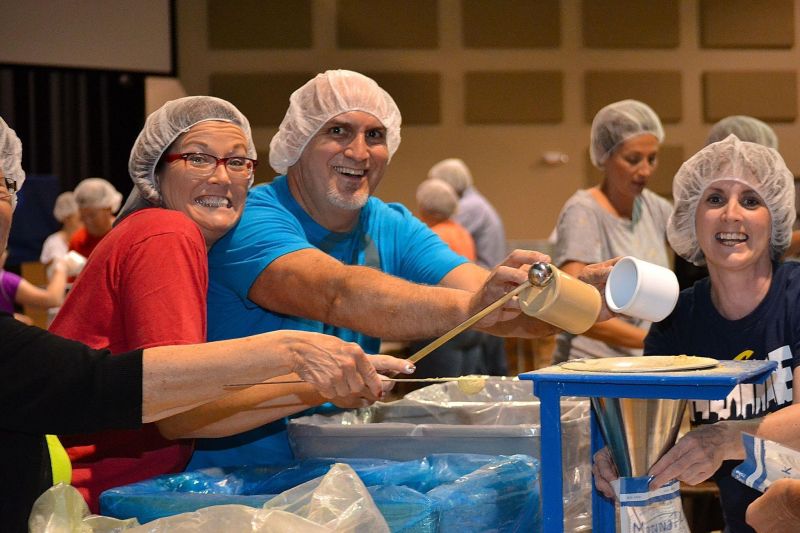 A church, said Scott Compton, Director of Missions for NewPointe Community Church, isn't about a building.
"It's about helping people," Compton said. "We believe the church exists for the betterment of the community and the world."
That's why NewPointe is now rounding up 2,700 volunteers to help pack more than a half-million meals to feed hungry children around the globe. The work will be done on Friday, April 5 and Saturday, April 6 at locations in Coshocton, Holmes, Stark, Tuscarawas and Wayne counties.
This will be the third year NewPointe has partnered with Feed My Starving Children, a Christian nonprofit organization committed to feeding God's starving children who are hungry in body and spirit.
The first two "mobile pack" events were held at a single location.
"This year, for the first time, we're expanding the project to five locations simultaneously," Compton said. "It's a big undertaking that will require a lot of help. Based on the enthusiastic response we've received from the community in the last two years, I'm very optimistic that we're going to get all the volunteers we need."
Through the support of generous donors, NewPointe was able to purchase $119,000 worth of meals for Feed My Starving Children this year. During the mobile pack event, volunteers will assemble meal packets comprised of rice, soybeans, vegetables and other ingredients.
"The meals we packed in 2017 went mainly to Haiti," Compton said. "Last year some of us were able to follow that up with a trip to Haiti, where we were able to see an incredibly wide swath of people and organizations who were being helped."
Hunger, Feed My Starving Children said, is the world's biggest solvable problem.
"We believe Jesus Christ has called us to feed the hungry and serve those in need," the organization said. "Jesus is the reason that Feed My Starving Children exists. We strive to follow his calling every day in all that we do. We believe that food is the foundation for all other progress. To a starving child, hope can only truly begin once a reliable source of nutritious food has been established."
Volunteers at NewPointe's mobile pack event can be individuals or organizations who are looking for a way to make a significant difference in the lives of people in need. Volunteers can preregister online to work two-hour shifts between 8:30 a.m. and 8:30 p.m. on packing day.
"Just about anybody over the age of 5 can help with this project," Compton said. "It's not difficult to do, and we really have a good time doing it. Everybody is invited, from families, scouting and youth groups, and churches to people who need community-service hours."
Founded in 1987, Feed My Starving Children said it has shipped almost 2.4 billion meals around the world.
Locally, NewPointe is organizing mobile pack events at the following locations:

• Coshocton Elementary School, 1203 Cambridge Road, Coshocton.

• Holmes County Fairgrounds at Harvest Ridge, 8880 State Route 39, Millersburg.

• J. Babe Stearn Community Center, 2628 13th St. SW, Canton.

• New Towne Mall, 400 Mill Ave. SE, the former JCPenney store, New Philadelphia.

• Wayne County Fairgrounds, 199 Vanover St., Wooster.
You can sign up to volunteer at any of these events at newpointe.org/feed.
NewPointe Community Church, Compton said, is a nondenominational church with five campuses in Canton, Coshocton, Dover, Millersburg and Wooster. A sixth campus is scheduled to open this year in Cambridge. The church, he said, offers a casual, come-as-you-are environment.
NewPointe Community Church campuses hold Sunday services at 9 and 11 a.m. at 5305 Broadmoor Circle NW, Canton, 330-493-0369; 1203 Cambridge Road, Coshocton, 740-202-7058; 3950 State Route 39 NW, Dover, 330-602-3040; 8882 State Route 39, Millersburg, 330-943-2012; and 1741 Oak Hill Road, Wooster, 330-234-5131. You can learn more about newpointe by visiting newpointe.org.

You can learn more about Feed My Starving Children at FMSC.org.