Hiland duo representing school in cross country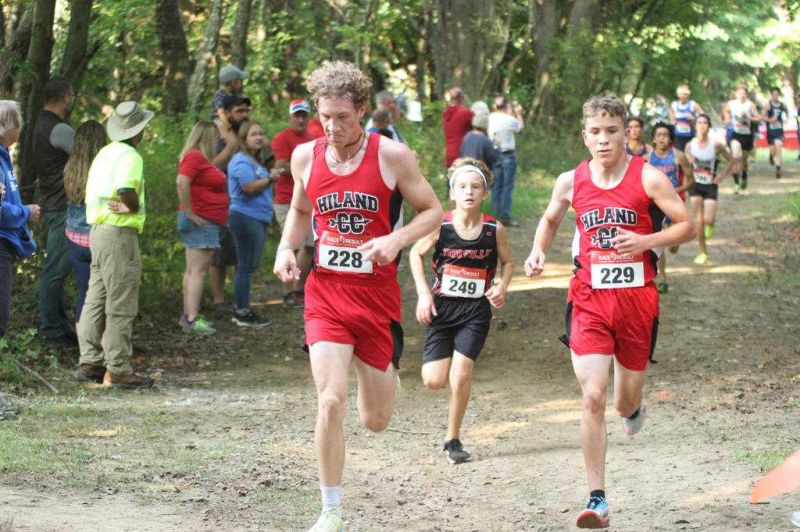 The Hiland varsity cross country program is currently a team of two, but new head coach Jackie Kaufman has high hopes of growing those numbers to bring the program up to full speed.
Hiland's two boys' participants are junior George Malicky and sophomore Nathan Young. The two continue to improve their times and have been competitive despite not being able to make their mark in any team races.
"We are small in numbers but both George and Nathan are working hard and competing well so far this season," Kaufman said.
From a team standpoint, the two runners double the team total from last season, when Malicky was the lone Hawks runner.
"It's been so much better for George this year because he has Nathan to train with and run with at meets, and that is always nice to have that second person to push you and to drive you to get better," Kaufman said.
At the same time, the small numbers makes it more challenging for Kaufman as a coach. She said not having the opportunity to take a full slate of runners to events takes away from some of the joy of the sport, but she said she will focus on the runners she has and improving their times and doing everything she can to help them grow in the sport.
"It's unfortunate not to be able to compete as a team, and I know these guys would love to be avble to do that, but you can only work with the numbers you have," Kaufman said. "It becomes a totally different sport when you take the team aspect out of it and the guys are only running for themselves. They won't get that joy of competing as a team. This season, but hopefully they will next year."
At the recent West Holmes High School Nanny Goat Invitational on Ancestry Farms near Glenmont, the two Hiland athletes finished firmly in the middle of the field of 69 runners, Young placing 27th in 20:40 while Malicky ran 35th in 21:17. The two ran side-by-side most of the race before Young pulled away, but in an individual sport where teamwork is far more important than most people realize, having someone to run with is critical.
The pair did the same at the Newcomerstown Invitational two weeks earlier, where in a field of 87 runners, Malicky took 33rd in 19:48 and Young placed 34th in 19:49.
The two Hawks will carry the mantle for the cross country team for now, but Kaufman said there are three middle school runners coming up and she hopes to recruit more runners for next season to field a full squad.
"The hope is to grow the middle school base and create a culture at Hiland, because right now kids aren't used to running and competing in cross, but my goal is to get to that point," Kaufman said.
Kaufman ran cross country at Massillon Perry High School and spent her running days in college at Ashland University, so she understands what it takes to drive young high school athletes to improve.
She said the two runners are coming off a difficult week of training, and to see them continue to perform well is exciting.
"They're doing well," Kaufman said of Malicky and Young. "Even though we might not have a full team, we have two kids who are willing to work and strive to get better, and that is where I want to devote my efforts, because they are willing to put in the time and effort."