Hiland recovers from 10-0 deficit to upset Waynedale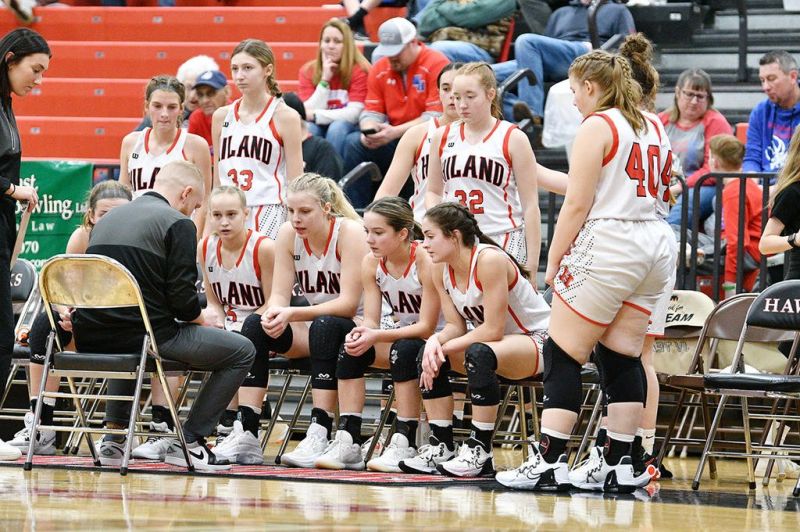 The Golden Bears roared to a 10-0 lead on the strength of a six-point effort form Addesa Miller. Miller's two free throws and a twisting drive from McKenna Baney gave Waynedale an early double-digit score, but from that point on Hiland began clawing its way back.
Joplin Yoder finally got Hiland on track with a 3-pointer, but Alyssa Geiser made a steal and drove for two to give Waynedale a 12-3 lead through one quarter.
"We never panicked, and I credit our kids being in big games a lot this season to that," Hiland head coach Brady Schlabach said. "I think we knew what we prepared for and what we had to do."
The defenses for both teams took over in the second period, as Hiland struck first in the period with a drive from Ashley Mullet. Kylie Geiser would strike inside for the Golden Bears to make it 14-7, then did it again for a nine-point advantage. Mullet would drain her first trey for the Lady Hawks, but Baney's drive gave Waynedale and 18-10 lead at the half. However, Hiland was about to take command in a critical third-quarter effort, and it came via the long-ball.
Yoder split two free throws to start the quarter, and Addesa Miller hit a trey. Baney split two free throws to extend Waynedale's lead to 11 before Hiland buckled down defensively and started finding the mark from deep.
Yoder drilled her second 3-pointer of the evening. Mallory Stutzman scored off a putback to draw Hiland to within six, but Addesa Miller worked her way inside for a score.
The rest of the period belonged to Hiland. Mullet hit a long-range jumper, Stutzman hit a running floater to get the Lady Hawks within four and Stutzman then hit a dagger from downtown to make it 24-23 with 2:23 to play in the third quarter.
With just over two minutes left in the period, Mullet drove home a triple to give the Lady Hawks their first lead of the evening at 26-24. Hiland senior Abby Miller stepped into a 3-pointer to give Hiland a 29-24 lead, the Lady Hawks having completely erased the early 10-0 deficit to claim a five-point advantage through three.
The final quarter saw the two local powers duke it out, neither able to shake the other. With 3:30 to play, Mullet found Stutzman, who ripped a trey to give Hiland a 10-point advantage. Addesa Miller found the answer, responding with her own three-ball immediately. Yoder scored inside to make it 38-29, but Addesa Miller struck again from downtown to trim the Golden Bears' deficit to six. With just over two minutes to play, Alyssa Geiser hit a triple to make it 38-35, and the intensity was picking up.
Yoder split two free throws, and then Hiland forced a five-second call, thanks to the defense of Kate Kaufman.
With under a minute to play, Abby Miller split two free throws for a 39-34 Hiland advantage, but Stutzman grabbed the offensive board. Waynedale fouled Mullet, who calmly hit both free throws with 32 seconds to play. Trailing by seven, the Golden Bears would get a putback score with 19 seconds from Cheyanne Chupp to make it 41-37. Mullet then split two free throws, and with little time left, the Lady Hawks escaped with a come-from-behind win over yet another rugged opponent.
"It all looks alright when you hit some shots," Schlabach said of his team's second-half resurgence. "This is one our girls definitely wanted."
Schlabach credited the team's difficult schedule, which is loaded with dangerous opponents, as the key for his crew to have the patience and not panic when it fell behind.
"We battled with really good teams all year, and our inexperience showed sometimes when we failed to put it all together," Schlabach said. "Getting the win over Midview was big as a belief factor. We realized we can beat good teams, and that confidence showed in this one. That's been everything for us. We knew we were going to lose some games, and we didn't shy away from the schedule. It's helped us immensely in games like this."
He said while the Lady Hawks are riding high, they can't afford to get too high because there is plenty of work to do.
"It's exciting to see kids who want to be in the gym," Schlabach said. "You could see that excitement in the gym last night, and the fans were loving the battle that Waynedale always brings. It was an exciting game, one that will only add to the confidence of these kids."
Coming off thrilling wins over tough opponents in Portsmouth, Smithville and Triway, the Golden Bears dropped to 14-3 as they continue their strong season.
Addesa Miller led the way with 14 points and five rebounds, Chupp added eight rebounds and four points, Alyssa Geiser scored eight, and Baney added seven.
Hiland, which improved to a deceiving 11-7, got 19 points from Mullet, 10 points and six boards from Stutzman, and Yoder added nine points to go with six rebounds. Hiland went 5 of 7 on 3-pointers in the second half to secure the win.