Hiland reveals newly named Dave Schlabach Court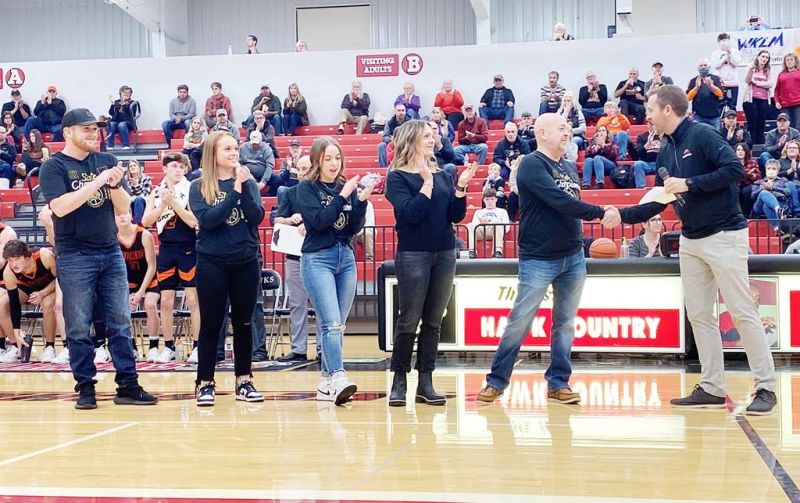 The Perry Reese, Jr. Community Center hardwood got a new addition to its make-up recently, and on Tuesday, Dec. 28, an appreciative Hiland crowd celebrated the naming of the floor in honor of longtime Lady Hawks head basketball coach Dave Schlabach, who retired this past year after carving out what is one of the most illustrious career coaching records in Ohio High School Athletic Association history.
East Holmes superintendent Erik Beun presented the proclamation to Schlabach and his family as they revealed the new Dave Schlabach Court at the Perry Reese, Jr. Community Center.
With many former and current Lady Hawks in attendance, Schlabach was surprised, the community having kept it a secret, and he was pleased to receive such a huge honor.
"I am humbled just to have my name on the same floor as coach Reese," Schlabach said following the ceremony. I am very humbled by that."
Attaching Schlabach's name to the gym floor was an easy decision for the East Holmes School Board.
"This wasn't a difficult decision for us to make," said Beun, who made the half-court presentation minutes before the Hiland boys basketball team faced Lucas. "This was a long time coming and well deserved. Over the past 30 years, Dave has invested so much in the program and into the community and most importantly the kids."
Schlabach set the bar so high in terms of wins and losses, having won 689 games against just 99 losses. He also won a state-record six state titles, having qualified for the state tournament a state-record 16 times, bringing Hiland's total to 18 appearances.
Schlabach said each championship flag hanging in the Reese Center had many stories to tell, but so too did the years they didn't reach the pinnacle of success. He said watching his girls grow from year to year was something special, regardless of wins, losses and titles.
"It's getting harder to pick out favorite moments," Schlabach said. "Surprisingly, when I think about moments, it's mostly the big picture, and that always comes out of the relationships. You work hard, you hope to win some games, and in the end it's about the relationships you made and the journey along the way. I guess now I'm just one of those old guys saying all the things old coaches say."
Beun said over the past many years Schlabach has talked more about creating young women who learn to compete, work hard and become better people than getting wins.
Schlabach reiterated that, saying that while celebrating titles — like the one which saw his daughter Kennedy hit a 3-pointer at the buzzer to send the Lady Hawks to their fifth championship — is nice, it was the experiences, relationships, and bonds of players, coaches and fans he will look back at most fondly.
In dedicating the floor, Beun said Schlabach's accomplishments and legacy were unparalleled. Schlabach earned a National Federation High School Coach of the Year honor twice, was Ohio AP Coach of the Year eight times, earned 28 Inter-Valley Conference championships including 26 consecutively, 27 sectional titles, 19 district championships and coached his team to the state finals 10 times. He sent 49 players on to play college basketball, having molded the talent into college players who earned more than $5 million in scholarships.
"Those are mind-boggling numbers, but what is more impressive is what you've done for our community and for your former players," Beun said. "Your leadership and example have paved a way for all of your former players to achieve success, not only on the basketball floor, but more importantly off the court in each of their career paths: faith, dedication, persistence and relentless effort to work hard in all they do.
The logo Dave Schlabach Court was painted by Mid-Ohio Floors on Dec. 23 and 24. From there out, it was a matter of keeping Schlabach out of the Reese Center. Some white lies were told to Schlabach, saying the gym was closed for cleaning. Even on the evening he was to receive the honor, which coincided with the evening his 2021 Lady Hawks received their state championship rings at halftime of the game, he came a half-hour early, eventually noticing the new writing on the gym floor.
"He came walking over to me after a while and said, 'Well, I noticed the writing on the floor over by the bench,'" Beun said.
The surprise was now out, but it still came as a shock to Schlabach, who was called to center court with his family to have the honor bestowed upon him.
"Standing here, I can tell you I've enjoyed every minute of being a part of this community's coach," Schlabach said. "I played under some great coaches and beside coach Reese and my brother Mark (current Hiland boys head coach), and most importantly, I wanted to do everything I possibly could to teach our kids the right things, and I think in this community, it is really easy to do that."
He also expressed appreciation to his family, who allowed him the time to commit to the program, noting they made daily sacrifices and were a big part of the program's success. He also said his bevy of assistant coaches deserve as much credit because they dedicated themselves to the big picture.
Schlabach said you win with good people, and he has been blessed to coach and live alongside a lot of great people throughout the journey.