Hiland seeking financial backers for a new turf field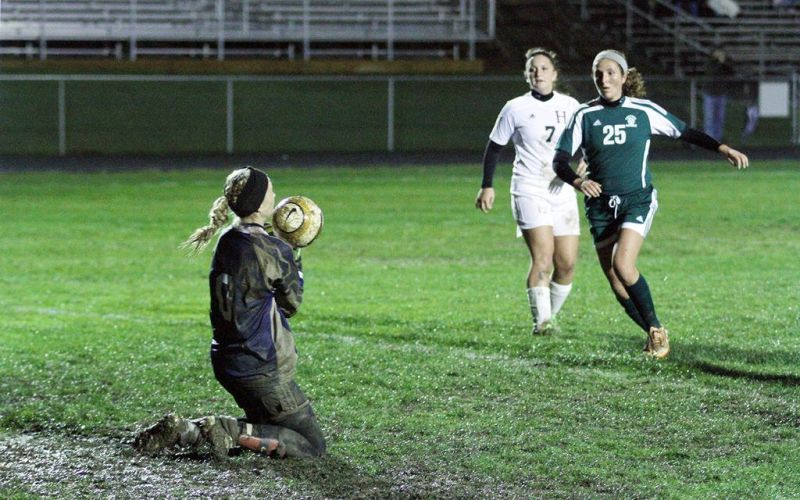 East Holmes Schools is going back to the public in the name of safety, athletics and scholastics as it puts forth efforts to raise funds to put turf on the Hiland High School soccer stadium field.
After getting the go-ahead from the East Holmes school board during its last board meeting, a fundraising committee was recently established to explore the best way to install the new all-weather turf to the field.
Over the years the current soccer field has suffered from poor drainage and the wear and tear of daily play, oftentimes creating a quagmire during rainy periods. The field's poor condition not only forced the high school, middle school and band off the field for practices, but also became a safety hazard that the board recognized had to be addressed.
According to Hiland boys head soccer coach Scott Bodiker, the idea to install new turf came not from any of the coaches, but rather several community members who recognized a need.
"These community members actually came to us and asked us if we had thought about the idea of going this route," Bodiker said. "They really felt it would be beneficial to the school as a whole beyond just soccer."
If anyone knows about the challenges the district faces with the field, it is Bodiker, the long-time boys varsity soccer coach and Hiland High and Middle School physical education teacher.
Bodiker has seen the field take a toll on his team's ability to practice from the hazardous playing surface created when it rains. He also has no outdoor facility to take his physical education classes to when the field is muddy.
"We do have some major drainage issues, and our field doesn't handle water well," Bodiker said. "We have played games there under poor conditions. We have had to move practices from here to Mt. Hope, to the field at Berlin Mennonite and even to Wise Elementary just to stay off of our field. A grass field can handle only so much wear and tear, and the only time we get on our field is once school starts for practices and for games."
Bodiker said the soccer teams often just get one practice in on the field before their first game of the fall soccer season. He said in addition to getting the varsity teams practice time in season and out of season on a field that is located at the school, it would allow the middle school and elementary programs to practice and play there too. It also would provide a place for the high school and middle school marching bands to practice. Currently that is taking place in the school parking lot.
Not only that, he said the baseball and softball programs could have practices on the field following rain.
"We've seen other schools utilize their turf fields in many ways like that, so it really does offer a multi-purpose use for a lot of programs," Bodiker said. "This is so much more than just a soccer facility. There are a lot of reasons why we feel this is beneficial and necessary."
An initial exploratory committee had looked at other facilities and contacted a quartet of turf companies to get some preliminary numbers. The cost of the turf from start to finish will be approximately $715,000. Bodiker said one of the main objectives is to make sure the new surface is done properly.
This fall an exploratory committee received three detailed proposals on the field.
From a fundraising perspective, a team of committee members has been given the task of developing a fundraising plan and following through.
Bodiker said they wanted a committee group who were connected business people in the community who had some type of relationship with the school and particularly with the soccer program. The fundraising committee consists of Dave Coil, Vince Mullet, Carlos Mullet, Dave Schlabach, Chris Gertz and Anthony Kaufman.
With final board approval coming in the January board meeting, the fundraising process now takes center stage.
The committee members will now make contacts to raise the necessary funds. Bodiker said the timeline for fundraising needs to take place quickly if they want to have the turf ready for the 2020 soccer season.
The hope is that all of the financial donations and in-kind donations are signed by some time in April, which would allow the project to move forward with groundbreaking taking place in May. The entire process is expected to take about eight weeks if weather cooperates.
Bodiker said they have already received some generous donations, but there is plenty of ground to make up financially before they can commit to the project.
"First and foremost we want this to be a community project," Bodiker said. "No donation is too small because we believe this is an improvement that will benefit our entire community and especially our youth."
The plan is to acknowledge all donors to the project at the field with a plaque, and Bodiker said should a generous donor give enough, it could lead to naming rights for the field.
There is a booklet, complete with a pledge form, available for anyone who wishes to learn more about the project and how they can donate. Anyone desiring to make a donation may contact any of the committee members or call Hiland athletic director Art Yoder at 330-893-2626. Bodiker said he and Hiland girls head soccer coach Conner Lee also are available to answer questions.
Donations to the Hiland turf project may be made to Hiland Athletic Booster Club, P.O. Box 275, Berlin, OH 44610.