Hiland's IVC South leadership battle goes Ridgewood's way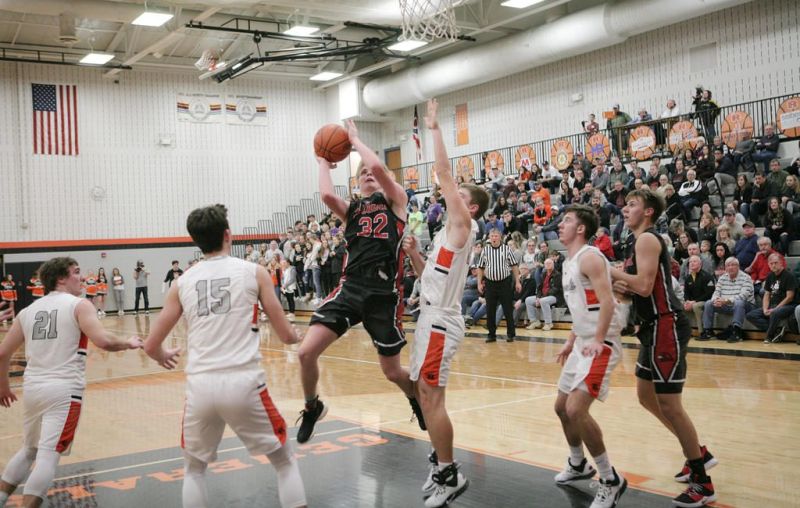 In a battle for first place in the Inter-Valley Conference South boys basketball division on Tuesday, Jan. 7 in West Lafayette, Ridgewood came away with a back-and-forth 60-53 win over Hiland on the Generals' home court.
During pregame comments, Hiland head coach Mark Schlabach was already a little leery of the undefeated Generals.
"These guys are quick and really get up and down the floor," Schlabach said of the Generals. "We will have to be concerned about their tempo tonight, especially on their home court."
Schlabach's fears turned to reality as the Hawks took a fall on what was a poor shooting night for Hiland.
The game went Hiland's way early as the Hawks built a 17-10 lead on a Ryan Miller lay-up. However, with 2:15 remaining in the first quarter, the Hawks committed several costly turnovers, and Ridgewood got a Trey Stoffer drive and a Kaden Smith lay-up. A Generals' fast-break ended the quarter with the teams knotted up at 17-all.
Hiland's foul troubles and turnovers continued cropping up and played a large role throughout the contest.
In spite of that, Hiland survived to lead at the half 30-26 on the strength of Hunter Sommers' driving lay-ups. Sommers finished the night with a season-high 20 points, but it wasn't enough to overcome the Generals.
"They pretty much outplayed us even when we were ahead," Schlabach said. "They outhustled us. Tonight, we were not as focused as we should have been. As the game wore on, I felt they were in control."
Schlabach's words were spot-on as things went Ridgewood's way after the break. Generals senior Koleton Smith lit it up, hitting five treys and playing a solid game on his way to a game-high 24 points. The Generals also countered with numerous lay-ups off of Hiland turnovers and also added plenty of put-backs throughout to make sure Hiland didn't get back on top.
Generals head coach Troy Dolick knew how big this win was.
"This game was a big one," Dolick said after the victory. "It was a nice win for us, for the boys and for the program. I can't say enough about how the boys fought to pull this one out. Hiland was all that we expected. Hats off to their effort. Truly though they missed an awful lot of shots, which I didn't expect, but we'll take it. It's always nice to beat a good Hiland team."
In addition to Koleton Smith's 24 points, Conner Kunze added 11. The senior-laden Generals are blessed with five starters averaging seven or more points.
Sam Habeger joined Sommers in double-figure scoring with 13 points, but the Hawks couldn't put the ball in the bucket enough to earn a win. The loss dropped Hiland to 10-2 overall and into second place in the IVC South division.
The Hawks will get their chance to even the score later this year when Ridgewood comes to Berlin on Feb. 11 as these two top IVC South powers will have another showdown on Hiland's home court.