Holmes Center for the Arts' new building project still on schedule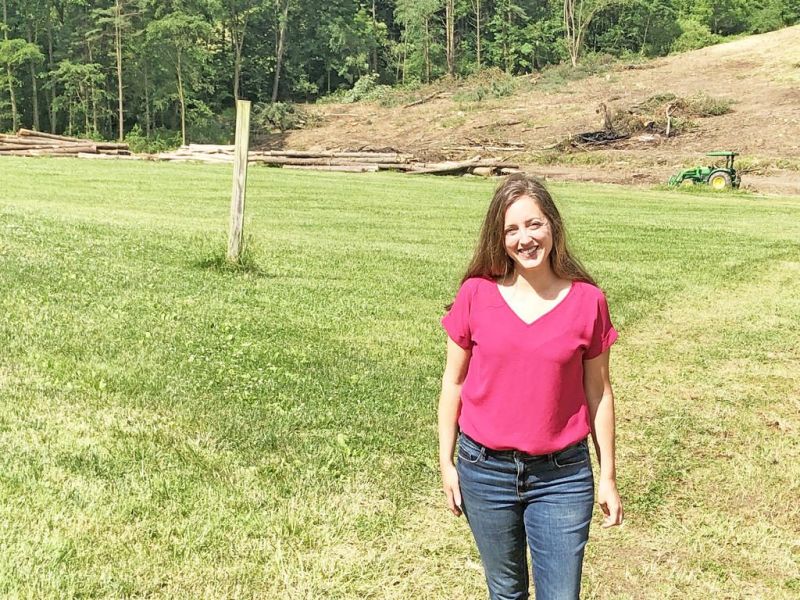 The new Holmes Center for the Arts building project is on schedule, according to Holley Johnson, executive director of the center.
"We are actually very close to our original targets, even in spite of the COVID situation," she said. "We had our groundbreaking last fall and we're well into the site work of tree and brush removal, and excavation for the retention pond."
Johnson said the project will take approximately a year.
The new center will be located on six acres of donated land behind Burger King off of State Route 39 in Berlin.
HCA's mission is providing the community with quality arts education in music, the visual arts, theatre, and dance in a wholesome, family-oriented atmosphere.
Since being founded in 2015, HCA has grown by 394 percent, according to Johnson. In 2019 it served more than 500 people through its programs.
Considering that exponential growth, the center was struggling with limited room in its rented space in an old church in downtown Millersburg.
HCA has also been holding programs at the Berlin Mennonite Church and the Beacon Cafe in Winesburg.
"Our lobby is crowded and classrooms were bursting at the seams," she said. "New classes and performances have had to be put on hold until our new space is available."
Funding for the new center began in 2018 when HCA was awarded $600,000 by the state. Another $900,000 was raised in materials and cash donations from local businesses and individuals. A grant from the Ohio Mental Health and Addictions Services was awarded HCA for capital construction of programs that will offer prosocial programming for at-risk youth. The project total will be around $2.5 million upon completion.
"Holmes County is a very generous community," Johnson said. "And it didn't hurt that the construction industry is so strong here; we've had lots of in-kind donations."
Tekton Engineering in Berlin has done all the design work for the project.
The 14,000-square foot building will be a modern, versatile facility, according to Johnson.
"The new arts center will be a space for the community to come together to learn, grow, and inspire each other through the arts. It will provide a much needed location for after-school activities for children and will house a versatile black box theater for the community. There will be two large dance studios, a music room, a pottery studio/art room, dressing rooms, and a small kitchen," she said.
Johnson said the jewel of the new center will be its state of the art 4,000-square foot theater.
"We still have to raise some money to bring the theater up to where we want to be, she said. "But we're pretty confident that with all the support the community already has given us, this is something we'll be able to do."
The theater, as envisioned, will feature 208 retractable seats that will allow a large space for events such as business conferences, dinner theaters, and other community events.
"We want a movie theater-sized screen so we can project backdrops for our productions digitally. That's where technology is going now," Johnson said.
"It really is more cost efficient, as we won't have to make physical backdrops," she added. "And we think it is important to be able to educate our next generation in the most state-of-the-art setting. One thing we want to be able to offer is filmmaking."
Johnson said the more they can put into the theater, the more versatile it will be for the community.
The HCA will probably be able to meet the goals it has for the theater if they are successful with the remaining fundraising they are doing, Johnson said.
HCA is raising funds by offering sponsorship of seats, which will allow sponsors to engrave the name of their choice into the seat handles of the chairs.
"It's a great way to advertise your business or honor someone you love while supporting the arts in Holmes County," Johnson said.
There are three options for sponsorship, she said.
The first is "producers seats," which will cost $2,500. The seats will be located in the middle of the theater.
The next level is "director's seats," which will require a donation of $2,000. The seats will be in the front row.
Finally, "actors seats," located in the top rows of the theater, will come with a $1,500 donation.
Sponsors' names will be kept on the seats for at least 10 years, according to Johnson.
HCA also is selling bricks to be placed at the entrance of the building at $150 or $300 levels.
Johnson said she's "incredibly excited" because the HCA will be able to do so many positive things for the community.
"One thing we've found is there's no shortage of generosity and creativity in this community," she said.
She said Holmes County is unique, though, in that it doesn't have a YMCA or Boys and Girls Club.
"We won't be doing the same things those organizations do, but I really think we can fill a void and provide children with positive opportunities like before- and after-school programs where they can learn to express themselves through the arts," Johnson said.
"We will be able to especially help at-risk teens," she said.
The HCA already partners with the Counseling Center of Wayne & Holmes Counties and Anazao services.
"We will really be able to offer programming that is especially targeted to these children," she said. "Participation in the arts has been proven as an effective intervention for that demographic."
Johnson hopes generations to come will treasure their time spent at the new building, learning new skills through the arts and developing friendships that will last a lifetime.
"I think it will be a place the community will really enjoy and eventually people will think 'How did we ever live without this before?'"
For more information or to donate, visit Holmescenterforthearts.org or call 330-473-2879.