Holmes commissioners tackle busy week of activity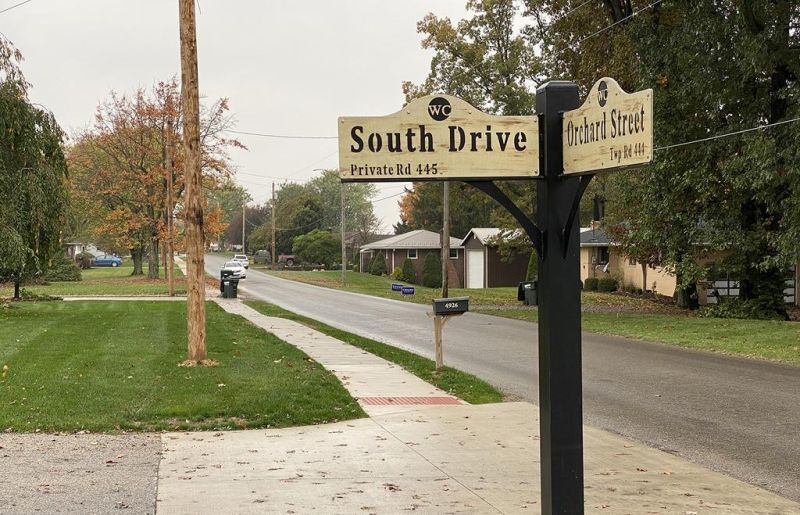 The Holmes County commissioners took on a busy slate of county activity at their Oct. 15 meeting in Millersburg, much of which had to do with ongoing improvements and projects under the CARES Act Fund.
The work on the Holmes County courthouse tower continues to roll along smoothly. According to Tim Morris, director of Holmes County Buildings and Grounds/Solid Waste, continuing work is going according to schedule.
"They haven't had any issues," Morris said. "The only thing we had a discussion on was since they put all of the decking in and the air-conditioning unit is up there, it is going to generate some heat because they had to take out the fan we had up there. They are looking at putting a new exhaust fan in so it doesn't cause issues."
Morris said another option they have discussed is putting a cooling tower in because there is plenty of space to do so. Morris said they won't do anything unless issues should crop up.
Holmes County engineer Chris Young said he recently approved the safety railing at the steps in the tower.
Young also said Wally World Campgrounds will begin building a 300-site campground near Loudonville soon.
Holmes County director of planning Arnie Oliver said the work on the Walnut Creek sidewalk project is complete and went according to specs. He said payments on all work for the project should be paid by the end of October.
The sidewalk renovation project runs along Township Road 444 from the corner of state Route 515 and Township Road 444 until past Hillcrest Orchard.
"It is already very well used; a lot of people walk along that route," Oliver said. "I'm really happy with the way that project turned out."
The commissioner said sidewalk projects continue to be a focal point of improving communities in the county.
"These funds are available to help any qualifying community improve their neighborhood," commissioner Joe Miller said.
Commissioner Rob Ault shared some of the many expenses that have been approved but have yet to be paid through the CARES Act Fund. Included in the list were 4G modems for sewer plant updates, a transportation van for the health department, automatic doors at the Clinton Street building, record scanning, a dishwasher for the Holmes County Senior Center, reimbursements for the Holmes County Board of Disabilities, a new generator being installed at the Clinton Street building, the installation of glass boards for safety purposes at Clinton Street and the extension office, new vehicles for the Holmes County Sheriff Department, and vans for delivery purposes for the senior center.
These items and other expenses that can be purchased through the CARES Act Fund are now being sent in for approval.
Commissioner Miller said the county still has more than $2 million of unspent CARES Act funds that will need to be requested and paid for by Dec. 31. The county's hope is that it can utilize the entirety of the CARES Act funds allocated to Holmes County.
The commissioners quickly agreed to send the requested projects in, in hopes of receiving the CARES Act Fund designation.
Morris said he has been working with Millersburg Electric to come up with a solution for the requested generator at the Clinton Street building.
Morris said Millersburg Electric is currently coordinating its efforts with Ohio American Electric Power, with one possibility being placing the aforementioned generator in the loading dock area in the alley, which Morris said is underutilized. If used, the area would be sealed off and much of the wiring would be placed underground, allowing it to be sealed off.
"If we could utilize that area, it would be a very nice cost savings for the county," Morris said. "I think it is a good move. Because if we don't use it there, we will end up sticking the generator around the corner of the building, and chances are someone could clip it. If we are making that kind of investment, we need to protect it the best we can."
Luke Hall, deputy director of Holmes County Emergency Management Association, said he is continuing his efforts to look into creating a more effective wireless plan in the Old Jail building. He said there is not enough bandwidth to be effective, and as he explored options, he found some disturbing details.
"Our fiber that runs in here from Clinton Street is basically at the end of life," Hall said. "The way it is configured currently, it could be better optimized. We are looking into using the CARES Act Fund. We know it is a qualified expense to replace the fiber, and we are looking at moving it to a point-to-point system so we have fiber moving from Clinton to (The Old Jail building) and back to Clinton building in a ring. That allows us better continuity, and we can get better internet from both sides of the ring."
Hall also said the current fiber is 17 years old with an expected life span of 20 years. He said each time the county tries to work on the current fibers, they fall apart due to aging and wear. The current fiber also is not large enough to properly provide for the county's needs. He said emergency management continues to look at issues concerning cyber security, something they feel needs to be explored as the county moves closer to 5G capabilities.
Hall asked for and received permission from the commissioners to further explore different domains as the county seeks to expand his research.
Ault said adding a rough estimate of these costs to the existing CARES Act Fund for Holmes County would be possible, and Hall said it should be within two weeks of getting expense numbers together. The commissioners quickly passed a resolution to proceed in the effort to get an estimate for the fiber communication plan.
Finally, a resolution was passed approving the satisfaction and release of mortgage for the purpose of testing of surface water at the former BP station and surrounding area. That testing will come at no expense to the county.
Morris said Melway Paving is starting the process of laying down asphalt around the building that now houses the Ohio State University Extension office.