Johnson and Schwartz run for team and for each other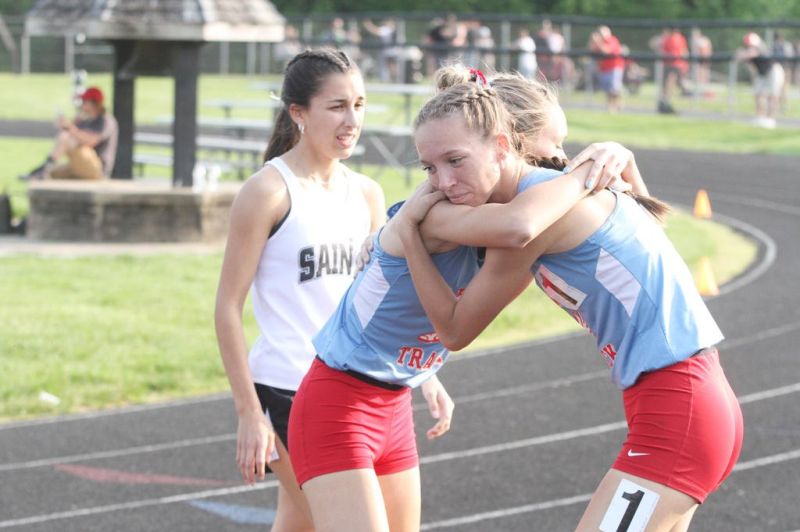 For Garaway senior Jesse Johnson, this Division III run at the district meet was critical for her ongoing joy of performing with her teammates as long as possible.
One teammate in particular played a key role in helping her move on to regionals at the Newcomerstown district meet on Friday, May 19, where she joined teammate Meghan Schwartz as they made their way to regionals together in the 800 meters.
The two Lady Pirates competed side by side the entire race, joined by Tuscarawas Central Catholic's Elaina Price, who was sandwiched between them most of the race.
The three girls set an early pace, pulled away and left little doubt as to whether or not they would advance to regionals.
Schwartz eventually pulled away down the homestretch to win it, followed by a tight race for second and third in which Price edged out Johnson.
It was a banner race for the Garaway duo, and both were exhausted but greatly satisfied as teammates, family and friends greeted them outside the course track following the accomplishment.
For Johnson, the effort meant at least one more time of performing as a Lady Pirate.
"It's one more chance to represent my school and run the race I love so much," Johnson said. "It's two more laps to take advantage of the opportunities I've been blessed with."
Johnson said she and Schwartz have been very good about encouraging and challenging one another. She said having someone there to run with, to root for and to push her was critical to her growth in the event.
"It's a joy to be able to run with Meghan," Johnson said. "We're pretty competitive with one another but love seeing each other succeed regardless of how we finish, although she has been kicking my butt pretty good this year."
Johnson said she felt good throughout the race, and in setting her PR time, she couldn't be peaking at a better time of the season.
For Schwartz, a junior, the accomplishment was great because she set a sizzling pace the entire race and finished with a flourish. However, she said despite having been a regional and state qualifier in track and cross country, she still gets antsy.
"I still get nervous," Schwartz said, "especially as the stakes rise. I think having been to regionals before a few times will definitely help me deal with the butterflies, and a lot of girls don't have that experience, so hopefully it pays off."
She too feels as though running alongside a teammate is a huge positive, knowing they can help encourage each other as they run and inspire one another to give every ounce of effort.
"I think running together like this is a big advantage because she pushes me and I push her," Schwartz said of Johnson. "We really work well together."
As a senior, Johnson said she relishes the chance to serve as a leader and be an inspiration for her teammates. She said while track is full of individual events, it still is a team sport.
"I think my goal is to build an atmosphere of positivity within our team, and I feel like I've really found a team and a family here in this program," Johnson said. "We're all so encouraging and close, and it's been a lot of fun."
Johnson will attend Kent State University to study American sign language interpreting, but before then she has at least one final race to represent the Lady Pirates, and what she hopes will be two.