Kaufman provides positive outlook for Hiland golf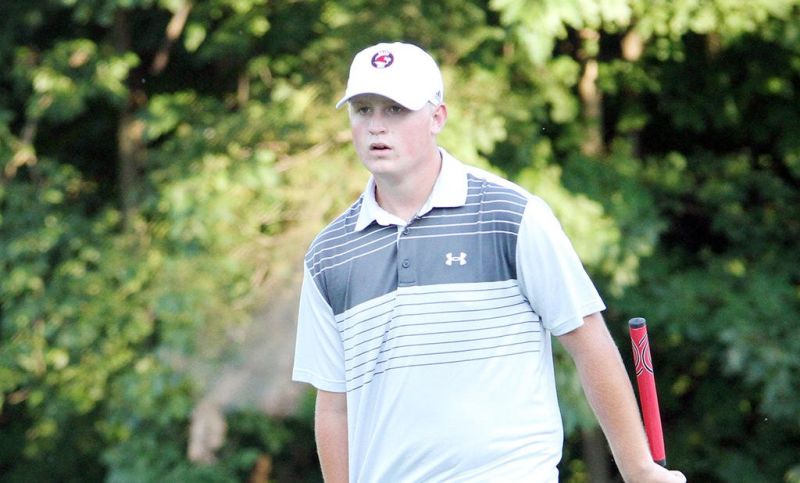 Losing one All-Ohioan off your golf team is tough to replace. Losing two is downright scary. Losing two other talented players who have been multiple-year starters is a total rebuild.
However, Hiland head golf coach Austin Kaufman doesn't want to approach this season with such thoughts.
After his team delivered a highly anticipated Div. III state title last season, led by All-Ohioans Brookston Hummel and Carter Mishler, along with four-year letterman Kenny Weaver and three-year letterman Garrett Shoup, it would be reasonable for people to give the Hawks a pass this year as they try to reload in what has been a dominant area program for many years.
"Everywhere we went, it was people saying, 'Aren't these guys gone yet?'" Kaufman said.
Kaufman firmly believes his team can produce some strong numbers, even without the four power players lost to graduation.
After his team placed fourth at the Pirate Invite at Black Gold Golf Course in Sugarcreek to begin the season, and with a solid summer of practice and tournaments, Kaufman likes what he sees thus far.
"It's a feeling-out process, but I have a really good feeling about this group of guys," Kaufman said. "This is a group that is going to work hard at the game. I think that is something that our group of graduating seniors left behind for these guys to emulate."
Returning for the Hawks are last year's fifth and sixth men, Nathan Kline and Lucas Yoder. Both played capably last season, and both are now stepping into leadership roles as seniors. Also returning is Monty Coblentz, who stepped in and filled in for the varsity when necessary last season. However, it was this summer's test that has Kaufman excited about what Coblentz brings to the table.
Recently, the Hawks played in the National High School Golf Association Tournament at Pinehurst Resort in North Carolina, where the top teams and champions from around the nation compete.
While the bulk of last year's state championship team participated, Weaver stepped out, allowing Coblentz to take his place.
Coblentz handled the pressure, playing well under the circumstances.
"He showed he could handle the pressure, and he proved he is more than ready to step in and play a key role this season for us," Kaufman said.
Another new face is sophomore Camden Bille, who has put up solid numbers this summer. Kaufman said his sophomore has worked hard to improve his ball-striking skills and should see his score improve as the year goes on.
"He's really come alive," Kaufman said of Bille.
Freshman Jack Mast will round out the top five, and Kaufman said while placing demands on a freshman can be difficult, he likes what Mast has shown.
At the Pirate Invite, Kline and Yoder fired off respective scores of 75 and 77 while Bille and Coblentz carded matching 83s and Mast shot an 85.
The inexperience may have been on display when the Hawks played at Skyland Pines, where their score of 339 was not what they hoped for. Yoder's 82 led the effort while Bille carded an 84, Coblentz shot an 85, Kline posted an 88 and Mast came in at 96.
"We're going to see some scores like that as these guys settle in, but I think you'll see improvement as they go along and our scores will drop," Kaufman said.
As for following up on a record-breaking season like last year, Kaufman said nobody can replace that kind of talent and not feel the impact.
He said the one thing his current crew will have to work harder on is overcoming the mental aspect of the game, but he said even when the former group came in as freshmen and sophomores, they weren't world-beaters at it.
"In the end those four guys had a great grasp of the mental aspect of the game and how to overcome bad shots and bad holes," Kaufman said. "That's something that comes with experience. We've seen our kids posting some bigger numbers on holes. We have to learn to eliminate those double and triple bogeys, but more importantly, we have to learn how to not think about a bad score or even their score. It's always about hitting the next shot."
At the Warrior Classic on Aug. 8, Kaufman saw some of that growth, where the Hawks placed runner-up in the Div. III tournament with a score of 327, trailing only champion Newark Catholic.
The Hawks were led by Kline's 78 while Yoder carded an 80, Mast fired an 84, Bille tacked on an 85 and Coblentz shot an 88.