Kick visits to discuss the state of county and Ohio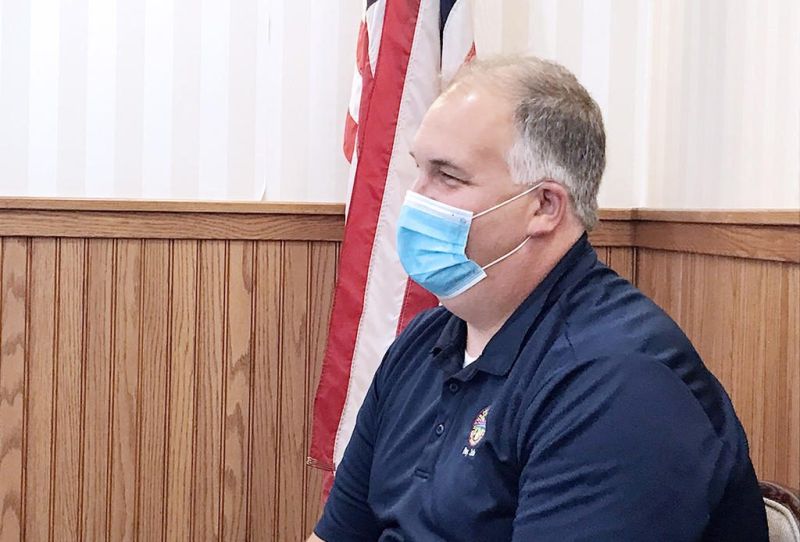 Darryl Kick, Ohio state representative to Ohio's 70th House District of the 132nd General Assembly, stopped by for a visit at the Monday, Aug. 31 meeting of the Holmes County commissioners, where he shared some news in updating the commissioners on what is happening at the state level.
Kick said he wanted to catch up on what was happening in Holmes County and give the commissioners an update of what is taking place in Ohio. His main focus was on the House's change at speaker of the House.
Former Ohio House Speaker Larry Householder was voted out of that position by his peers after he was arrested in connection with a $60 million racketeering conspiracy involving a 2019 nuclear power plant bailout bill he helped pass, allegedly in exchange for payments.
The motion to vote Householder out of that position was an overwhelming 90-0 vote. He was replaced in that position by Ohio House Rep. Bob Cupp.
Kick said while the House voted Householder out of the role of House speaker, it did not vote on whether or not to expel Householder from legislature as a representative.
"We did take the speaker out of his seat as speaker, but he is currently a member, and there are some procedural things with that," Kick said. "If he was impeached from his seat and he would be re-elected this fall, we couldn't do it again next year, so he could come back. We are looking at our options on that, but he really isn't guilty of anything yet. There is a fine line there as to whether to impeach someone who hasn't been proven guilty."
Kick said if the FBI finds anything proving his guilt, he would be removed automatically because of that conviction. "He's not our speaker; he's not our leader. That would be inappropriate," Kick said.
Cupp is a former four-term state senator from Lima and served as a member of the Ohio Supreme Court Justice. The final vote on bringing Cupp in as the new House speaker was 55-38 with every member of the Democratic caucus voting against him.
Kick said Cupp was a terrific choice to assume the role of House speaker.
"He's one of those guys where, boy, it's hard to find a blemish on the man," Kick said. "He's just honest, and he is the right guy for the time to restore order into the House."
Kick went on to note that there are several bills coming up for a vote that have been lingering in both the House and the state Senate, and the hope is that the members will be able to act quickly on those.
One of those is Ohio House Bill 606, an effort to grant immunity to essential workers who transmit COVID-19. The bill has been sponsored by Diane V. Grendell of Ohio District 76.
Kick said there was a good amount of back and forth between the Senate and the House over the bill, but he believes those differences have been hammered out, allowing those essential workers to feel more comfortable in their liability during this COVID-19 period.
In the Tuesday, Sept. 1 vote on the bill, which passed in May 84-9, several key issues were brought up that the House members felt needed to be looked at further, and the bill was voted down 90-0. Former legislation in the bill that designated essential workers were in danger and the desire to extend the sunset date of the bill beyond the current Dec. 31 date were mitigating factors in the bill being voted down.
After a lunch break, some key amendments combined that included moving the sunset date of the bill back to Sept. 30, 2021, and some impassioned pleas from several House members, the House revoted, passing the bill 62-30. Kick was among those to change his vote to yes. He said House Bill 6, which was at the heart of the scandal in which Householder was embroiled, also will be talked about at length.
The bill focuses on bailout funding for First Energy and FirstEnergy Solutions of Akron, which also has nuclear power plants in Pennsylvania and West Virginia.
"We are looking at repealing that," Kick said of the vote that passed through both the House and Senate. He said a number of votes in the 11th hour helped pass the bill, but he said he was not for a straight bailout.
Kick said the state has been in this position before, and he said in speaking to lobbyists and CEOs for FirstEnergy about the bill, he felt if it passed as a straight bailout, it gave them no incentive to innovate and develop a better plan.
"When we got some amendments to take care of some of our green-energy projects, I felt I could vote for it because it would save the taxpayers over $2 billion," Kick said. "If we just straight-out repealed it, that tax rate would go right back on consumers in that energy market, so it would be a tax increase to the citizens of Ohio. The optics of House Bill 6 is, it is tainted. We need to get rid of it because of the way it came about."
Kick said the House is now in the process of trying to make some changes that would benefit everyone.