Kim Miller's penchant for helping others set her on course for a big achievement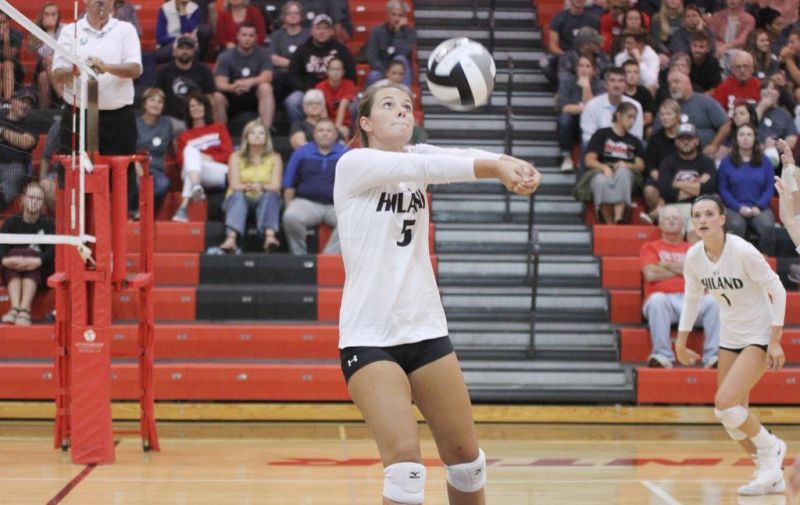 When the Hiland Lady Hawks took down Buckeye Trail on Sept. 7 in volleyball, it was much more than simply a victory.
In the three-game victory, senior setter and two-time All-Ohioan Kim Miller went past the 2,000 career assist mark, an achievement shared by very few others in the OHSAA realm.
With plenty of games to go yet in her senior year, Miller could well climb into the top-50 all-time setters in OHSAA history.
For Miller the grand total of assists is nice, but she prefers to focus her attention on smaller numbers that matter more, like the number of wins her team is currently posting this season. That number stands at 10 against just one loss, so the Lady Hawks have been cruising in the early going this season.
"I knew that number was coming up, but I try not to pay too close attention to it," Miller said. "Every once in a while I'll see something on Max Preps, but that isn't my focus. It never really crossed my mind that it was going to happen against Buckeye Trail. I am just focused on helping us win games."
That winning trend continues Hiland's resurgence in the volleyball world, where a once-struggling program has seen some fine success the past four seasons, not coincidentally all of which Miller has served as the setter.
Miller began playing volleyball in elementary school, where she developed the fundamentals of her game. There, she played more positions and didn't emerge as a setter until her seventh-grade season.
She has been quarterbacking her volleyball teams ever since, through junior high and then on to the varsity level, where she immediately jumped into the setter role as a freshman.
She said the numbers are nice, but the wins are even better. She recognizes all of her accomplishments would be nonexistent without the hitters she has played with over the years.
As for being the initiator, distributor and decision-maker on the floor, the Hiland co-captain said she relishes the opportunity to take on a leadership role.
"When I was a freshman and sophomore, I really didn't like it because I was younger and I thought my teammates would get mad at me if I tried to lead and tell them what to do," Miller said. "But the more I played, the more I got relaxed in being that person who takes charge."
When Miller came on to the varsity scene, the Hiland program had undergone some lean seasons. She said seeing that and being a part of the turnaround of the program has been satisfying.
"It has been so fun," Miller said of the team's success in recent years. "People laughed at the idea of us going to state a few years ago. But now it is a reality, and we want it so bad, and we are super-excited."
Miller said she doesn't mind getting after teammates when they need a little admonishing, but she said she isn't one to yell or scream at a teammate. She said she would prefer to encourage and help guide in a more productive manner.
"It's not me to yell at people," Miller said. "I think encouraging goes a lot farther."
She said being the floor leader has definitely improved her leadership skills both on and off the court, and head coach Andrea Miller said her professional demeanor on the floor has been noted by officials.
Coach Miller has watched her talented setter blossom into an All-Ohioan since her early days as a youthful freshman. She said it has been a joy to see the development take place, and she said few players work harder or are more intelligent than Miller.
"She's just a dynamic player," coach Miller said. "She has such a calming presence on the floor. I recently had an official tell me that she has an incredibly impressive sportsmanship conduct on the floor. He also said that about our team, which is encouraging to us as a coaching staff, but it is also directly related to how Kim leads as a captain. She has blossomed over the years and maybe the most this year."
Coach Miller went on to say this team is so close-knit, and the seniors all exhibit great leadership, taking the onus off of Miller to do that herself. She said her setter also has been a role model for the younger players and especially the setters who are coming up through the program.
"They see her, and they all want to be like her," coach Miller said. "Kim recognizes that, and I think she enjoys that role of setting a great example for the younger girls. It will definitely be tough to replace her when she graduates this year; 2,000 sets is a really terrific accomplishment. But her attitude and desire to win and to make others around her better is what we think is so hard to replace."
While volleyball has been a huge part of Miller's life, she said once she graduates and heads to college, the game might be in the rearview mirror as she turns her attention to what she feels is more important: her studies toward a degree in speech pathology.
"The game has been great to me, and I have had a blast, but wherever I end up going to college, I think my studies will be more important," Miller said.