Knights boys and girls both second at Tom Lantz Invite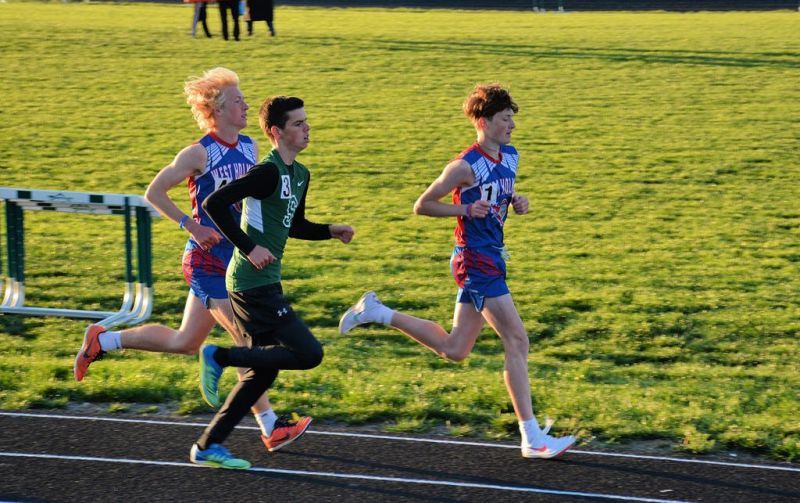 Both the West Holmes Knights boys and girls teams battled valiantly to come away victors at the Tom Lantz Invite at Smithville Stadium on Saturday, May 1, but in the end both would have to settle for second place behind talented Dalton teams.
The Dalton boys earned first place with 77 points, barely getting by the Knights, who were next with 72. Smithville made it a three-team run for the gold by accumulating 67 points while Loudonville trailed in fourth with 40.
Pole vault continued to be a dominant sport for the Knights, who came away with a first and second. Winning with a jump of 14 feet was Emmett Myers while Zach Snow took second, clearing 12 feet.
Brady Taylor found the victory circle in the 200-meters, sailing to victory in 22.6, a solid effort over runner-up Jaiden Bailey of Dalton (23.84). Grant Miller (24.78) took fifth for the Knights.
West Holmes went one-two in the 3200-meters, where Zeke Galbraith (10:42.4) claimed top honors, followed by teammate Haeden Wolfe (11:05.25).
Gavin Freeman also earned gold in the long jump, where he flew 19-07.25 to win it with ease over runner-up Sam Williams-Dixon (18-01.75). Third went to WHHS's Sawyer Pritt (17-09).
In the 100-meters, Grant Miller (11.67) and Sawyer Pritt (11.91) claimed fourth and fifth, and Wolfe took home third in the 1600-meters (5:12.99) behind Dalton's Evan Hodkinson's winning time of 4:44.13. Knights' teammate Zeigler was fourth in 5:15.18.
The 400-meters proved to be a fascinating race, with Lucas Oswald of Dalton winning in 55.72, barely beating West Holmes' Zander Schultz (55.8), who just inched past Smithville's Jacob O'Brien (55.86).
In the 300-meter hurdles, Smithville's Alex Taylor (41.41) fended off a challenge from West Holmes' Austin Myers (42.34).
West Holmes cruised to victory in the 4-by-200 relay, with the quartet of Gavin Freeman, Austin Myers, Emmett Myers and Taylor driving home in 1:33.79, four seconds ahead of the pack. Freeman, Emmett Myers and Taylor then joined Pritt to rush to victory in the 4-by-100 in a time of 44.83, sneaking by runner-up Dalton's time of 45.28.
In the 4-by-800 relay, West Holmes' team of Matthew Young, Haeden Wolfe, Caden Zeigler and Galbraith took third place in 9:47.89, and in the 4-by-400 relay, the WHHS quartet of Tristen Middaugh, Quinn Cornwell, Kalan Bowling and Braydyn Lemon took third as well.
Miller would take fifth in the discus while teammate Logan Kula earned a fifth in the shot.
Dalton took command and racked up 82 points, well past the Lady Knights' score of 62. It was a battle for second place with Smithville claiming 57 points, followed by Loudonville with 52.
Amy Hughes highlighted the day for West Holmes, winning the shot with a heave of 33-11.5, winning by 8 inches over Katie Good of Dalton. Hughes pulled off the daily double by claiming victory in the discus with a throw of 101-08, getting by runner-up Naomi Keib (97-05) of Smithville and Good (93-06).
She would be joined in the winner's circle by teammate Lainey Duff, who cleared 5-00 on her way to winning the high jump in an event that came down to misses. She got by Smithville's Lexi Muntin (5-00) while Lady Knight Daphne Alexander (4-08) took third.
Also checking in with another win was West Holmes senior Katie Sprang, who clocked in at 1:01.75 to win the 400-meters. Pulling second was Lauren Clos (1:02.25), and third went to Giauque (1:03.71).
Hannah Rohr (14-10.75) was bested by one-quarter inch by Loudonville's Kenzi Cutlip in the long jump, with Sprang taking third with an effort of 14-02.25.
In the 100-meter hurdles, Corri Vermylia (17.75) held off Lady Knight Alexander (18.06) to claim the title.
Brenna Myers placed fourth in the 3200-meters, her time of 12:51.01 off the pace of winner Rebekah Carr (12:27.36) of Smithville. Myers also took fourth in the 1600-meters in 6:09, with Dalton's Emberlynn Nolt winning in 5:38.36. Lady Knight Jasmine Giauque bolted to third in the 200-meters in 27.26, but it wasn't enough to catch Dalton teammates Brianna Chenevey (26.19) and Lauren Clos (26.86). West Holmes' Hannah Rohr was fifth (28.27). Chenevey also would win the 100-meters in 12.89.
Vermylia of Loudonville won the 300-meter hurdles in 50.81, a mere inch in front of Dalton's Amelia Knetzer, who matched her time. Bailey Chenevey of Dalton won the 800-meters in 2:28.2.
In the 4-by-200 relay, Dalton's team of Brianna Chenevey, Clos, Ava Martinez and Courtney Weaver ran a 1:54.11, narrowly holding off West Holmes' foursome of Rohr, Duff, Giauque and Sprang's time of 1:54.29.
In the evening's final event, the 4-by-400 relay, West Holmes' quartet of Giauque, Rohr, Alexander and Sprang bolted to the wire, easily winning in 4:27.7.