Knights' grapplers struggle to 2-3 mark at Claymont Duals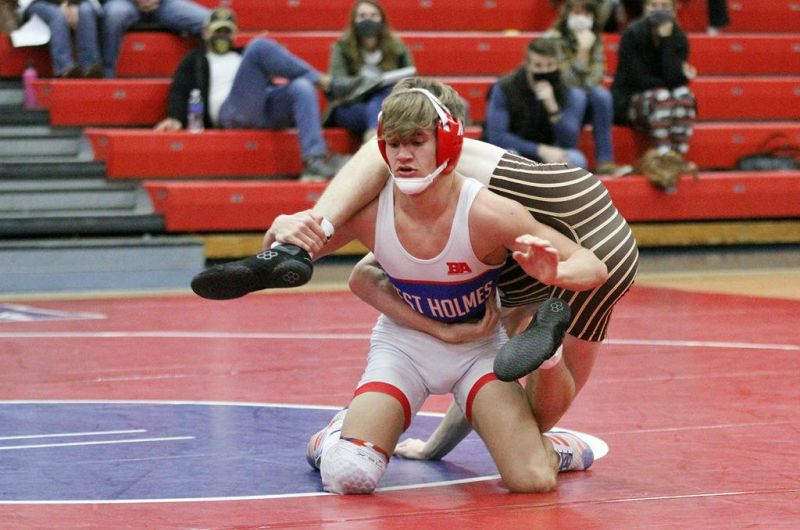 To say that West Holmes High School wrestling head coach Scott Vaughn was more than upset with the performance turned in by his team following the Mustang Duals at Claymont High School on Jan. 9 would be an understatement.
"I am not happy," the Knights fourth-year head coach said immediately following his team finishing 2-3 in the six-team duals tournament.
The Knights only wins were a 42-36 squeaker against Canton Glen Oak and another six-point win, 37-31, versus Sandusky Perkins in the final dual of the day. WHHS suffered losses to Sandy Valley 37-35, host Claymont 46-33 and Minerva 48-16.
"Rough day today," Vaughn said once he had a chance to cool down. "I thought we had two decent days of practice leading into today. We are proving to be inconsistent. It is my responsibility to figure out what we are doing, or not doing, to prepare us correctly."
Sophomore Mason Taylor and junior Tucker Kaufman both posted perfect 5-0 records to lead the Knights. Taylor notched one fall win while Kaufman chalked up four pins.
"Mason gets the nod as Knight of the Week for his 5-0 day," Vaughn said. "We've asked a lot of Mason so far this season. He is wrestling at 113 and 120. Wherever we need him, he is more than willing to go and help the team. He is really coming into his own so far this season. I also want to recognize that Tucker also went 5-0 and had a really nice weekend."
Posting 4-1 marks were juniors Brady Smith and Conner Varnes. Grady Toye, Noah Tish and Dylan Strouse all finished 3-2.
Colt Cox went 2-3 while Dakota Patterson, Grant Miller and Elisha Baldridge posted 1-4 records.
"I am going to have quite a few sleepless nights trying to figure out how to never have a showing like we did today," Vaughn said. "Going 2-3 today was unacceptable. We wrestled some physical teams, and we didn't match their intensity."
The Knights are now 9-5 on the season in dual meets.
Meanwhile, the WHHS "B" team sent eight wrestlers to the Newark JV Duals Invite at Newark High School, with five of those grapplers coming home with undefeated records.
Senior Corbin Miller and freshman Logan VanSickle both posted 3-0 marks with three falls. Freshman Blake Strouse finished 3-0 with two fall wins while sophomore Blake Norman was 2-0 with two falls and fellow sophomore Cylie Couch finished 1-0 with one fall.
Freshman Kalan Bowling-Cappadony and Gabe Averbukh both finished 3-1 with one fall while classmate Ashton Raber was 1-2.
"Corbin Miller is the Knights Wrestler of the Week for the 'B' Team," Vaughn said. "He has been a constant leader on this team, and it shows in his matches. I love how Corbin leads by example in the practice room as well."
The final team scoring found the Knights winning the duals with a 3-0 mark. WHHS downed Gahanna 30-12, topped host Newark 24-6 and toppled Columbus Bishop Watterson 30-6.
WHMS duals record now 10-1 after sweep at Cougars Duals
The West Holmes Middle School wrestling team posted a 5-0 mark at the Cougars Duals held at Crestview High School to push their season dual record to a fine 10-1.
The Knights opened their team championship day with a 52-36 win over Clear Fork, then kept it going by shellacking Ontario 61-16 and host Crestview 61-6, followed by 66-11 wins over Lexington and 59-26 over Shelby.
"With Clear Fork our first match of the day, we knew going in this was going to be a tough one," WHMS wrestling head coach Jeremy Dombrady said following the day's action. "At 122, Marshall Hull was able to secure a fall in a match that could have gone either way. Then Morgan Smith had a come-from-behind pin the following match to give us a nice lead heading into our bigger weights."
Seven Knights notching perfect 5-0 marks included Peyton Martin, AAJ Roberts, Mac Miller, Hunter McCluggage, Morgan Smith, Dylan Sours and Cole Porter. Posting 4-1 records with three falls were Macin Miller and Cam McCluggage. Marshall Hull posted a 3-1 mark while Braylen McKinney finished 2-1 with two falls. Also picking up varsity wins by fall were Grady Hawkins, Darren Gallion and Hayden Smith.
"All 15 wrestlers we brought saw varsity time, and all 15 won at least one varsity and/or exhibition match," Dombrady said of his team's strong day. "This is my goal in every dual tournament."
Dombrady lauded first-year wrestler Morgan Smith with the Knights Middle School Wrestler of the Week Award.
"Morgan Smith is our Wrestler of the Week because of his close overtime match against an OWYA state runner-up on Wednesday dual meet versus Indian Valley, his big come-from-behind pin against Clear Fork and for going 5-0 today with two wins coming up a weight class," Dombrady said.
Picking up exhibition match wins were Royce Milam (seventh grade, 116), Darren Gallion (eighth grade, 160), Grady Hawkins (seventh grade, 172) and Hayden Smith (eighth grade, 205). Gallion was a double exhibition match winner, and all five wins by the Knights came via fall.