Knights knock off Wooster in big OCC baseball opener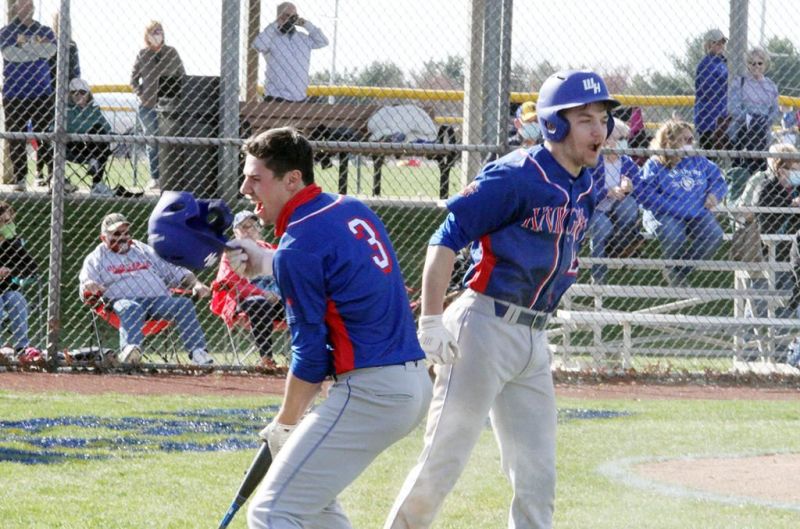 The West Holmes Knights baseball and tennis teams got off to rip-roaring starts to the 2021 spring sports season.
Baseball
The West Holmes Knights bats were fairly silent in the preseason contests, but WHHS bats sprang to life when the season began in earnest, leading to a 7-1, 12-0 sweep of Northwestern.
In the opener West Holmes got terrific pitching from winner Payton Eads and Noah Clark, who combined to allow no earned runs and just three hits while striking out nine. Tyler Gallion swatted a single and double, and Nick Ginsburg racked up a pair of hits, but it took the Knights a while to get rolling with the sticks. Trailing 4-0 in the fifth, the Knights struck for four in the fifth and three more in the sixth to take the win.
West Holmes wasted little time in dispersing of the Huskies in game two, plating two runs in the first inning, six in the second and three in the third to cruise to victory. That was more than enough for winning pitcher Nate Ginsburg and relievers Matthew Weaver and Gallion, who sailed through the five-inning affair, allowing just two hits. Clark, Nick Ginsburg and Micah Martin each banged out two hits while Weaver paced the 14-hit effort with three hits including a double.
The Knights' JV followed suit, earning wins of 15-0 and 19-7 over the Huskies. In the 15-0 win, Reed Fendrick threw a complete-game no-hitter while striking out 11 Huskies. Brody Allen scored five runs and stole a pair of bases in the wins.
The JV then knocked off Wooster 12-0 with Reed Fenderick firing a complete-game two-hitter, striking out eight. Fenderick added two hits, as did Hunter Ryan.
In varsity action on March 30 in Wooster, the Knights looked like they would defeat Wooster in a laugher, but a runaway became close before darkness set in, and the Knights earned a 12-6 victory that saw the Generals crawl to within 12-8 before darkness erased Wooster's two runs in the bottom of the seventh.
Noah Clark cruised to victory in this one on the mound, firing four innings of no-run ball, recording five strikeouts along the way. The Knights took advantage of control issues from starter Chris Franks, who lasted less than two innings, hitting four Knights and walking four hitters while allowing four hits.
The Knights scored three in the first inning, then came right back and delivered a four-run second inning that was highlighted by Nick Ginsburg's two-run single. Micah Martin, who delivered a run-scoring single in the first inning's outburst, delivered again in the sixth, pounding a gapper to plate two runs to give the Knights a seemingly safe 12-1 lead.
However, Wooster rallied with a five-spot in the sixth to make it 12-6, then scored two runs and put two runners on in the seventh before darkness drew the game to a close.
Clark produced three hits for the Knights while Tyler Pettorini and Drew Becker each collected a pair of hits for the Generals.
The Hiland Hawks won their opener, topping Clear Fork 9-2. Hiland scored in each of the first three innings, then exploded for four insurance runs in the final frame to secure the win.
Derrick Troyer went the distance for Hiland on the mound to pick up the win, allowing just four hits and one earned run. He didn't strike anyone out but allowed just one free pass. Offensively, Collin Lowe pounded out three hits, Jared Hostetler collected two hits and added a pair of stolen bases, Nolan Yoder ripped a pair of singles and drove home three runs, and Troyer helped his own cause with two hits.
The Hawks appeared to be poised to win their second game in a row versus Tuscarawas Valley on Monday, March 29, but a six-run Trojans uprising in the fifth inning pushed TV past the Hawks 8-6.
With the Hawks up 3-1 heading into that fateful fifth inning, Hiland's defense came unglued, and starter and loser Casey Lowe was roughed up, giving way to Isaiah Yoder, who finished the game's final two innings.
Trailing 8-4 heading into the final frame, the Hawks did rally to plate a pair to close the gap but couldn't overcome the deficit, the loss snapping a 15-game IVC winning streak.
The Hawks did outhit the Trojans 10-9, but Hiland struck out 13 times, stranding eight runners on base while committing a ghastly five errors that led to a pair of unearned runs in the fifth. For TV, Nate Glaser picked up the win on the mound, also pounding out a pair of doubles and driving home a pair. The Hawks were led by Jared Hostetler, who had a pair of hits including a triple and scored twice. Lowe scored a pair of runs and hit a triple, Reece Schlabach had three hits and a pair of RBI, and Nolan Yoder doubled and drove home a run.
Tennis
West Holmes took home a 3-2 win over St. Clairsville, starting the season on a positive note. West Holmes got wins at first singles, where Curtis Wagner defeated Alex Douglass 6-4, 6-2; third singles, where James Barr topped Shane Jackson 6-3, 6-3; and second doubles, where Brody Schad and Jacob Miller got by Michael Phillips and Ethan Miller 6-2, 6-1.
At second singles, St. Clairsville's Evan Holstein defeated Hunter Ellis 6-0, 5-7 (7-5), and in first singles play, Anthony Verandi and Brandon Krolovic knocked off Trevor Miller and Jud Morris 6-4, 6-0.
The Knights went on to capture win number two by nipping Orrville 3-2. The Knights swept the singles play with Wagner easily besting Tristan Wilson 6-1, 6-0, Ellis defeating Josh Ritgers 6-2, 7-6 (7-4) and Barr crushing Sawyer Zimmerman 6-0, 6-1.
The Red Riders claimed both doubles sets with Brady Ayers and Toby McAllister defeating Morris and Cade Mizer 6-0, 6-0 and Kyle Zonar and Vinny Chiafalo topping Trevor Miller and Jacob Miller 6-0, 6-1.