Knights make a living living on the edge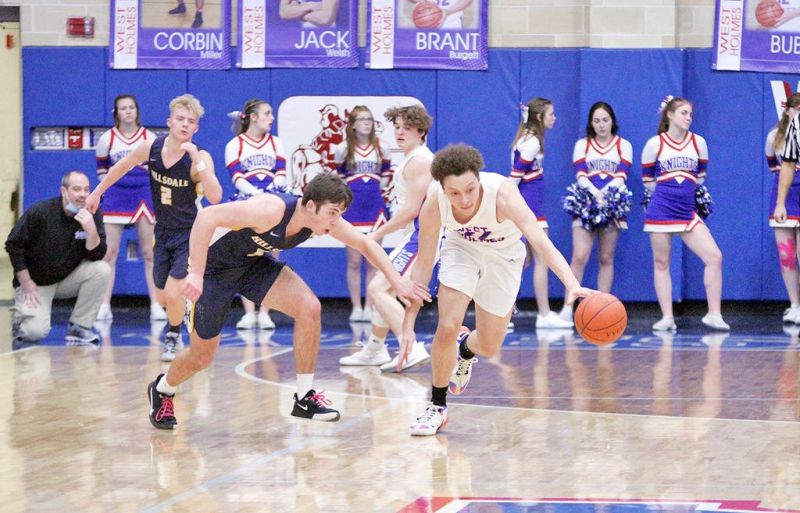 The West Holmes Knights boys basketball team certainly seems to have a knack for winning thrillers at the wire. In back-to-back contests, West Holmes went right down to the wire with Triway and Hillsdale, and in both cases, the Knights found a way to pull out a win.
In the Feb. 2 contest with Triway in The Pit at THS that WHHS won 59-58 in double-overtime, West Holmes trailed by five heading into the final period and was down six late in the game. Needing to execute perfectly and get a little help from Triway as time ticked away, the Knights got both.
The Titans suddenly went cold from the charity stripe, and Payton Miller happened. Miller had hit just four 3-pointers this season before entering the fourth quarter but found the range and delivered three huge threes, the last one a buzzer-beater that tied the game and sent it into overtime number one.
For Miller, those types of heroics versus Triway aren't completely strange. Miller hit a game-winner in a JV game two years ago, and both he and head coach Donnie Hall remembered that when Hall drew up a play for Miller at the end of regular time.
"There must be something about that gym," Miller said. "Coach trusted me to make that shot, and I wanted it for the team. That was a whole lot of fun, and the crowd really got me going."
In the first overtime, it would be Peyton McKinney who would get the big three as both teams netted five points, and in the second overtime, it was all free throws with DeAndre Thomas hitting two and McKinney adding a third for the win.
The Hillsdale game took an entirely different route with the Knights getting out to a commanding lead in the second quarter by getting some great looks inside. In a balanced first quarter, Josh Shrock scored seven, Garrett Eastep added five and Thomas, Blake Morrison and Zach Stair added four apiece as the Knights exploded to a 26-13 lead. Thomas added six and McKinney scored five in the second quarter, but Hillsdale dug in and trimmed the deficit to 42-34, with Cole Sinnett and Nick Kandel scoring eight and six points in the period.
Throughout the first half, Hillsdale's Caden Mutchler had made himself known with three treys, but he was about to become the star of the game. Despite the Knights' best effort, they couldn't stop the white-hot Mutchler, who drove home five 3-pointers in the quarter to draw the Falcons to within one point at 57-56 after three quarters.
"No matter what we tried, he couldn't miss," Hall said. "I've never seen someone shoot like that."
Hillsdale head coach Ryan Martin knew what kind of weapon he had in his star, and not even a broken finger three days earlier stopped the sharp-shooting Falcon.
"Saturday he dislocated his right pinky finger, and he came to practice and said he was going to tough it out," Martin said of Mutchler. "We know what he can do, and we expect him to make shots. That was fun to watch."
The game was now on, and after Thomas scored inside to start the fourth period, the Falcons played flawlessly. Hill hit his ninth triple of the game to tie the score. Kandel scored inside and split two free throws. Caden Fickes canned two free throws and hit a lay-up, and with 4:09 to play, Hillsdale had suddenly built a 65-59 lead.
After Hall called a time-out, he told his kids not to panic and to chip away at the lead. His Knights listened.
"There's no seven-point shot to magically give us a lead," Hall said. "We just needed to keep our heads and get stops and play with maximum effort, and that was what our kids gave us."
After Eastep split two free throws, it was not an offensive play but a defensive one that seemed to ignite the Knights. Fickes drove the lane, and his good bucket was wiped out when Stair stepped in and took a charge that changed the game.
Morris scored on an assist from McKinney, and McKinney then made a key steal and fed Shrock for a score that made it 66-64. After Kandel canned two free throws, Morris drove the lane for two to make it 68-66. After Hillsdale came up empty on a one-and-one, Shrock found a lane and connected on a drive to knot things at 68.
However, Kandel dropped an and-one to give the Falcons a three-point edge, and after the Knights kicked it away, Fickes split two free throws with 58 seconds left to make it 72-68.
West Holmes found life when McKinney drained a long 3-pointer with 20 seconds to play, and when Hillsdale beat West Holmes' press, the Falcons looked to drain the clock. However, another defensive play proved to be huge as McKinney stepped into the lane and took a charge with 15 seconds left.
Hall drew up a play for Thomas. Morrison expertly delivered a perfect pass on the block to Thomas, and the senior delivered the score that put the Knights back on top 73-72.
Hillsdale had one last shot at victory. As time ran down, Mutchler's long 3-point attempt came off the front iron. Sinnett grabbed the carom, but his good put-back didn't get out of his hands before the final buzzer. The Knights had another last-second win.
"This team plays to the final buzzer," Hall said. "We've done it from day one. This was a strange game for us because we don't normally see that kind of scoring. We've been giving up 40 points a game in a lot of games, and they had 34 at the half. I've just never seen a team shoot like that, but the best thing about it is that we were able to get a win."
Mutchler led all scorers with 29, Kandel scored 14, and the Falcons got 11 and 10 from Justin Zeigler and Sinnett, respectively. The balanced Knights were led by Thomas' 14 while McKinney scored 13, Eastep scored 12, Shrock netted 11, Morrison scored 10, Miller scored seven and Stair added six.