Knights Nation hears from the players who made history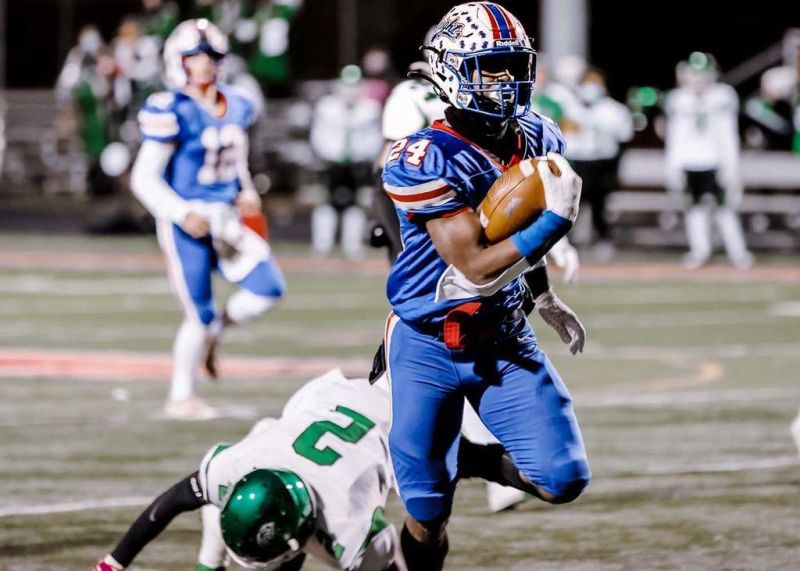 On Friday, Nov. 19, the West Holmes Knights football team played itself into the school history books, becoming the first team to win a regional championship with a 31-21 victory over Holy Name.
In improving to 14-0, the Knights have gotten strong contributions across the board, from a rock-solid offensive line to a ball-hawking defensive backfield. Tackling machine Elisha Baldridge, Sam Williams-Dixon setting the school record for touchdowns in a season and Tucker Kaufman setting the high-water mark for interceptions only scratches the surface of what this team has accomplished.
An elated group of Knights talked about the record-setting win following the victory.
Noah Clark on playing through injury
"That was nothing. We all have the same goal, and we all made a promise to each other that we were going to give every single ounce of energy and effort we have. I was walking, so I was playing, and it didn't really matter what pain I was going through. My guys gave me courage to play through it, and I wanted this for them. We are a family and my brothers. I just feel blessed with the opportunity."
Head coach Zach Gardner on Noah Clark playing through his injury
"I don't think this is a secret to anyone who has followed our program. Noah Clark is as tough as nails. He's selfless, he's tough, he gives great effort and he is the leader of our football family."
Gardner on his team's slogan "raising the bar"
"That's not just some slogan we just came up with. Raising the bar meant that we wanted to do things that have never been done around here before."
Sam Williams-Dixon on the dream of making it to the state semifinals
"I dream about this every single night. I love it here. The chemistry is great, and this moment is the best moment of the year so far. It's a tight-knit group, and we have each other's backs every day. It's just amazing to bring home this regional championship to this community."
Injured wide receiver and defensive back Kyle Maltarich on finding ways to help this team win
"It's great to see us win, but at the same time, it's heartbreaking because I want to be out there with the guys. There's a little sweet and sour with it. As much as I don't want this year to end, I can't wait for next year to come, but right now it's important for me to be here for the guys. Every time they come off the field, I give little pep talks. If someone's head is down, I'll pick them up. I know who these guys are, and I want to be a great teammate any way I can."
Bret Shearer on this team's unwillingness to yield to adversity
"That toughness, it shows this team's character. We are a sound team, we play well together, we click with each other and we feed off each other. When something doesn't go right, we pick each other up. That's what happened tonight. We answered every challenge. We made big plays when we had to, and it was a total team win."
Bret Shearer on making school history
"It's insane to think about all the great teams and incredible talent that have come through West Holmes over all these years. It's amazing to think that we are the only team to find ourselves in this situation. We are blessed and thankful, but there is still work to be done."
Tucker Kaufman, who set the school record for interceptions in a season with the game-clinching pick, on this team making big plays
"I saw the ball in the air and thought to myself, 'This one's all mine.' I had to make a play. We have fought together all season long; we've made a ton of huge plays week after week, and there is no stronger sense of family than what we have right here. We've been through it all together. It's incredible to know we are now the all-around best team in the school's history."