Knights quarterback Smith off to a roaring start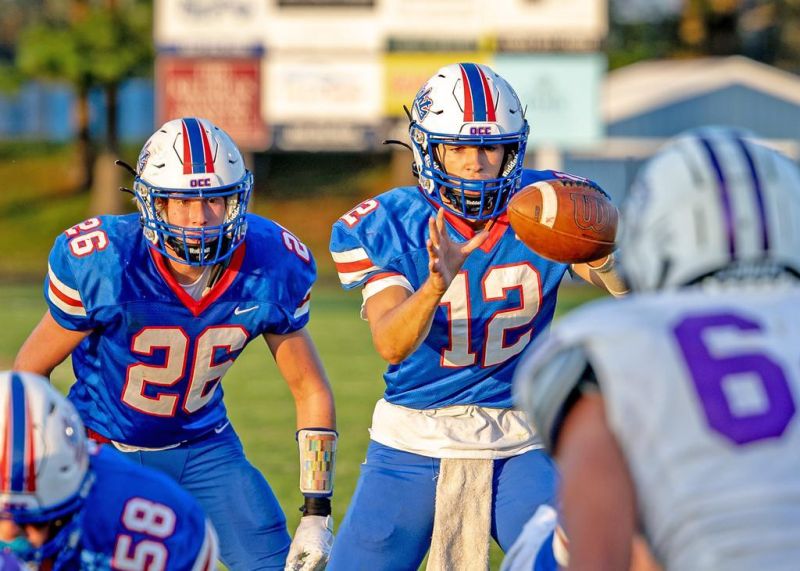 The West Holmes football team has had several talented quarterbacks leading its offense over the past few years.
Morgan Smith is the latest example.
After serving as the backup last season, the junior is off to a roaring start in his first season as the starter. Through three games, he has completed 64 of 91 passes for 1,249 yards and 11 touchdowns with one interception. The mobile Smith also has rushed for 167 yards and three scores on 42 carries.
Not too shabby of a way to begin your first year as the starter.
"The plays he can make with his arm and his legs adds such a dimension to our offense," Knights coach Zach Gardner said following his team's win over Orrville on Aug. 25.
Smith's playmaking abilities were on full display in a 40-35 loss to Licking Valley on Sept. 1, as he threw for a school-record 553 yards and four touchdowns on 24-of-31 passing.
His transition to varsity starter was made smoother by logging plenty of varsity reps last year during blowout wins.
"I was able to see how the defenses are on varsity rather than JV," Smith said after the win over Orrville. "It was a great experience. Everything is faster on varsity. It was good getting that experience."
Smith also had the luxury of learning from starter Mason Wolfe, an Ohio Mr. Football finalist.
"He taught me a lot," Smith said. "Standing behind him during practice, I could just watch him and see what he was doing. Now this year is my turn, so I'm able to do what he was doing."
Smith has been playing quarterback since flag football. He's far from just a football player, though.
He stays busy year round, wrestling in the winter and playing baseball in the spring. Once baseball season ends, his attention is solely on football.
"Wrestling definitely helps a little bit with my balance and stamina," he said. "I think that helps. As soon as it's done with baseball season, I'm right into football. I just come out to the field and throw with my wide receivers and try to improve every day."
Smith has learned different things about being an efficient quarterback each year in high school. When he was a freshman, he would lock in one receiver. As a sophomore leading the junior varsity team, he started to read the defenses a little bit.
"This year I know what I'm doing with the ball, and I'm spreading the ball around rather than just picking one receiver to throw it to," he said.
Smith is a perfect example of seizing the moment when given an opportunity. Gardner used a mistake Smith made in a JV game last year to prove that point to the younger players in the program.
"In JV time last year at the end of the game with a running clock, he threw an interception," Gardner said. "We played that while we were watching film (during the week leading up to the Orrville game), and we said, 'This is for all of the young players. Look how far you can come in a year.'
"Now Morgan is one of the best players in the area, and the target is on his back, and he needs to keep improving and get it done."