Knights shred Rams, now 2-0 after blowout win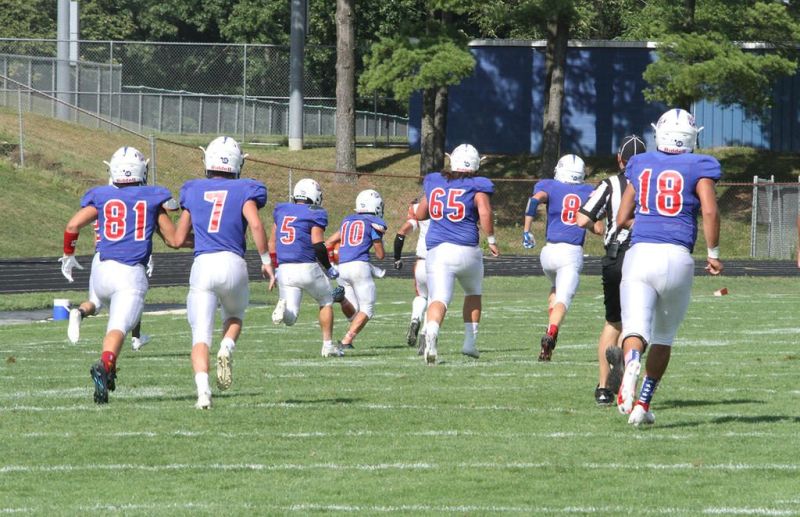 The West Holmes Knights stopped Mansfield Madison on a three-and-out to begin their Ohio Cardinal Conference gridiron showdown on Friday, Sept. 4 on Senior Night at West Holmes Stadium. The Knights then went to work, dismantling an overmatched Rams team in a 63-0 victory.
With its high-powered spread offense on full display, Zach Gardner's crew displayed countless weapons in scoring on every single one of its possessions in the first half and added a defense and special teams touchdown.
After the initial stop, West Holmes systematically marched 48 yards on a series of 6- to 8-yard plays that resulted in a 2-yard plunge to pay dirt by sophomore running back Bret Shearer.
That would begin a series of scores by the Knights that would feature someone new each time. After Lane Graham came up with a big sack to thwart the Rams, the Knights took over on their own 30, and another strong drive including an 8-yard run from Shearer, a 14-yard scamper from quarterback Noah Clark, and passes of 10 and 16 yards to Tucker Kaufman led to a 16-yard touchdown pass from Clark to Sawyer Pritt, Nate Ginsburg's PAT making it 14-0.
The Knights took over on Madison's 48, and quickly, Clark hooked up on a 27-yard strike to Graham before he flipped a screen to Brady Taylor, who found a wide-open corner thanks to a punishing block by Pritt that cleared the way to a 21-yard score and a 21-0 lead, and it was still the first quarter.
Brant Burgett recorded a big sack to thwart Madison to start the second quarter, and Madison finally made a stop — its lone stop of the first half — but went nowhere on offense, punting to midfield.
Clark found Kaufman on a 33-yard pass play, and after a late-hit penalty was assessed, Clark powered his way in on his own from the 6 to make it 28-0. Another stop and the Rams were forced to punt. This time the Knights didn't even get a chance to line up under center when Kaufman raced 49 yards on the ensuing punt, scoring to put West Holmes ahead 35-0.
Logan Kula then sniffed out a Rams pass, picked it off and went to the house, putting the Knights up 42-0.
After Graham stuffed a short third-down play by Madison to force another punt, Garrett Eastep hauled in passes from Clark of 5 and 18 yards. Clark then hit Emmett Myers for 15 yards, and Clark reeled off a 12-yard scamper before finding Eastep on a diving catch in the end zone. West Holmes went into the locker room up 49-0.
Clark's evening was over, and in stepped Peyton McKinney, who picked up right where his quarterback counterpart left off. McKinney and Eastep teamed up for four catches including the final one, another acrobatic snag by Eastep from the 13. At this point Ginsburg's leg had to be getting tired, but he cranked home another extra point to make it 56-0.
McKinney's 35-yard scoring strike to Myers rounded out the scoring for the evening, and the Knights easily advanced to 2-0 on the campaign.
After two games the Knights offensive numbers are beyond gaudy, the team averaging just a tick under 60 points per game. Clark is a nearly spotless 28-of-38 passing for 455 yards, six touchdowns and no interceptions. He has added 117 yards on the ground to go with another three rushing TDs.
Shearer has accumulated 66 yards rushing on 14 carries and a pair of TDs. Through the air, Taylor has collected nine receptions for 194 yards and three scores, Eastep 15 receptions for 188 yards and three scores, Kaufman four catches for 56 yards, and Myers has a score on two receptions for 53 yards. Ginsburg has been a weapon as a kicker, pounding through all 16 extra point attempts while posting seven touchbacks and hitting four punts inside the 20.